Former Trojan LenDale White says USC kicked him out of Coliseum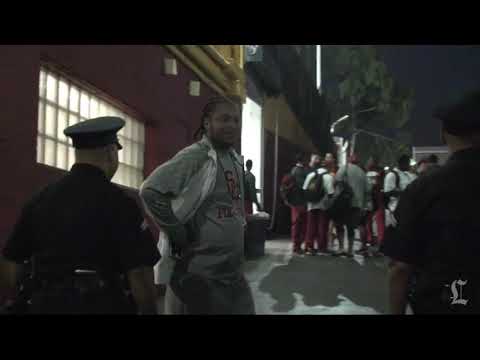 Watch LenDale White leave the Coliseum after USC's victory over Colorado. (No audio).
It wouldn't be a USC football game without drama. So former Trojans star running back LenDale White provided it.
White was on the Coliseum sideline Saturday during the Trojans' 56-28 victory over Colorado.
And, surrounded by game security personnel and Los Angeles Police Department officers, he was escorted out of the Coliseum afterward.
"You can win championships for this program, but you can't voice your opinion," White told The Times."
During USC's 28-26 victory last week at Arizona, White's opinion was that USC Coach Steve Sarkisian and defensive coordinator Justin Wilcox should be fired.
After the Trojans' victory over Colorado, White spoke briefly with quarterback Cody Kessler, who passed for a USC-record seven touchdowns.
"Let it be known, man, I ain't against nobody," White told The Times on the field. "I'm a for-real Trojan, so what I say is out of pure emotion during the game.
"I've never met some of these coaches. I've never been a part of them. I am a Trojan 20,000%. I back them 120%. I just get emotional during football games. I'm sorry."
But minutes later, outside the locker room, White said he changed his mind — and wanted to change his quote.
"I feel that exact same way as I did last week," White said.
White said that USC athletics administrators were kicking him out. He was then escorted to the gate by security personnel.
"Fire Sark tonight," White shouted.
Afterward he tweeted: "I can't believe @ADHadenUSC kicked me out of #thecoli shook my hand then had me escorted out. I'm still at a loss for words!!!"
A USC athletic department spokesman said Athletic Director Pat Haden did not order anyone to escort White from the Coliseum.
Sarkisian said he was unaware of any situation involving White during or after the game.
"I saw him coming up the tunnel earlier," Sarkisian told The Times. "But this is the first I've heard of it."
Sarkisian was aware that White tweeted that the staff should be fired.
"I think LenDale is a passionate guy," Sarkisian said. "He loves USC. We all want to win. We are all passionate about what we do. It is what it is."
Get the latest on L.A.'s teams in the daily Sports Report newsletter.
You may occasionally receive promotional content from the Los Angeles Times.