Wisconsin defeats USC, 23-21, in the Holiday Bowl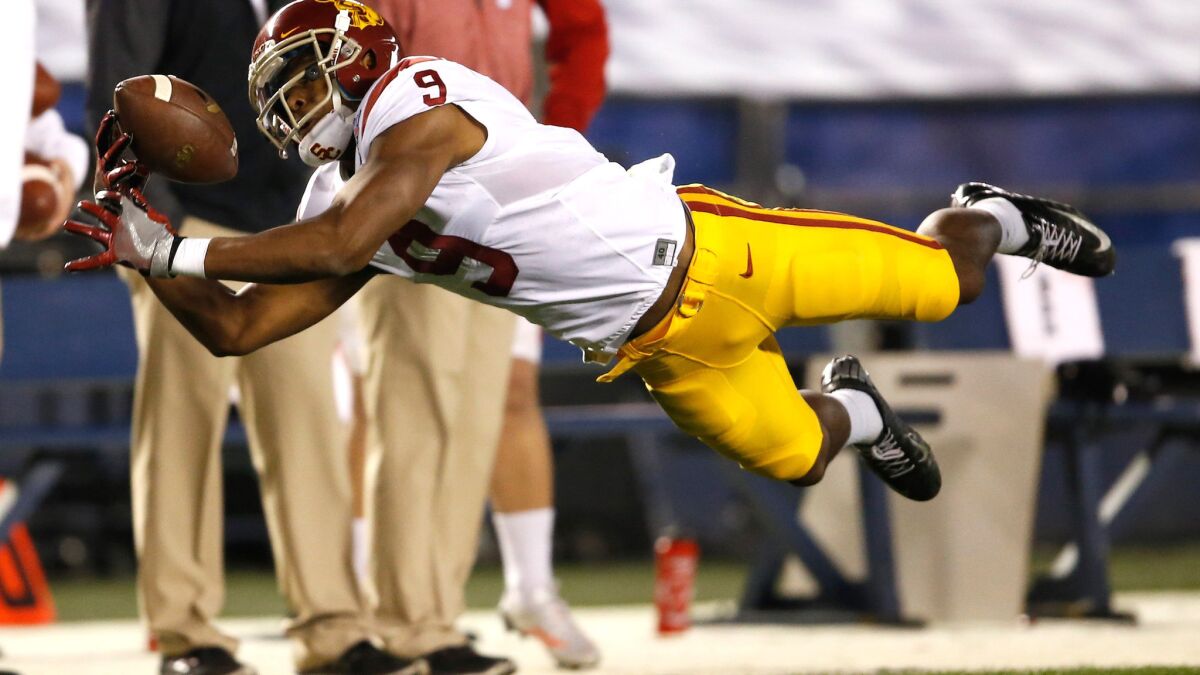 Reporting from San Diego —
Rafael Gaglianone's third field goal of the game, a 29-yarder with 2 minutes 27 seconds left in the fourth quarter, helped Wisconsin defeat USC, 23-21, in the Holiday Bowl tonight.
After trading possessions following the go-ahead kick, USC had one last chance to try to move into field-goal position, starting at its own 10-yard line. After picking up two first downs to get to midfield, the Trojans could not complete another pass and turned the ball over on downs with two seconds left.
Wisconsin led from the start and dominated yardage, outgaining USC, 394 yards to 286, but the Trojans took their first lead of the game, 21-20, with a 12-play, 82-yard drive capped by Kessler's seven-yard touchdown pass to Darreus Rogers.
Kessler, playing in his final game, completed 18 of 32 passes for 221 yards and the one touchdown, with one interception. USC was able to muster only 65 yards rushing, 47 of those by Ronald Jones II in eight carries.
Joel Stave completed 18 of 27 passes for 217 yards and one touchdown, with no interceptions. Corey Clement led the Badgers with 66 yards rushing in 19 carries. Dare Ogunbowale had 50 yards in 13 carries.
-----
Here's a recap of the game:
USC takes over at its 10-yard line after the punt goes into the end zone and Don Hill is called for a personal foul after getting into a tussle with a Wisconsin blocker.
Cody Kessler completes a 16-yard pass to Steven Mitchell Jr. on first down. Kessler finds another receiver downfield, but the reception by Deontay Burnett is ruled out of bounds with 30 seconds left. There is an official review and it appears there is a chance it will be overturned.
The Trojans have the ball at the 39-yard line after the review shows that Burnett did get a foot down before going out of bounds.
After an incompletion, Kessler finds Steven Mitchell Jr. at the 50-yard line for a first down with 17 seconds left.
Kessler is pressured and is forced to throw the ball away with 12 seconds left. It will now come down to a Hail Mary with seven seconds left after Kessler just overthrows JuJu Smith-Schuster down the right sideline.
On fourth down, Kessler throws a quick out that even if it would have been ruled complete was short of the first down.
Wisconsin lines up in victory formation with two seconds left for the final snap, and a victory
----
USC starts the drive on its 20-yard line. Cody Kessler scrambles for four yards on first down and then connects with Taylor McNamara for eight yards and a first down.
On the ensuing play, Kessler tries to deliver a pass but just as it leaves his hand Jack Cichy gets his hand on the ball and it is intercepted downfield by Sojourn Shelton with 1:44 left.
USC can stop the clock and possibly get the ball back, but if Wisconsin picks up a first down, it could be over.
Wisconsin runs the ball for three conseuctive plays, with Taiwan Deal picking up four yards each on the latter two runs to set up fourth and one with 45 seconds.
After Wisconsin calles a timeout, the officials review the spot of the ball and it is confirmed that it is fourth and one.
Wisconsin 23, USC 21 -- 2:27 left to play in the fourth quarter
Wisconsin kicked a 29-yard field goal to take the lead.
Joel Stave returned to quarterback for Wisconsin after he was sidelined the previous series.
Stave had back-to-back 17-yard passes to Austin Traylor and Troy Fumagalli.
Derek Watt rushed for two yards, Tanner McEvoy was dropped for a four-yard loss and Dare Ogunbowale rushed for nine yards, four short of a first down, to set up the field goal.
---
USC went three and out to keep the game within Wisconsin's reach with 5:44 to play.
Justin Davis was tackled for a four-yard loss and Cody Kessler threw an incomplete pass deep to Darreus Rogers.
On third down, USC was called for a delay of game, which backed them up to their own three-yard line. Ronald Jones II then rushed for 14 yards, short of a first down.
---
Wisconsin quarterback Joel Stave was sidelined and the Badgers punted.
Tanner McEvoy almost broke for a touchdown, but he stepped out of bounds after rushing for 19 yards and the ball came back to USC's 46-yard line.
A few plays later, Stave completed a nine-yard pass to Robert Wheelright in front of Isaiah Langley.
Stave took a big hit on the play and was taken to the sideline. The drive stalled three plays later with backup quarterback Bart Houston in.
USC 21, Wisconsin 20 -- 10:19 left in the fourth quarter
Cody Kessler waited for an open receiver and finally found Darreus Rogers for a seven-yard touchdown to give USC it's first lead of the game.
The drive covered 82 yards in 12 plays.
USC converted three third downs on the drive.
Kessler also completed an 18-yard pass to Rogers, a 25-yard pass to Tyler Petite and a 10-yard pass to JuJu Smith-Schuster.
Justin Davis and Ronald Jones II shared carries on the drive.
Wisconsin fans let out a sigh when Alex Wood kicked the extra point to take the lead.
The announced attendance is 48,329 at Qualcomm Stadium.
---
After Cody Kessler was sacked three times in the previous series, USC decided to sack Joel Stave at least once.
Greg Townsend Jr. made the sack on third down.
Antwaun Woods tackle Dare Ogunbowale for a four-yard loss to start the drive and then Ogunbowale caught a 10-yard pass.
---
A promising start to USC's drive finished in a dismal way.
The Trojans started on the 50-yard line, but Cody Kessler was sacked on the first play and then Khaliel Rodgers was called for an illegal snap to back USC up to its own 36-yard line.
Jack Cichy sacked Kessler twice more - for seven yard and eight yard losses.
Three sacks, one series - not bad for Cichy.
---
USC's defense and sideline looked as fired up as it has been all night after forcing Wisconsin to a three and out.
Iman Marshall nearly intercepted Joel Stave to start the drive and it would've been returned for six, instead it was incomplete.
Dare Ogunbowale rushed for no gain and Stave threw an incomplete pass on third down.
USC will have the ball on the 50-yard line.
Wisconsin 20, USC 14 -- 5:34 left in the third quarter
Justin Davis rushed four yards for a USC touchdown that should keep this game interesting through the fourth quarter.
The drive covered 55 yards in five plays.
Adoree' Jackson started the drive with a 26-yard kickoff return and Cody Kessler completed an impressive 39-yard pass to JuJu Smith-Schuster on the next play.
Two plays later, Jalen Greene came in for the double pass trick play, but his man was covered so Greene scrambled and turned it into a six yard gain.
Davis then kept his legs moving through a couple Badger defenders for the touchdown.
Wisconsin 20, USC 7 -- 7:49 left in the third quarter
There was no one around to defend Joel Stave's four-yard pass to Austin Traylor for a Wisconsin touchdown.
The drive covered 64 yards in 12 plays and took 6:15 off the clock.
Wisconsin converted two third downs on the drive, including a 17-yard rush by Dare Ogunbowale.
USC's defense looks outmatched against a team that, in reality, doesn't have the athletes at skill positions that the Trojans have.
---
USC started the second half much the same as it went through the first: Not well.
Justin Davis was tackled for a four-yard loss and Cody Kessler threw two incomplete passes.
USC punted.
---
Here are a few halftime stats.
Cody Kessler has completed seven of 13 passes for 72 yards.
Joel Stave is 11 of 18 for 139 yards.
USC has rushed for 42 yards and Wisconsin has rushed for 99 yards.
The Trojans are one of six on third down, the Badgers are three of seven.
Wisconsin has 238 total yards of offense, USC has 114 yards.
Wisconsin 13, USC 7 -- 26 seconds left in the second quarter
Wisconsin kicked a 33-yard field goal to cap a 12-play, 74-yard drive.
The Badgers drive stalled on USC's 15-yard line after Joel Stave threw three incomplete passes.
Adoree' Jackson was injured during a pass break up in the end zone and was tended to be trainers, but returned two plays later.
This isn't exactly inspiring football.
Wisconsin 10, USC 7 -- 5:12 left in the second quarter
Fourth and four, Adoree' Jackson to the rescue.
Jackson caught a 34-yard pass and shed a couple of tackles on fourth down to set up a one-yard rush for a touchdown by Justin Davis.
The drive covered 55 yards in nine plays and wasn't without drama.
Davis rushed for two yards and a touchdown that was called back because of holding called against left tackle Zach Banner.
Kessler then completed a short pass for a yard and JuJu Smith-Schuster caught a 10-yard pass to put USC back on the one-yard line.
Davis made it into the end zone on fourth and one.
Clay Helton used two timeouts during the drive.
Wisconsin 10, USC 0 -- 8:56 left in the second quarter
Corey Clement rushed six yards for a Wisconsin touchdown.
Joel Stave moved the offense with little resistance in the six-play, 74-yard scoring drive.
Stave completed an 11-yard pass to Derek Watt, an 18-yard pass to Troy Fumagalli and a 26-yard pass to Austin Taylor.
No USC defender was within a few yards of Taylor for his reception.
Dare Ogunbowale made Jonathan Lockett miss when he rushed for 13 yards early in the drive.
Stave is nine of 13 for 117 yards.
---
For a second consecutive drive, USC started strong behind Ronald Jones II -- who caught a 12-yard pass out of the backfield -- before stalling on third down.
JuJu Smith-Schuster caught a six-yard pass and Kessler avoided taking a sack and threw an incompletion on second down.
Jones took a handoff and was stuffed at the line on third down.
Soma Vainuku picked up a personal foul on punt coverage.
Not a great start for USC, to say the least.
Wisconsin 3, USC 0 -- 13:30 left in the second quarter
Wisconsin kicked a 28-yard field goal to take a 3-0 in the second quarter. The drive went 50 yards in nine plays.
Joel Stave completed a 19-yard pass to Alex Erickson, who was tackled by Marvell Tell and a couple of plays later Stave threw a 19-yard pass to Robert Wheelright, who made a circus-like one-handed catch.
Delvon Simmons batted down Stave's second-down pass and on third down Adoree' Jackson broke up a pass intended for Erickson in the end zone.
Points, finally.
---
USC is finding out why Wisconsin's defense a top-ranked unit.
Ronald Jones II rushed for 20 yard in his first carry of the game before Adoree' Jackson and Justin Davis were stuffed at the line of scrimmage.
On third and 11, Cody Kessler completed a short pass to Jackson and he was dropped for a loss of four yards.
---
Nebrasksa converted twice on third down before having to punt from USC's 46-yard line.
Iman Marshall was called for pass interference on the first third-down conversion.
On the second conversion Wisconsin's leading receiver, Alex Erickson, caught a five-yard pass in front of Marvell Tell III.
Two drives for the Badgers and two punts.
---
USC quarterback Cody Kessler clearly wants to go out with a bang in his final game as a Trojan.
Kessler came out throwing the ball - strong - on USC's first drive, though his two deep attempts to JuJu Smith-Schuster fell incomplete and so did a long throw to Steven Mitchell Jr.
The Trojans punted after running six plays.
It looks like Coach Clay Helton's game plan is to throw first, run second against Wisconsin.
---
USC made a stop on third down and Wisconsin punted.
On third down, Joel Stave completed an eight-yard pass to Alex Erickson for a first down with Iman Marshall on the coverage.
Corey Clement rushed for seven yards in consecutive carries before he was stopped short of a first down on his third-down carry.
---
USC announced starting lineups.
Zach Banner will move to left tackle to replace Chad Wheeler, who did not make the trip to San Diego after his incident that involved the police earlier this month.
Freshman Chuma Edoga will start at right tackle.
Khaliel Rodgers will return to center after he was sidelined against Stanford.
On defense, Olajuwon Tucker and Porter Gustin will start at linebacker alongside Su'a Cravens and Anthony Sarao.
Marvell Tell will start at safety.
Safety Leon McQuay III, who had a standout game in the Holiday Bowl last season, could return in a limited role after he has been sidelined for five games because of a knee injury.
Cornerback Kevon Seymour is likely to be sidelined after he suffered a high-ankle sprain during bowl practices.
Receiver Isaac Whitney was on track to return after he suffered a broken collarbone earlier this season but will not play after a setback at
Tailback Tre Madden is sidelined after he underwent knee surgery.
---
The Holiday Bowl announced that kickoff will be pushed back from 7:30 p.m. PST to 7:40.
It is about 50 degrees with no wind at Qualcomm Stadium as USC and Wisconsin warm up.
Wisconsin fans have been scattered throughout San Diego the last few days and it appears most USC fans made the two hour (without traffic) drive on I-5 today.
USC is 8-5 this season and Wisconsin, from the Big Ten Conference, is 9-3.
The Trojans defeated Nebraska, 45-42, in the Holiday Bowl last season.
Coach Clay Helton will call plays in tonight's game despite promoting receivers coach Tee Martin to offensive coordinator. Martin will assume play-calling duties next season.
Linebackers coach Peter Sirmon is the interim defensive coordinator since Helton fired Justin Wilcox after the Pac-12 Conference championship game and USC will have four other assistants on headsets for the first time.
---
Get the latest on L.A.'s teams in the daily Sports Report newsletter.
You may occasionally receive promotional content from the Los Angeles Times.