USC Now mailbag: Will Ferrell, adjustments and hot seats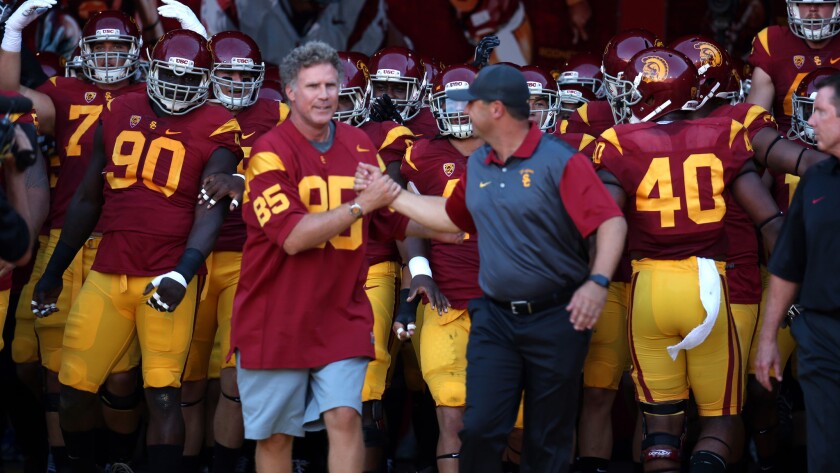 It took three cups of coffee to get through your emails, tweets and negativity.
It is tough for USC fans to find anything positive after a defeat, but why doesn't the mailbag overflow with excitement after a victory?
Who decides who leads the team out of the tunnel? [Will] Farrell was a debacle. How about the coach leading his team on the field?
— Bill Hokans, @bhokans
But Will Ferrell knows how to run. He streaked through the quad!
For those who missed it, Ferrell led the Trojans from the tunnel and onto the field against Stanford.
There's no denying that Ferrell is a funny actor and a high-profile USC alum who generates buzz and excitement.
But he never played football for the university.
Ferrell was a fixture on the sideline during the Pete Carroll era and even joined Carroll in a well-thought prank and became an unidentified walk-on player at practice several years ago.
But as USC attempts to build its identity under Steve Sarkisian — which Sarkisian says should include toughness — Ferrell should not be the person who leads players onto the field.
Ferrell represents glitz, glamour and USC's celebrity power.
Players should follow one of USC's countless football legends onto the field. … If that is, in fact, who the team wants to emulate.
All this dire stuff about firings and coaching changes, I just have a maybe dumb feeling that USC is going to come out against ASU breathing fire but staying cool. We're going to win big and be on our way.
Boy, have I been wrong before, but still, we will make the necessary changes and not be so mechanical on the defensive side — flying around and attacking, as they like to say when things are going well.
Adoree' Jackson must get the ball more. It may sound funny, but he has been ignored in a weird sort of way. Jackson and JuJu Smith-Schuster going one-two? Can you imagine?
— Jon Parsinnen
Jon, you might be the only fan who wrote in and said that USC will bounce back this week.
I can imagine the Adoree' Jackson and JuJu Smith-Schuster combination because it happens often in practice, and it is jaw-dropping each time.
Jackson is a playmaker wherever he lines up, but he did not touch the ball on offense against Stanford.
He was a decoy on a pass Cody Kessler completed to Smith-Schuster for a touchdown.
Jackson returned a kickoff 97 yards for a touchdown, but it was called back because of a holding penalty.
And on defense, Jackson's presence forced Stanford quarterback Kevin Hogan to throw to the other side of the field.
Don't forget, USC has several other receivers who can make an impact next to Smith-Schuster, also. Steven Mitchell Jr. and Darreus Rogers come to mind.
Can you tell me why this coaching staff makes no in-game adjustments? That's what Pete Carroll teams did consistently.
— Tony Law
USC Coach Steve Sarkisian said "sure" when asked whether coaches made the necessary in-game adjustments against Stanford.
"I don't have any problem about us making adjustments," he said.
Perhaps those adjustments were negated by what defensive coordinator Justin Wilcox said were "critical mistakes" by the defense on every drive.
Do the one-on-one battles need to be won first, before attempting something different on defense?
— V1d@l, @LEvidal22003
This question has been asked repeatedly.
For as many who want to question the schemes of defensive coordinator Justin Wilcox, there are those who question whether players have the ability to win the one-on-one matchups.
Several players told me after the game and this week that they did not think it was Wilcox's scheme that failed them, but that they failed to execute the game plan and win the one-on-ones.
USC and Alabama won't be in the national championship. Sark needs to do a better job with pressure on the quarterback! USC is young. In the 2016 season, they will contend if the defense improves. Poor game plan vs. Stanford. Need to develop a backup quarterback and recruit aggressive defensive linemen.
— Donald Armstrong, Colorado
USC has the talent to contend in 2015 and 2016.
Coaches have spent three seasons developing backup quarterback Max Browne, who is on track to succeed Cody Kessler next season.
As far as the defensive line, there are five freshmen developing on the roster: Christian Rector, Kevin Scott, Noah Jefferson, Jacob Daniel and Rasheem Green.
Jefferson, Daniel and Green each have played this season.
Three defensive linemen have committed to the 2016 recruiting class: Keanu Saleapaga from La Mirada High, Liam Jimmons from Huntington Beach and Keyshon Camp from Lake Gibson Senior in Lakeland, Fla.
Dating to Pete Carroll's last season at USC, the Trojans have fielded very subpar defenses. As for the current genius Carroll disciple, this is now the seventh straight season as a head coach that his teams have been basically lousy on defense.
As for Justin Wilcox, there can no longer be any doubt but what he has now proven himself a bust as a defensive coordinator. The final Stanford drive late in the first half is totally exemplary of his continued miserable defensive scheming.
Even with far fewer so-called talented recruits, USC was still better on defense under Clancy Pendergast. Might you recall how long we've been hearing about — and also experiencing — USC's failures to hold the opponent on third-and-long situations? It's truly become a woefully disturbing "habit."
So too has endured the USC pattern of poor second-half performance by the offense. Once ahead 21-10, they were outscored 31-10, including 17-10 in the second half.
Pat Haden, Sark and Wilcox all need to go, and a lot sooner than later.
— G. Marlowe
It's hard to argue with history, facts and numbers.
Arizona State and Utah defeated USC in the final seconds of games last season, and underdog Boston College embarrassed the Trojans in Chestnut Hill.
As disappointed as USC fans are, let's remember that Ohio State stumbled out of the blocks last season before winning the inaugural College Football Playoff.
Nobody should be fired yet; Steve Sarkisian is only a season and three games into his tenure.
But if USC loses at Arizona State and falls to 2-2? There will need to be a serious evaluation of the staff.
Steve Sarkisian is a mediocre, average head coach. He was at Washington. He is at USC. His excuses about the caliber of players recruited at Washington and number of scholarships at USC are gone. He is Lane Kiffin Part II. (Lane is doing a good job as offensive coordinator at Alabama. That is the highest position Sarkisian should get.)
USC students and alumni don't aspire for mediocre or average. They don't go to USC with an attitude of "I want to be an average teacher, lawyer, doctor or scientist." That's why it's so difficult to accept a very average coach.
Pat, meet Sarkisian at the next team bus in Tempe. You remember how to do that, don't you? Oh, and please escort Justin Wilcox off the bus too. (Remember it was Sarkisian who terminated a great defensive coordinator in order to bring in his own guy, Wilcox.)
— Rob Robbins
Rob, you're right.
There are no excuses for USC to fall back on this season.
No sanctions, a bolstered roster, experienced players and two years of top recruiting classes.
Expectations are high, but even Coach Steve Sarkisian has said, that's why coaches and players come to USC.
And let's hope that if Athletic Director Pat Haden or Sarkisian have to make staff changes, that they find a better place to do it than a setting that involves planes and buses.
No one deserves that.
Not even Lane Kiffin.
Want to join a future USC Now mailbag? Email me with your questions or comments at LNThiry@gmail.com or tweet @LindseyThiry.
---
Get the latest on L.A.'s teams in the daily Sports Report newsletter.
You may occasionally receive promotional content from the Los Angeles Times.