Bryce Dixon reinstated by USC, but not to team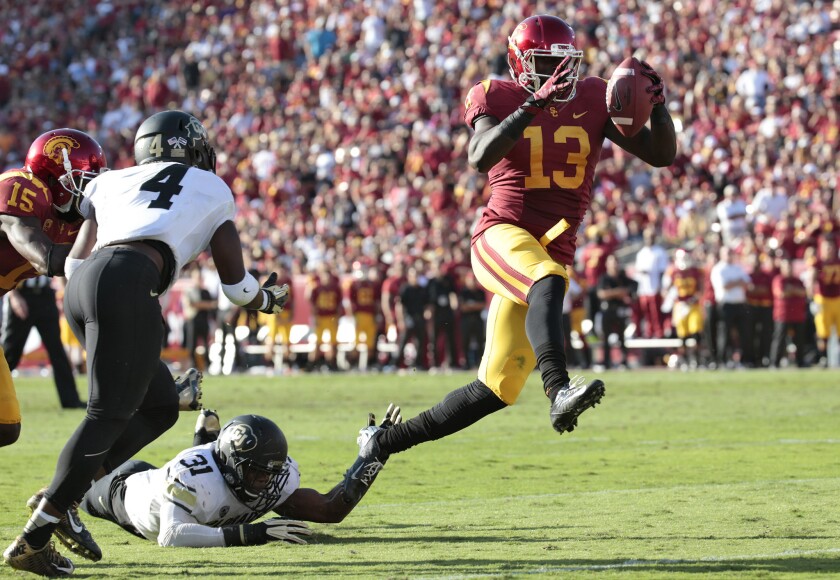 Bryce Dixon will be reinstated to USC, but not to the football team, the university announced Thursday night.
Dixon, a tight end who played in 12 games and caught four touchdown passes last season as a freshman, was expelled in May after a USC investigation of alleged sexual misconduct.
A Los Angeles Superior Court judge had issued a written order that put Dixon's expulsion on hold, giving Dixon hope that he might rejoin the team.
"We will comply with the court's order and allow Mr. Dixon to re-enroll in the university immediately," USC said in a statement. "The judge's order does not impact or reverse the findings made by the university in this student conduct case."
USC said it "stands by its student disciplinary processes," and that they were conducted in compliance with state and federal law, including Title IX and the Violence Against Women Reauthorization Act.
"Where there is a disciplinary finding this serious in nature, the university prohibits students from representing the university, including as a member of its athletic teams," the statement said. "So while we will comply with the judge's order staying the expulsion, Mr. Dixon will not be reinstated as a student-athlete."
On Wednesday, Dixon had filed a petition in court requesting a stay of the expulsion. Dixon claimed that USC's sexual-misconduct investigation process is "utterly lacking" in due process.
After receiving Judge Robert H. O'Brien's written order on Thursday, Dixon's attorney reiterated that Dixon hoped to rejoin the Trojans.
"I know Bryce is anxious to get to camp as soon as possible," attorney Mark M. Hathaway said. "Now that the order is signed that may be sufficient to allow that to happen."
Attempts to reach Hathaway after USC's announcement were unsuccessful.
Dixon was investigated for two alleged incidents of misconduct last fall, both involving the same USC female student, who was an athletic trainer.
He was cleared of misconduct for an Oct. 9 incident but was found to have violated USC's "affirmative consent" policy on sexual activity on Oct. 23.
Dixon's appeal to USC's Student Behaviors Appeals Panel was denied.
USC did not practice Thursday, so Coach Steve Sarkisian will not address reporters until Friday.
The Trojans' tight end situation, in flux before training camp began, is not much clearer nearly a week into training camp.
Sarkisian on Wednesday provided no update on Jalen Cope-Fitzpatrick. The junior was academically ineligible last season and has not been at practice. A summer session of classes ended this week.
Freshmen Tyler Petite is the only scholarship tight end in a practice group that includes graduate transfer Taylor McNamara, sophomore walk-on Connor Spears and freshman walk-on Caleb Wilson. Daniel Imatorbhebhe, a freshman transfer from Florida, is not eligible to play this season.
Tight ends coach Marques Tuiasosopo said this week that the group was working hard and progressing.
---
Get the latest on L.A.'s teams in the daily Sports Report newsletter.
You may occasionally receive promotional content from the Los Angeles Times.