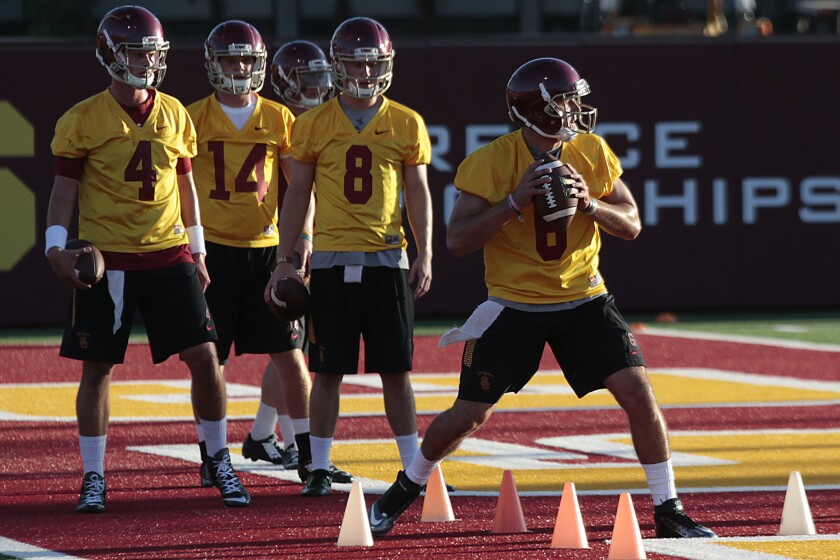 What are our chances of getting Rashan Gary? I read that he's making a visit to USC Jan. 15th. We really need to roll out the red carpet.
— Cass Brown
Rashan Gary, the consensus top recruit in the 2016 class, was considered a longshot to commit to USC before he made an official visit to campus over the weekend with his mother.
Gary's mother, Jennifer Coney, told Brian Dohn from Scout that the visit to USC was a "game changer."
Gary, a 6-foot-4, 285-pound defensive lineman from Paramus Catholic High in New Jersey, also has made official visits to Auburn, Mississippi and Michigan.
He has not decided on his fifth and final visit.
USC has commitments from three defensive linemen in the 2016 class, including Liam Jimmons from Huntington Beach, Keyshon Camp from Lake Gibson Senior in Lakeland, Fla. and Oluwole Betiku from Gardena Serra.
Betiku has enrolled in spring semester classes.
USC is likely to add two more linemen in the class.
Shortly after the firing of the defensive coordinators at USC, I saw some talk in a report about Coach Helton talking to Coach Orgeron. Any truth to that? Is Coach O in play for a position at USC?
— Bernie
Despite wishful thinking from many USC fans, it doesn't appear that former interim and defensive line coach Ed Orgeron will return to USC.
Clay Helton hired Clancy Pendergast as the defensive coordinator and Ronnie Bradford as the defensive backs coach, but has yet to announce who will coach the line and linebackers.
It is highly doubtful either of these positions will go to Orgeron, who is expected to return to Louisiana State for a second season.
All I've been hearing is Max Browne and Sam Darnold, but what about Jalen Greene? I've seen him working out as a quarterback. It's very interesting since he's the only quarterback to have thrown a touchdown last year and has plenty of game experience.
— Curtis Love
Jalen Greene switched from quarterback to receiver during fall camp last season and there has been no discussion, at least with the media, about him returning to quarterback.
Perhaps he's the only quarterback, other than Cody Kessler, to have completed a pass for a touchdown last season because there were a few designed plays for him to do so.
USC would run a double-pass play, with the defense expecting Greene to run a route as a receiver. However, Kessler would pass to Greene, who would then have an open receiver downfield.
USC ran the play well, but that doesn't necessarily mean that Greene should be in contention to win the starting quarterback job against Max Browne and even redshirt freshman Sam Darnold.
Browne, a backup, didn't receive any meaningful playing time last season. He completed eight of 12 passes for 113 yards.
Greene caught 10 passes for 104 yards and completed three of four passes for 104 yards and a touchdown.
Questions or comments about USC? Email me at LNThiry@gmail.com or tweet @LindseyThiry and I will respond to select messages in a weekly USC Now mailbag.
---