Vladimir Putin's 18 years in power — the highs and lows, and don't forget the shirtless pics
In a widely anticipated victory, Russian President Vladimir Putin was reelected for a fourth term Sunday, delighting supporters, dismaying detractors and triggering speculation over what lies in store for the Eastern European nation under six more years of the former KGB intelligence officer. Under Russian law, the president is elected every six years, with a limit of two consecutive terms.
During his 18 years leading Russia, four of them as prime minister, Putin has entrenched authoritarian rule, executed plans for expansionism and engendered both friends and foes on the global political stage.
But like him or loathe him, Putin has emerged as one of the world's most influential figures. Here are highlights and lowlights of his rule.
2000
As the youngest Russian leader since dictator Josef Stalin, the 47-year-old Putin was sworn in as the country's second democratically elected president May 7. A month later he held a summit in Moscow with President Clinton. Despite signing a pair of arms control agreements, the two leaders failed to compromise on a national missile defense system.
2001
Russia and the U.S. engaged in tit-for-tat expulsions of 50 of each others' diplomats over accusations of spying, in what was the biggest such espionage tiff since 1986. Putin downplayed the seriousness of the spat, saying he did not think it would "have big consequences," the Associated Press reported.
2002
In February, Putin voiced strong opposition to U.S. military action against Iraq, arguing that Iraq had not supported the Taliban in Afghanistan and warning that an attack on Iraq could undermine the global coalition against terrorism.
In the fall, Putin faced terrorists on his doorstep when armed Chechens seized 850 hostages in a Moscow theater. He authorized the military to pump an undisclosed chemical agent into the building in a botched rescue attempt. About 130 hostages died.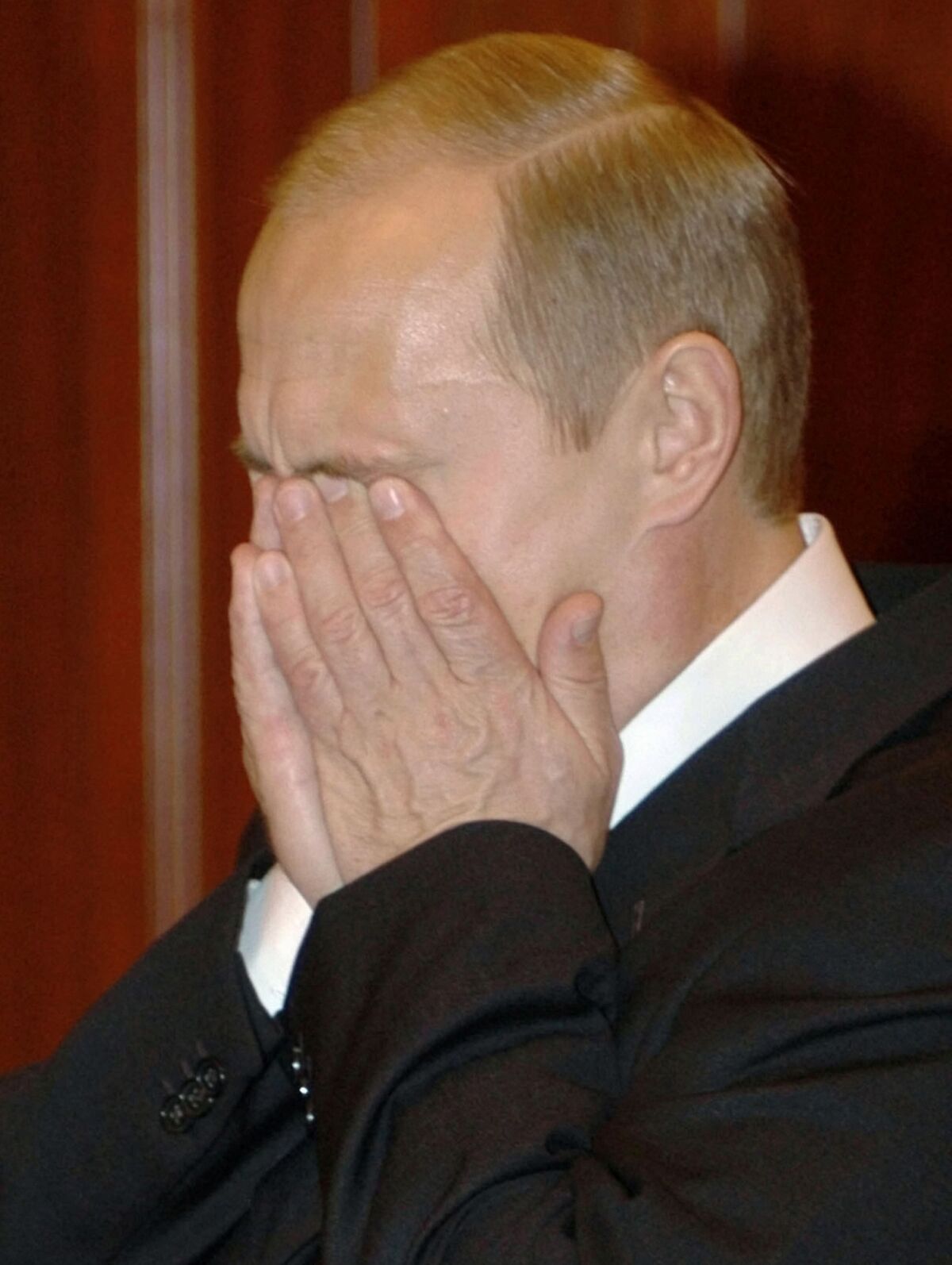 2003
In an effort to curb opposition, Putin moved to rein in the media with the closure of the last independent Russian TV station. New media rules prompted protest over censorship and increased restrictions of journalists' freedom. New laws made it illegal for the media to comment on elections.
2004
In March, Putin campaigned as an independent and decisively won a second term. Later in the year, he consolidated his hold on power, setting rules for appointing Russia's regional governors after pushing through a law that abolished their direct election.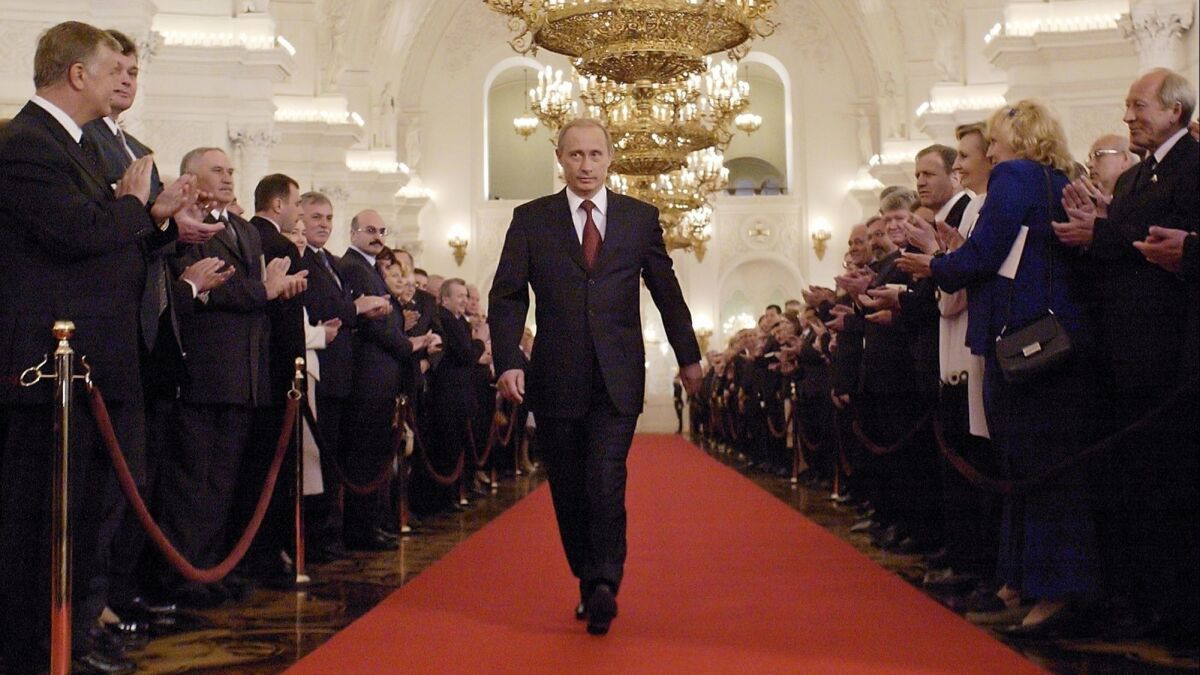 2005
Putin galvanized the pride and patriotism of ordinary Russians by promising to restore the country's greatness and regain its prestige and power on the world stage.
"I consider the development of Russia as a free and democratic state to be our main political and ideological goal," he told the Russian Federal Assembly on April 25.
"Above all," he added, "we should acknowledge that the collapse of the Soviet Union was a major geopolitical disaster of the century."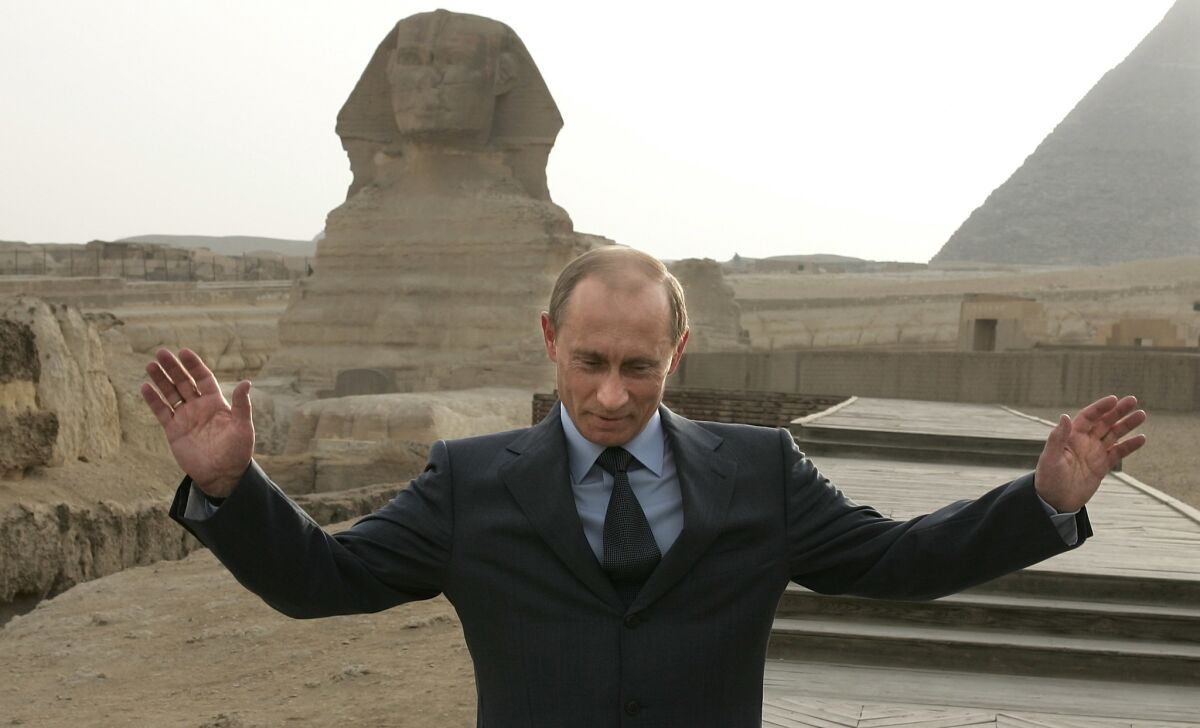 2006
Putin called on the Palestinian Sunni-Islamic fundamentalist organization Hamas to acknowledge Israel's right to exist. He told the militant group, which had at that time recently won Palestinian parliamentary elections, that Russia had never regarded it as a terrorist organization. A few days later, he invited Hamas leaders to Moscow.
2007
Putin was named Time magazine's person of the year. In what it described as "a clear-eyed recognition of the world as it is and of the most powerful individuals and forces shaping that world — for better or for worse," the publication noted that Putin's then-final year as president had been "his most successful yet."
2008
Dmitry Medvedev was elected president of Russia on March 2. Hours after his inauguration May 7, he appointed Putin as prime minister. Analysts said there was little doubt over who remained the real power behind the throne.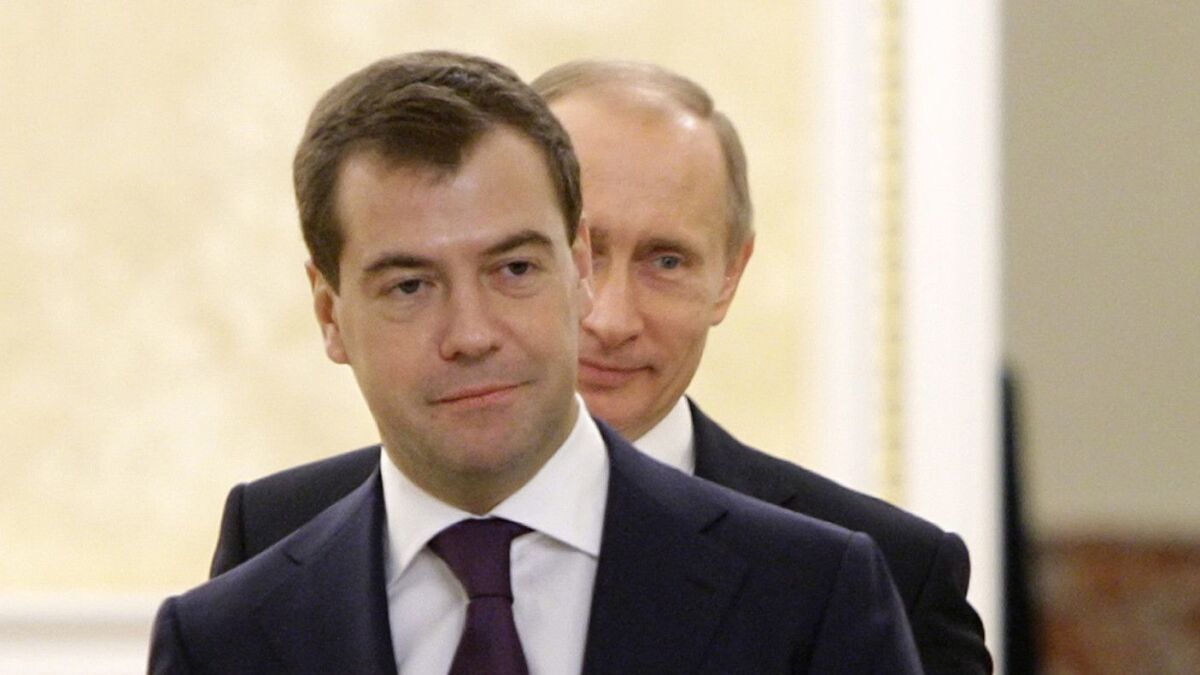 2009
Though officially the country's No. 2, Putin remained in the limelight. Russians marveled at their prime minister's athletic ability and prowess in the great outdoors. They were showered with photos of him camping in the Siberian tundra, swimming in a lake, and riding horseback — shirtless. That picture generated headlines — and punchlines — around the world.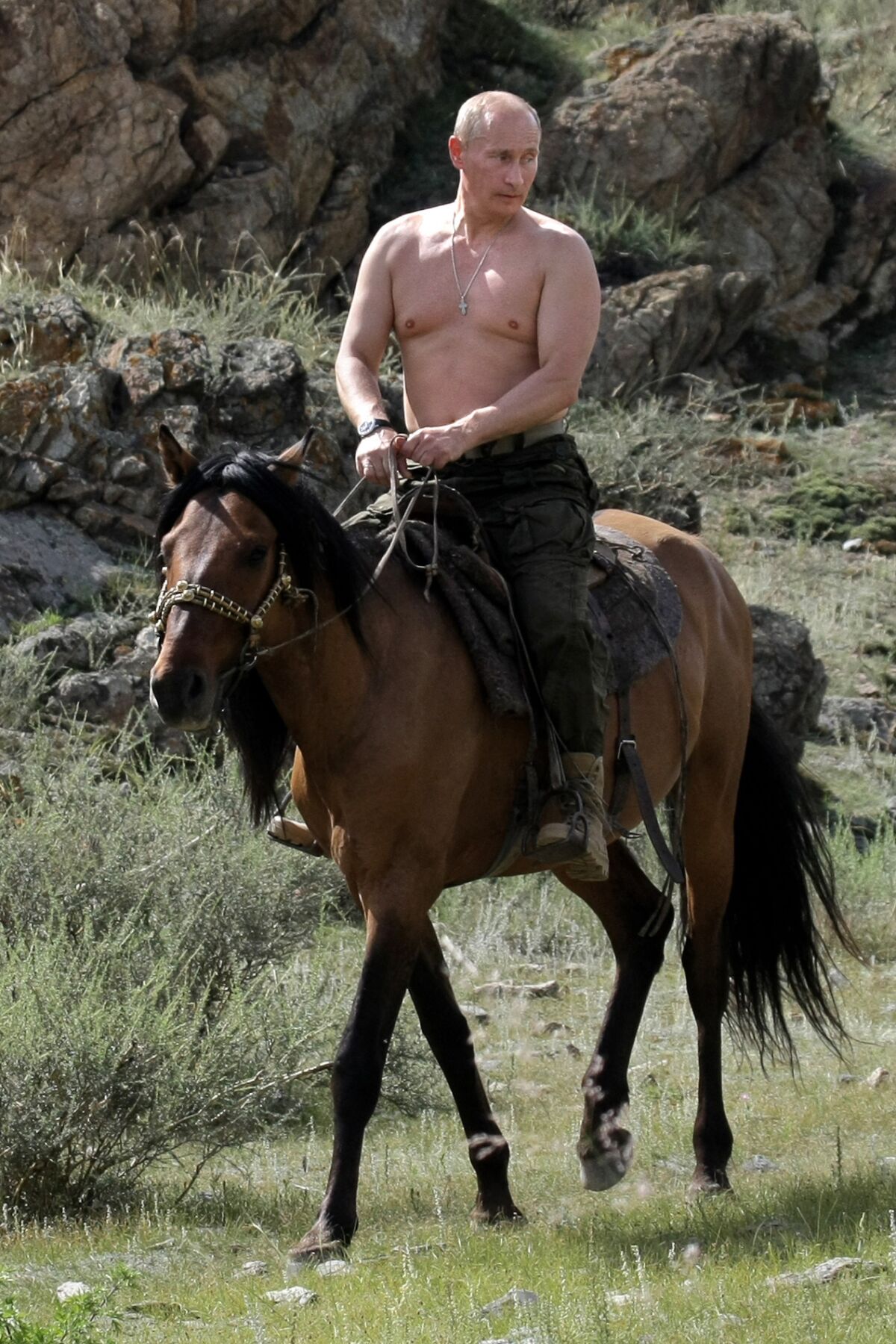 2010
Putin began to position himself to reclaim the Russian presidency. While Medvedev appeared mostly confined to his Kremlin office, Putin dashed around the country with the news media in tow. In August, he was shown on television visiting the Volga city of Nizhny Novgorod, where he comforted victims of deadly wildfires that killed dozens and scorched millions of acres. He scolded local officials, offered financial compensation and promised those who lost their homes that "before winter, all the houses will be standing."
2011
Thousands of Russians took to the streets after December parliamentary elections with accusations of ballot stuffing and voter fraud that they feared would allow the ruling party to maintain control of the parliament's lower house. Putin accused then-U.S. Secretary of State Hillary Clinton of stirring up the protesters. "She set the tone for some activists in our country and gave them a signal," he said.
2012
Putin won a third term as president March 4 amid complaints of election misconduct. He was sworn in May 7 as thousands of opponents protested across the country and hundreds of demonstrators were arrested.
In response to the U.S. Global Magnitsky Act — named for Russian lawyer Sergei Magnitsky, who died in custody — and the imposition of sanctions on Russians suspected of human rights violations, Putin pulled the plug on the ability of U.S. citizens to adopt Russian children.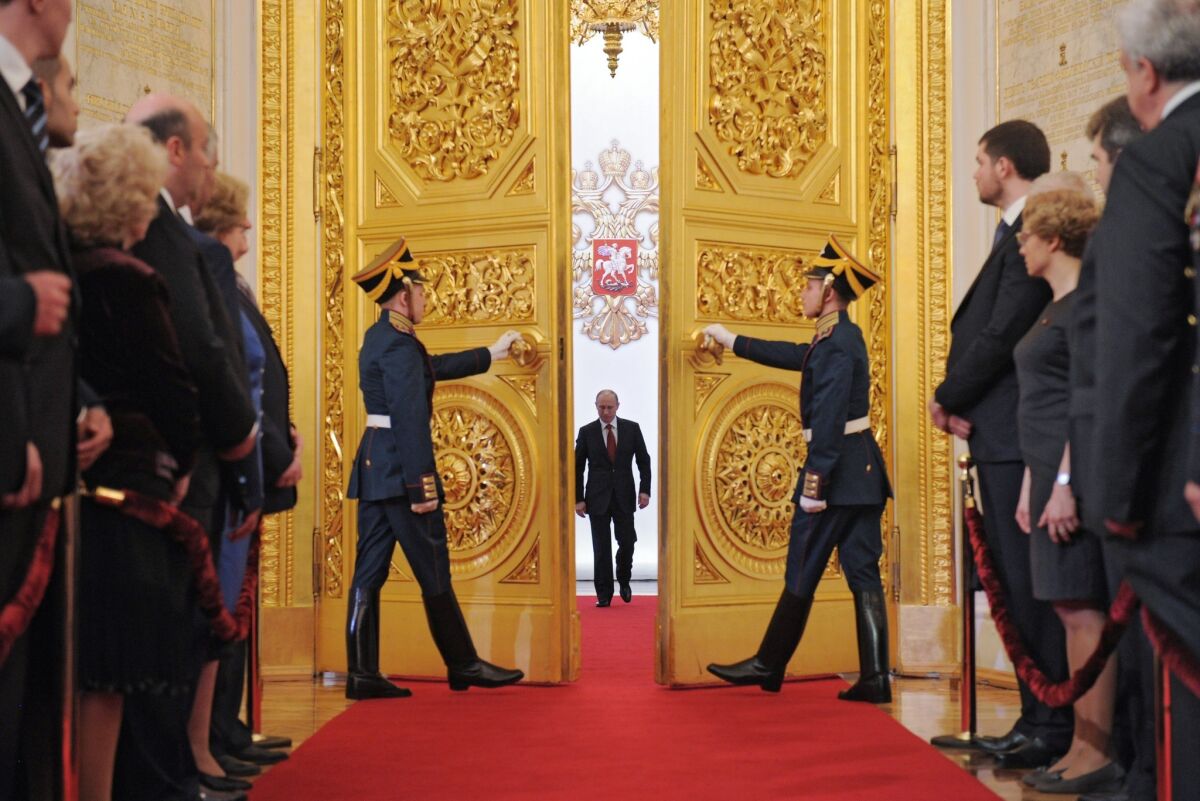 2013
Putin and his wife, Lyudmila, announced in a June televised interview that their 30-year marriage had ended — an unprecedented move in country notorious for tightly guarding the personal affairs of its leaders. Later that year, the Russian president penned a stinging op-ed in the New York Times in which he directly appealed to the U.S. public to "avoid force against Syria."
"This will improve the atmosphere in international affairs and strengthen mutual trust," he wrote. "It will be our shared success and open the door to cooperation on other critical issues."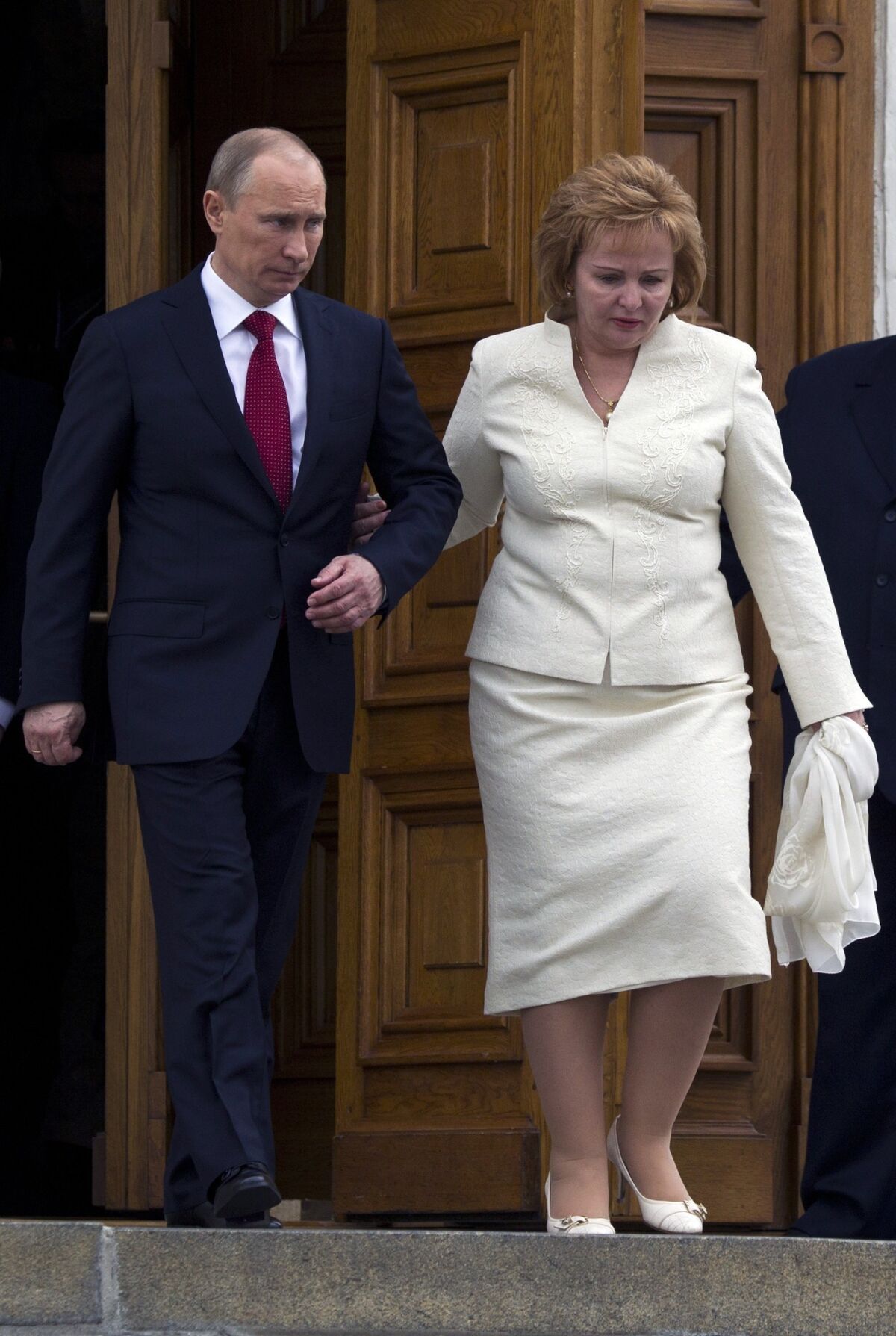 2014
Putin dispatched troops to Crimea and annexed the peninsula that had been Ukrainian territory since 1954. As punishment, the West slapped Moscow with sanctions. Putin responded by banning the import of food and agricultural products from those countries chastising Russia.
Putin was blamed for the July 17 downing of a Malaysia Airlines passenger plane over eastern Ukraine. The Kremlin denied responsibility.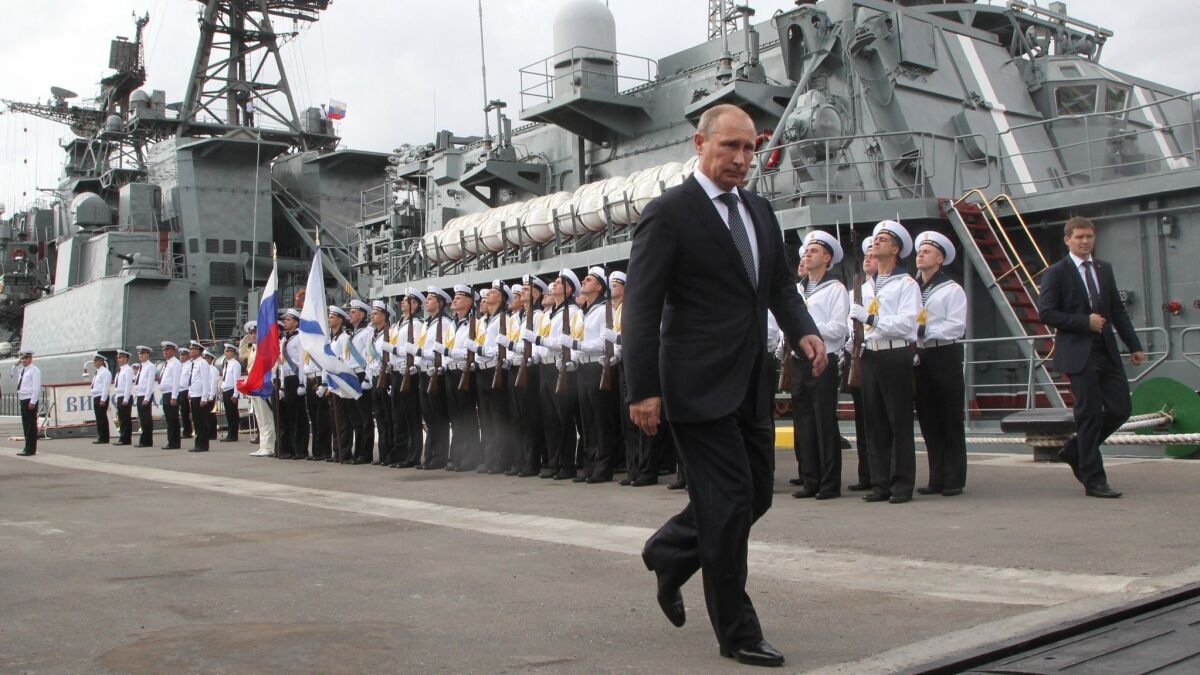 2015
Putin ordered Russia's intervention into the war in Syria. By launching airstrikes on anti-government strongholds, deploying specialized ground troops and supplying Syrian forces with food and medical aid, the Russian president managed to throw Syrian President Bashar Assad and his government a political lifeline.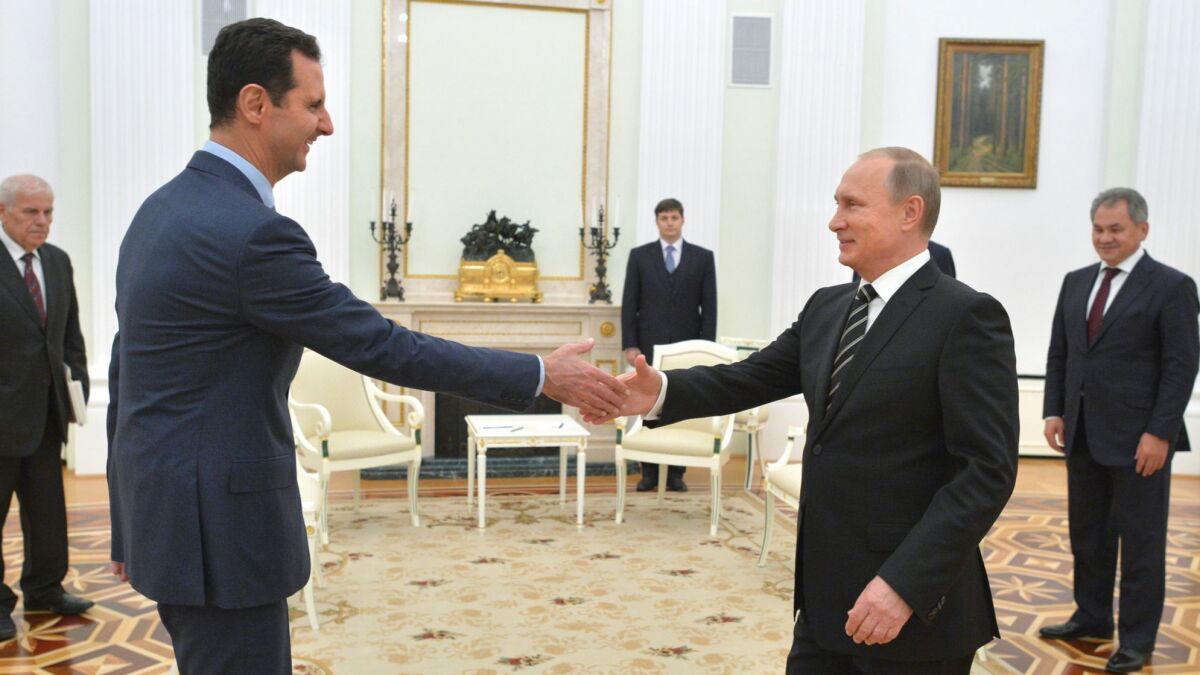 2016
Calling it "utter nonsense" that the Kremlin favored Republican then-presidential candidate Donald Trump, Putin slapped down claims that Moscow was tampering with the U.S. presidential elections.
"Does anybody seriously think that Russia can somehow influence the opinion of the American people? Is America some banana country?" Putin said a month before the U.S. election.
At the same time, he also praised Trump for "getting through to voters' hearts."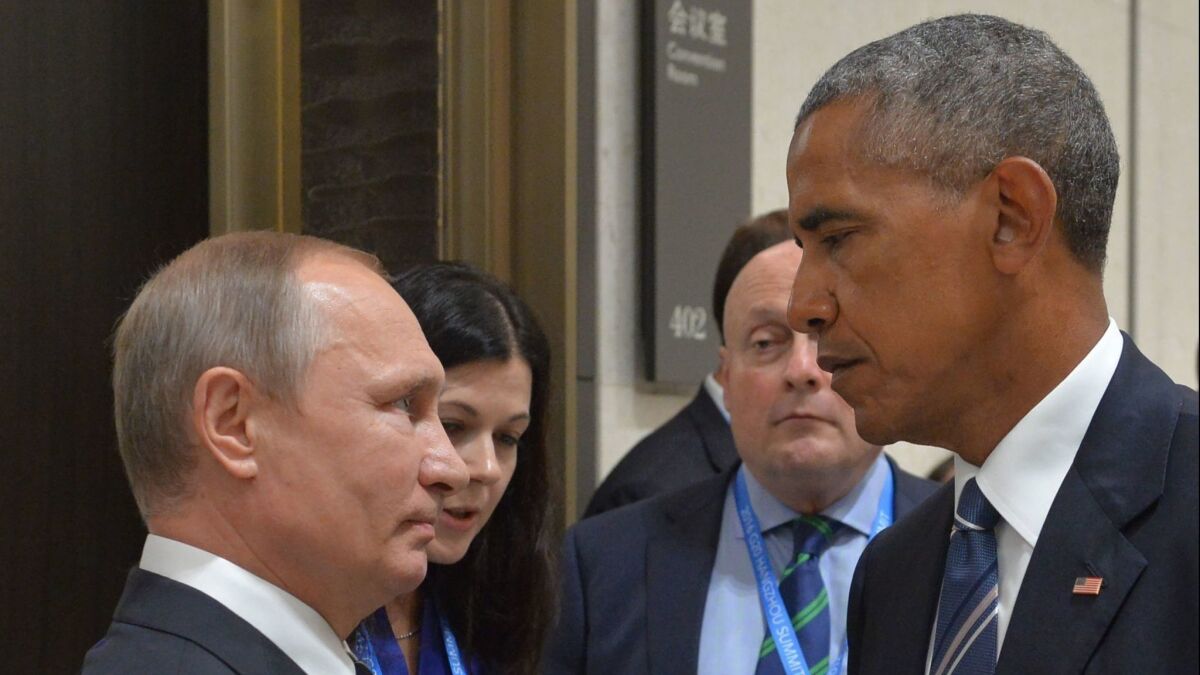 2017
On July 7, on the sidelines of the G-20 summit in Germany, Putin met Trump for the first time in a meeting that was said to be cordial. At the end of the month, the Russian leader announced that he planned to toss out 755 staffers at U.S. diplomatic missions in Russia in retaliation for a package of new sanctions against Moscow.
2018
In early March, British Prime Minister Theresa May accused Putin's government of poisoning with a nerve agent a former Russian spy living in England. She issued Moscow an ultimatum to explain its action or risk facing a range of economic and diplomatic measures. The Kremlin, which denied any involvement in the attack, missed the deadline, prompting the British government to announce the expulsion of 23 Russian diplomats.
On Saturday, Moscow reciprocated, ordering the expulsion of 23 British diplomats from Russia.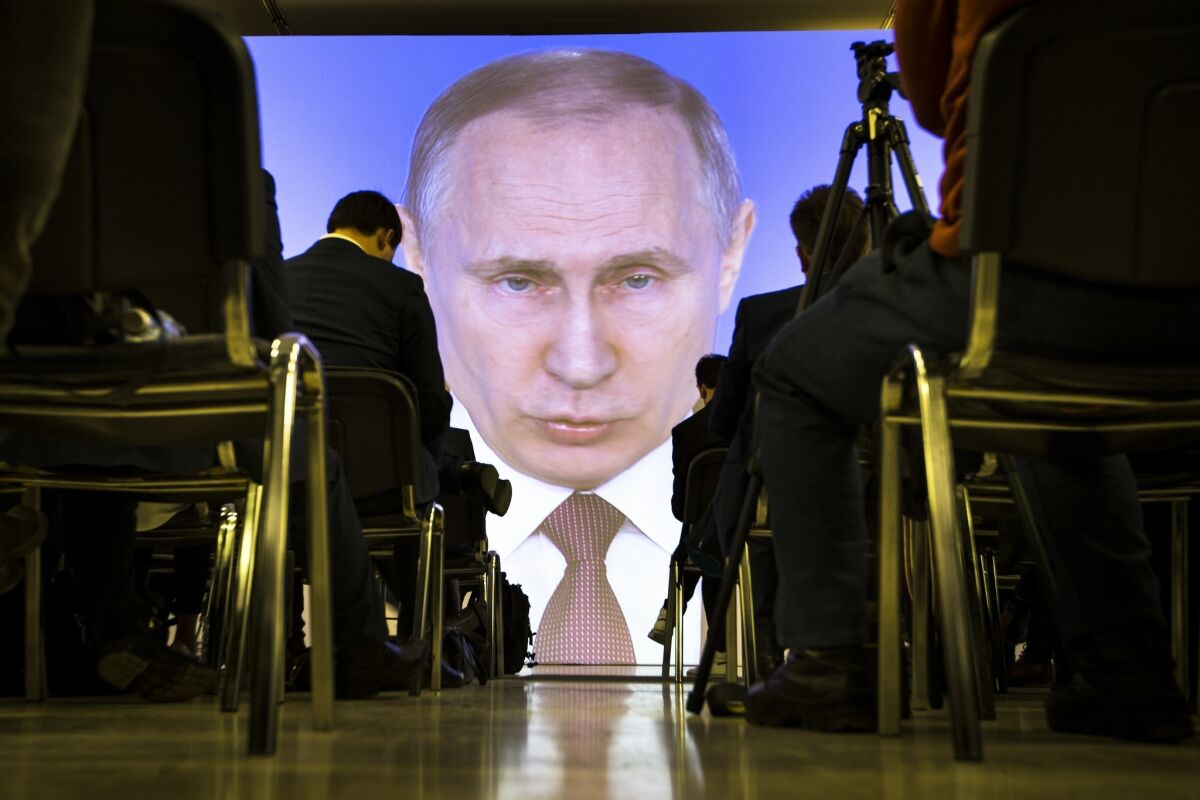 For more on global development news, see our Global Development Watch page, and follow me @AMSimmons1 on Twitter
---
Must-read stories from the L.A. Times
Get the day's top news with our Today's Headlines newsletter, sent every weekday morning.
You may occasionally receive promotional content from the Los Angeles Times.