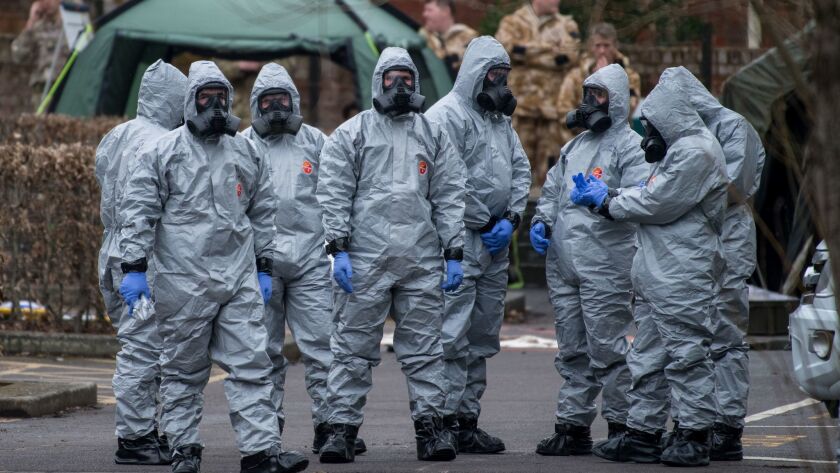 News that a former Russian spy and his daughter were likely poisoned by a military-grade nerve agent in the British city of Salisbury has spread fears over possible secondary contamination and piqued curiosity about a toxic substance that is as mysterious as it is potentially lethal.
Former Russian military intelligence officer Sergei Skripal, 66, and his 33-year-old daughter, Yulia, are hospitalized in critical condition after what British authorities said was an attempted murder using a substance from a group of nerve agents known as Novichok, which in Russian means "novice" or "newcomer."
So what exactly is Novichok?
The former Soviet Union invented Novichok agents and "pioneered their manufacturing techniques," said Dan Kaszeta, an expert in chemical, biological, radiological and nuclear defense with Strongpoint Security, a defense and security consultancy in London.
In a series of "key takeaways" posted on Twitter on Monday, Kaszeta said the agents were "specifically developed to evade the West/NATO's detection capabilities" and foil efforts to collect intelligence. Experts believe that Novichok, considered to be among the deadliest chemical agents, was manufactured specifically to kill people.
The Soviets, and subsequently Russian authorities, "went to great lengths to keep the program secret at a point when the USSR had already agreed in principle to chemical arms control," Kaszeta tweeted.
The 1997 Chemical Weapons Convention, to which Russia was a signatory, aimed to eliminate the production, acquisition and stockpiling of chemical weapons, according to the Organization for the Prohibition of Chemical Weapons.
The Novichok class of agents were reportedly first developed in the 1980s and then refined to circumvent the international chemical weapons treaty, which restricts the development and possession of chemical weapons, according to ScienceDirect, a database of medical and scientific research. The treaty bans weapons on the basis of their chemical structure and Novichok, as a relatively new agent, was not subject to the treaty, according to ScienceDirect.
Are nerve agents easy to make?
Difficult but not impossible, says Victor Madeira, a senior fellow at the Institute for Statecraft headquartered in the United Kingdom.
"Nerve agents are rare, tightly controlled synthetic substances that do require specialized knowledge to manufacture, store and use safely," the Business Insider website quoted Madeira as saying.
Andrea Sella, a chemistry professor at University College London, told the Guardian newspaper that the level of toxicity of nerve agents "is such that they are only to be manufactured in specialized facilities."
They are "not materials that can be made at home," she said.
British Prime Minister Theresa May pointed the finger squarely at Russia, saying the nerve agent used to poison the ex-spy and his daughter in Salisbury was of "a type developed by Russia."
May said Russia has a long history of state-sponsored assassinations and British intelligence reports have established that it has produced Novichok and is capable of doing so again.
The prime minister said because of the complexities of manufacturing and even handling Novichok, it was impossible not to conclude that the attack in Salisbury was either carried out by the Russians or that the Russians had lost control of its stockpile of nerve agent and "allowed it to get into the hands of others."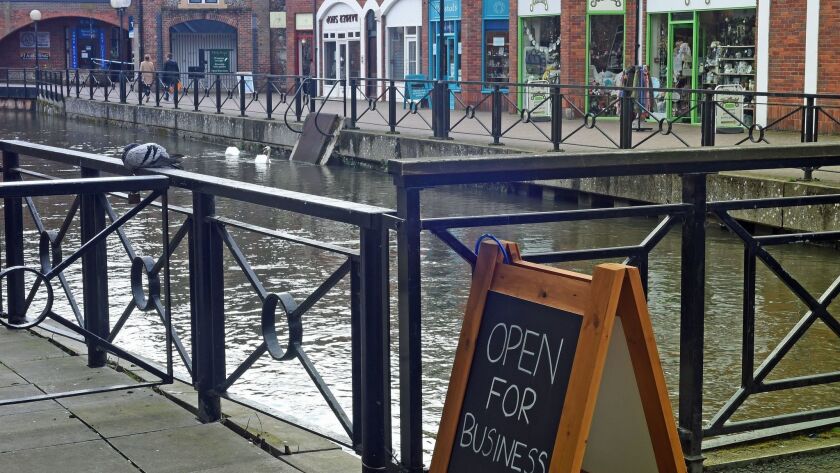 How can nerve agents, such as Novichok, enter the body?
They are easily dispersed and can be absorbed through the skin, ingested and inhaled, according to the Organization for the Prohibition of Chemical Weapons.
Kaszeta said at least one Novichok agent "is a solid at normal temperatures" and "could be deployed as a dust or powder," allowing for slower absorption. And powder would be "harder to detect with normal chemical warfare detection means."
Sophisticated and potentially deadly, Novichok is reported to be five to eights times more lethal than VX, the nerve agent reportedly used in the slaying of Kim Jong Un's half brother in Malaysia last year. Novichok acts rapidly, according to ScienceDirect, and those affected generally feel the full impact of its side effects within 30 seconds to two minutes
It is unclear how and when the Skripals were exposed to the poison. They were reported to have visited a local restaurant and pub before being found slumped unconscious on a park bench.
What are the symptoms and impact of exposure to nerve agents?
"Nerve agents are the most toxic of the known chemical warfare agents," according to the Agency for Toxic Substances and Disease Registry, a federal public health agency of the U.S. Department of Health and Human Services.
The Organization for the Prohibition of Chemical Weapons reported that a low dose of nerve agent could cause "minor poisoning," with symptoms such as "increased production of saliva, a running nose and a feeling of pressure on the chest." Additional warning signs include impaired night vision, headaches, fatigue, slurred speech, hallucinations and nausea.
Exposure to a higher dose of nerve agent causes more dramatic and pronounced symptoms, the agency reported. These include difficulty in breathing leading to coughing; discomfort in the gastrointestinal tract causing cramps and vomiting; involuntary discharge of urine and defecation; running eyes; sweating; muscular weakness; and tremors or convulsions. Victims can lose consciousness and, in some cases, suffer a rapid collapse of body functions and die.
"Consequently, death caused by nerve agents is a kind of death by suffocation," the organization reported.
Is there a chance of secondhand contamination?
The short answer is yes. Because of the versatility of the nerve agent — it can be dispersed as an ultrafine powder, for instance — it can cause secondary contamination.
Though waited for days before issuing a public health warning, British authorities ultimately cautioned anyone who had visited the restaurant or pub where the ex-spy and his daughter had dined and drank to wash their clothes, wipe down their cellphones and jewelry and double-bag items for dry cleaning.
Sam Peters, who lives outside the town center in Salisbury, was more puzzled than worried by the government's sluggish response to possible secondhand contamination.
"Why it took them so long to release that advice is really strange."
For more on global development news, see our Global Development Watch page, and follow me @AMSimmons1 on Twitter
---
UPDATES:
March 14, 12:19 p.m.: This article was updated with additional details on the suspected nerve agent and its toxicity.
This article was originally published on March 13 at 1:50 p.m.
---