The Old Hands: The directors of 'Aladdin' and 'The Little Mermaid' learn new CG tricks on 'Moana'
With "Moana," Ron Clements and John Musker have made their first primarily computer-animated film, and they've done it with a team of animators who grew up on their hand-drawn work. (Mel Melcon / Los Angeles Times)
In August, in a nondescript warehouse in North Hollywood, two lions of Disney animation were debating an intricate shot in their new movie, "Moana." With the studio's quaint, hat-shaped Burbank building under construction, "Moana" directors Ron Clements and John Musker had relocated to this industrial space, where a sign on the wall indicated that animation on the film was 88% complete.
Like Anna and Elsa or Bambi and Thumper, Clements and Musker are a key duo in the lore of Walt Disney Animation Studios. Together they directed movies associated with the studio's post-Walt, late 1980s and 1990s renaissance, "The Little Mermaid" and "Aladdin," and led a hand-drawn revival with 2009's "The Princess and the Frog."
"We disagree a lot," Clements said, explaining his relationship with his directing partner of 40 years. "We bicker all the time."
"I don't think we bicker," Musker bickered. "It ends when one of us gets tired of arguing, or we let [Disney chief creative officer] John Lasseter decide."
With "Moana," which Disney will release Nov. 23, Clements and Musker have just made their first primarily computer-animated film, and they've done it with a team of animators who largely grew up on their hand-drawn work.
The trailer for Disney's "Moana."
A Polynesian "True Grit," "Moana" follows a teenage girl with a knack for navigation, voiced by newcomer Auli'i Cravalho, who teams up with the boastful demigod Maui (Dwayne Johnson) on a journey in search of a fabled island. Set 2,000 years ago, the story is inspired by an era when many historians believe there was an unexplained, 1,000-year gap in exploration in the region. Like Clements and Musker's previous films, "Moana" comes with crowd-pleasing touches — it features heart-swelling songs co-written by "Hamilton's" Lin Manuel-Miranda, New Zealand songwriter Opetaia Foa'i and composer Mark Mancina, lush oceanic visuals and cute animal sidekicks.
An early conversation Clements and Musker had with an elder on the island of Moorea informed the directors' approach, they said.
"[The elder] said, 'For years, we've been swallowed by your culture. One time, could you be swallowed by our culture?' We took that to heart and that's what we've tried to do," Musker said.
The filmmakers' casting of Johnson, who is of Samoan heritage, and Cravalho, who is Hawaiian, reflects a commitment to tell the story with a level of authenticity, they said. They have also worked with a team of advisers from the region, including anthropologists, musicians, linguists, botanists, navigators and tattoo experts, and the film will be the first Disney movie ever translated and re-recorded in Tahitian.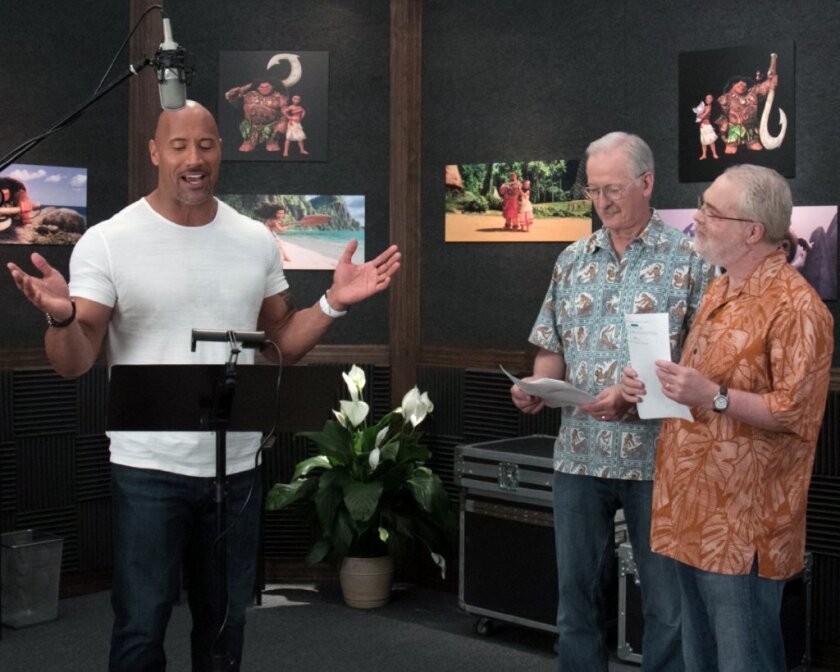 The filmmakers first pitched the idea of a Polynesian-set film to Lasseter in 2011. A research trip to the region, including conversations with artists in Samoa and Moorea, convinced the filmmakers that a mix of CG and hand-drawn techniques would suit their story best. While most of the movie relies on CG animation, there are flourishes of hand-drawn work, including an opening sequence modeled on the Polynesian design tradition of tapa cloth and a tattoo character on Maui's body animated by Eric Goldberg, the lead animator on the Genie character from "Aladdin."
"We talked to one artist in Samoa who said, 'We don't have a painting or drawing tradition, we have sculpting traditions,'" Musker said, explaining their use of CG animation, which is based on 3-D modeling. "Everything is in-depth. The landscapes in Moorea; it's graphic but it's sculptural. The people have these planes in their faces that feel sculptural too. And then the ocean. If we had done that in hand-drawn, it wouldn't have looked as good."
Clements, 63, and Musker, 62, had to adapt to the new techniques, and to the different pace of production. On their hand-drawn films, they had two years two animate; on "Moana," as on many CG-animated films, most of the animation took just six months to complete, earlier this year. ("Big Hero 6" directors Don Hall and Chris Williams came aboard as co-directors on the film to help with the story.)
See the most-read stories in Entertainment this hour »
One thing that did come easily, however, is their own creative partnership. Clements and Musker both grew up altar boys in the Midwest: Clements in Sioux City, Iowa, and Musker in Chicago. Both were the editorial cartoonists at their school newspapers. And both arrived at Disney Animation in the 1970s, in an era when the men who had made classics like "Snow White" and "Pinocchio" still roamed the Burbank lot. They first worked together on 1986's "The Great Mouse Detective."
"Our sensibilities align," Musker said. "John was more structure oriented and I was more dialogue oriented…. We'd divvy up the songs. If you're gonna do 'Under the Sea' then I'm gonna do "Kiss the Girl.'"
While they had once been young observers of Disney's Nine Old Men, Clements and Musker are now among the studio's elder statesmen. On "Moana," as the directors ran their dailies, many of the animators who came in to share their shots had been children when "The Little Mermaid" arrived in theaters.
"The younger people we're working with bring so much enthusiasm and energy," Musker said. There's a little bit of handing off the torch."
Reflecting on the changes in animation since they began their careers, the directors said they see an industry that's in better shape today, as other animation studios like Pixar, DreamWorks Animation, Illumination and Blue Sky press the art form forward.
"When we started, if you wanted to do the kind of animation that we do, Disney was the only place to do it," Musker said. "I think it's a better, healthier industry that there's competition."
Follow me on Twitter for more movie news: @thatrebecca
---
The complete guide to home viewing
Get Screen Gab for weekly recommendations, analysis, interviews and irreverent discussion of the TV and streaming movies everyone's talking about.
You may occasionally receive promotional content from the Los Angeles Times.