Recipe: New Orleans-style beignets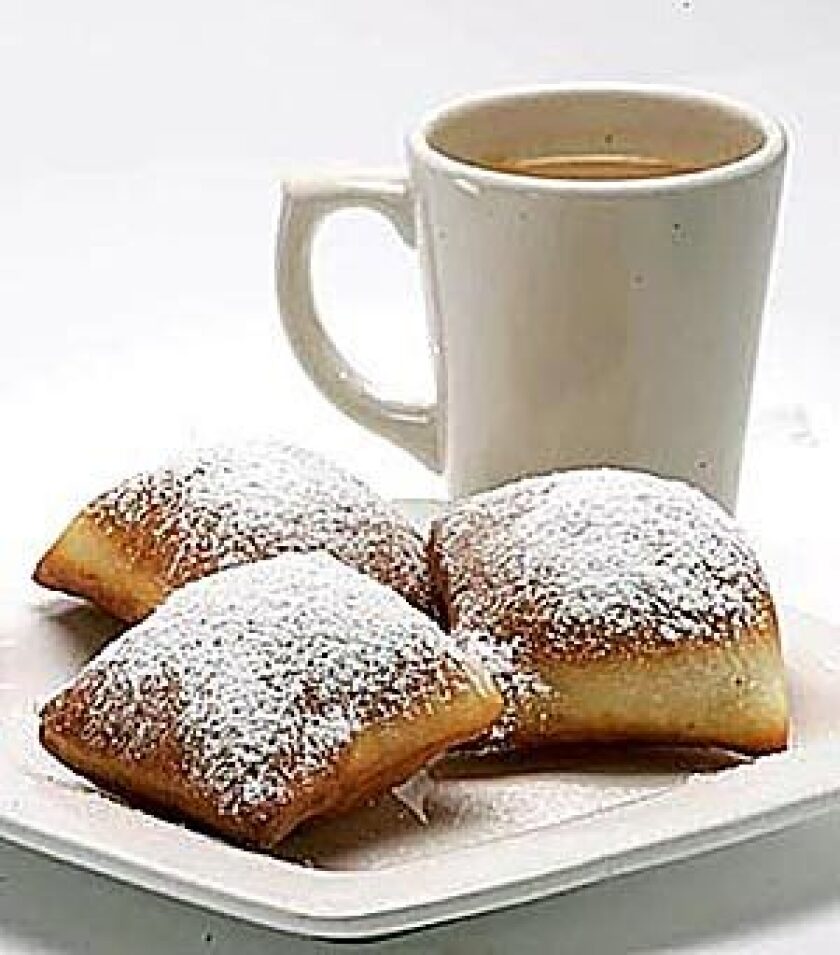 Total time: 30 minutes, plus rising time for the dough
Servings: 12 (Makes 3 dozen beignets)
Note: Adapted from a recipe by chef Bryan Gilmore of the Creole Creamery in New Orleans, from "86 Recipes."
1 teaspoon plus 1/2 cup sugar, divided
1 envelope active dry yeast
1/4 teaspoon kosher salt
4 cups flour, plus extra for work surface, divided
1 cup whole milk
4 tablespoons unsalted butter
1 1/2 teaspoons ground cardamom, nutmeg or cinnamon (untraditional and optional)
1 large egg, at room temperature
Peanut or vegetable oil for deep-frying
At least 2 cups powdered sugar for dusting
1. In a small bowl, combine one-fourth cup warm water and 1 teaspoon of the sugar. Sprinkle the yeast over the mixture. Let sit 5 to 6 minutes; if the yeast is not absorbed, stir lightly until the mixture is creamy.
2. Combine the remaining one-half cup sugar, salt and 3 cups of the flour in a large bowl with a whisk, or in the bowl of a stand mixer with the whisk attachment.
3. Combine the milk and butter in a small saucepan and heat over low heat just until the butter is melted.
4. If you are using a standing mixer, swap out the whisk attachment for the dough hook. In a slow, steady stream, mix the milk mixture into the sugar-salt-flour mixture. If mixing by hand, stir with a fork or wooden spoon. Add the egg, the yeast mixture and the remaining 1 cup of flour. Mix until a soft dough forms (you may need to scrape down the sides of the bowl with a rubber spatula). Cover tightly with plastic wrap and set aside in a warm spot until the dough doubles, 1 to 2 hours.
5. Heat about 3 inches of oil in a deep fryer or Dutch oven until the temperature reaches about 370 degrees.
6. Divide the dough into thirds. Working in batches on a floured work surface, knead each piece briefly. Using a rolling pin, roll the dough out into a rectangle less than one-fourth-inch thick. Cut the dough into roughly 3-inch squares and gently drop them, 2 or 3 at a time, into the hot oil. Cook 1 to 2 minutes, until golden brown, then flip them over carefully with a slotted spoon. Cook 1 to 1 1/2 minutes longer, until the beignets are puffed and evenly browned. Using a slotted spoon, transfer the beignets to paper towels to drain off excess oil. Dust thickly with powdered sugar and serve hot or warm.
Each serving: 437 calories; 6 grams protein; 62 grams carbohydrates; 1 gram fiber; 19 grams fat; 5 grams saturated fat; 29 mg. cholesterol; 39 mg. sodium.
---
The essential weekly guide to enjoying the outdoors in Southern California. Insider tips on the best of our beaches, trails, parks, deserts, forests and mountains.
You may occasionally receive promotional content from the Los Angeles Times.