Recipe: Salbitxada sauce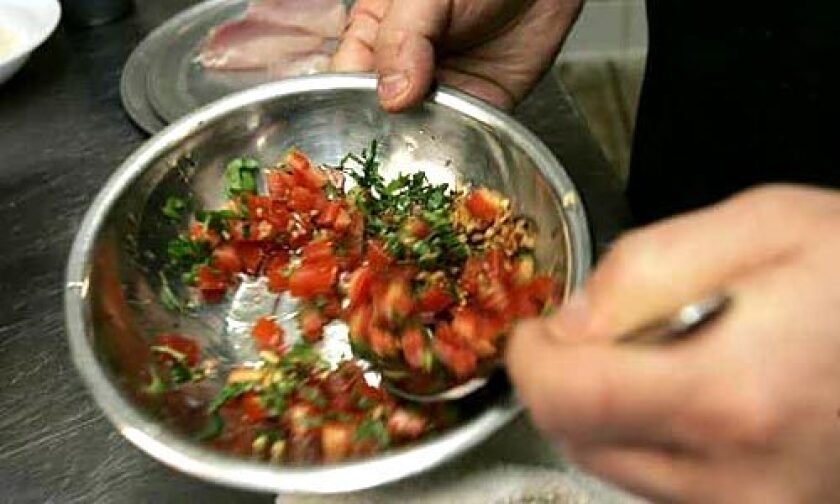 Salbitxada sauceTotal time: 20 minutesServings: Makes about 2 cupsNote: Adapted from a recipe by Josef Centeno. Please see FDA updates regarding tomato safety: www.fda.gov/oc/opacom/hottopics/ tomatoes.html.2 tablespoons whole almonds 1/2 serrano chile, seeded, diced6 cloves garlic, minced2 ripe tomatoes, cored, seeded and diced Zest of 1/2 lemon2 tablespoons thinly sliced Italian parsley1 tablespoon sherry vinegar Olive oil Kosher salt Freshly ground pepper1. Toast the almonds in a sauté pan over medium-high, shaking frequently, until golden and fragrant, about 5 minutes.2. Combine the almonds, chile, garlic, tomatoes, lemon, parsley, vinegar and one-half cup olive oil in a medium bowl. Season with one-fourth teaspoon salt and a couple grinds of black pepper, or to taste, and adjust consistency with additional olive oil if desired. This will keep for two days, refrigerated.Each tablespoon: 36 calories; 0 protein; 1 gram carbohydrate; 0 fiber; 4 grams fat; 0 saturated fat; 0 cholesterol; 19 mg. sodium.
---
The essential weekly guide to enjoying the outdoors in Southern California. Insider tips on the best of our beaches, trails, parks, deserts, forests and mountains.
You may occasionally receive promotional content from the Los Angeles Times.