Beverly Hills meat shop specializes in worldly tastes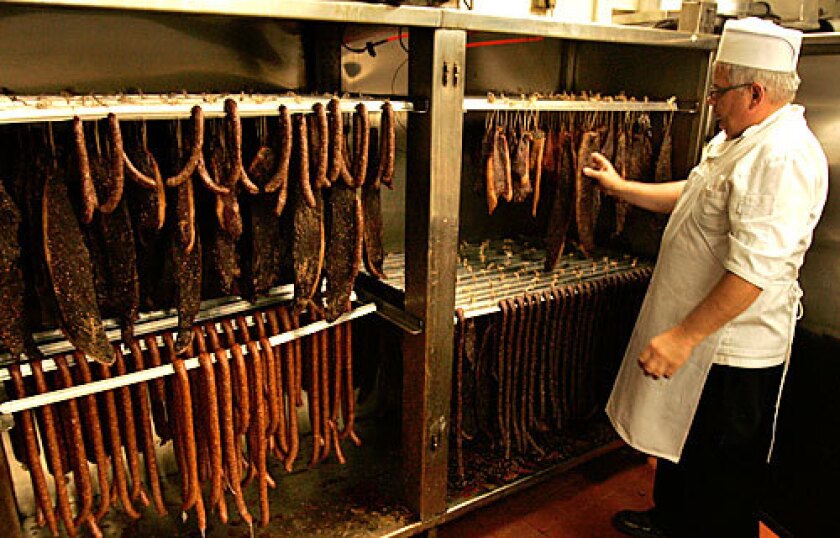 By 10 on a brisk Saturday morning, the retro aluminum-lined glass butcher case at the European Deluxe Sausage Kitchen is already cloudy with fingerprints. Devotees of the 60-year-old Beverly Hills specialty sausage and meat shop are pressed against the glass, trying to choose among the two-dozen German-style brats and bocks, spicy Italian links and smoked Polish sausages.
Gary Troub, the 51-year-old German sausage maker and owner, reaches into the case and pulls out a tray of rosy, 2-inch-thick beefy links. "How many pounds of boerewors was it?" he asks a willowy young mother toting a Gucci diaper bag.
Troub tears off a sheet of white butcher paper, folds it neatly around the chubby sausages, and reaches for a foot-long strip of leathery beef jerky hanging against the wall. "And for the biltong, dry or soft, fat on or off?"
The Fancy Food Show-worthy names of these air-dried jerkies and fresh sausages belie their centuries-old sub-Saharan roots and the depth of their vinegar-and-coriander-spiced flavor. Ask among the nearly 30,000 South African expats living throughout the Los Angeles area, and fingers will likely point toward the Sausage Kitchen for freshly made biltong (foot-long chunks of coriander-and-cider-vinegar-cured, air-dried beef), droëwors (ground beef stuffed into half-inch sausage casings before curing and drying), or boerewors (fresh beef farmers sausages seasoned with cider vinegar, coriander, cloves and other spices). European-style sausages may have been the foundation of the shop when it opened in 1948, but it's the South African specialty products that keep the brick smoker churning today.
"I grew up next door to a butcher shop, so I learned to like the sausages early," says Troub, arranging boerewors in neat rows.
Beginnings
The butcher shop was in Höhr-Grenzhausen, a small town along the Rhine River known more for ceramic pottery than bratwurst. After earning a butcher's meisterbrief, a rigorous seven-year guild-regulated certificate program, Troub worked at a local butcher shop (his future wife, Andrea, worked the front counter). When the couple moved to Los Angeles 20 years ago, jerky wasn't exactly on their mind.
"Germans like fresh meat and sausages . . . jerky, not so much."
Several mornings each week, Troub hunches over a stainless-steel prep table in the corner of the 450-square-foot kitchen, slicing foot-long chunks of beef bottom round and, when market prices are reasonable, farm-raised antelope.
"We used to hang the jerkies all over the kitchen to dry, but it got to where you couldn't walk back here without running into meat," he says. He purchased a commercial dehydrator several years ago to increase capacity and regulate the drying temperature.
Biltong (Afrikaans for "buttock tongue") and droëwors ("dried sausage") were introduced to South Africa as early as the mid-17th century by Dutch colonists in Cape Town, a supply station for spice ships en route to Asia and India from the Netherlands. Curing and drying ostrich or African antelope (including eland, kudu and springbok) with cider vinegar, salt and spices enabled Boers (Dutch farmers) to preserve game meat for months in the hot, spoilage-prone climate. Fresh sausages, such as boerewors, were also heavily seasoned with vinegar and spices to disguise the flavor of strong game meats.
Troub uses a more subtle blend of vinegar and spices geared toward modern-day palates. He cures foot-long strips of the meat for several days in cider vinegar and salt (both preservatives), cracked coriander and baking soda (a 20th century addition that also acts as a preservative). An inch-thick rim of fat is left on one end of each strip, the cherry on the sundae for customers who prefer their biltong "natural" (fat on), while the meaty end is threaded with cotton twine so two slabs can be tied together to air dry.
Droëwors are bathed in a similar coriander-spiced vinegar cure; when dry, the vinegar dissolves the casing and makes the thin ground beef, sausage-style jerky brittle enough to crumble by hand.
Troub and the Sausage Kitchen's previous owner, Willie Kossbiel, are matter-of-fact about the seemingly mysterious debut of these African specialties. Thirty years ago, a representative from the South African Consulate General's office (located two miles northeast of the shop) asked Kossbiel to consider making the hometown favorites that expats were craving.
"The embassy asked for jerky, so I made it . . . simple," quips the 71-year-old Kossbiel, who continues to work the front counter Friday and Saturday afternoons.
Biltong fans
A representative from the South African Consulate General's office was less certain of the Sausage Kitchen jerky lineage. "All I know is you can find South Africans there before road trips or a game of rugby," says consul Etienne van Straaten, who recently picked up some biltong for a family camping trip to Sequoia National Park.
"Not too dry or soft, natural, please," instructs a customer in a lilting British accent as he places a Cadbury milk chocolate bar and piri piri (South African chile sauce) on the counter.
Troub riffles through the dozens of biltong strips hanging on the wall, chooses one, and pushes it through a cylindrical metal blade shredder to finely dice the jerky.
"It's easy to cut yourself when you slice by hand too quickly -- the jerky is very thick and tough -- so I finally had one shipped over from South Africa a few years ago," he says, handing over a brown paper sack of the shaved jerky.
A young chef sporting a backward baseball cap scans the German mustards and horseradishes on a small, free-standing shelf. He asks Andrea about the smoked Danish bacon that a chef-friend told him was ideal for wrapping around asparagus spears and leaves with 2 pounds, thinly sliced, for Robata-Ya, an Asian-fusion Japanese grill owned by Makoto Tanaka of Mako in Beverly Hills.
"The Vienna wieners, brats and other sausages, those are for our German customers," says Andrea, pounding out veal medallions for schnitzel.
Troub's favorite? His creamy white, chubby veal bockwurst -- all veal for his Jewish customers, rather than the typical veal-pork blend.
"Germans don't really like strong spices like cloves in their sausages," he says, nodding toward the boerewors. "But that's how you cooperate with your customers."
---
The essential weekly guide to enjoying the outdoors in Southern California. Insider tips on the best of our beaches, trails, parks, deserts, forests and mountains.
You may occasionally receive promotional content from the Los Angeles Times.