Paletas: Icy, spicy, cool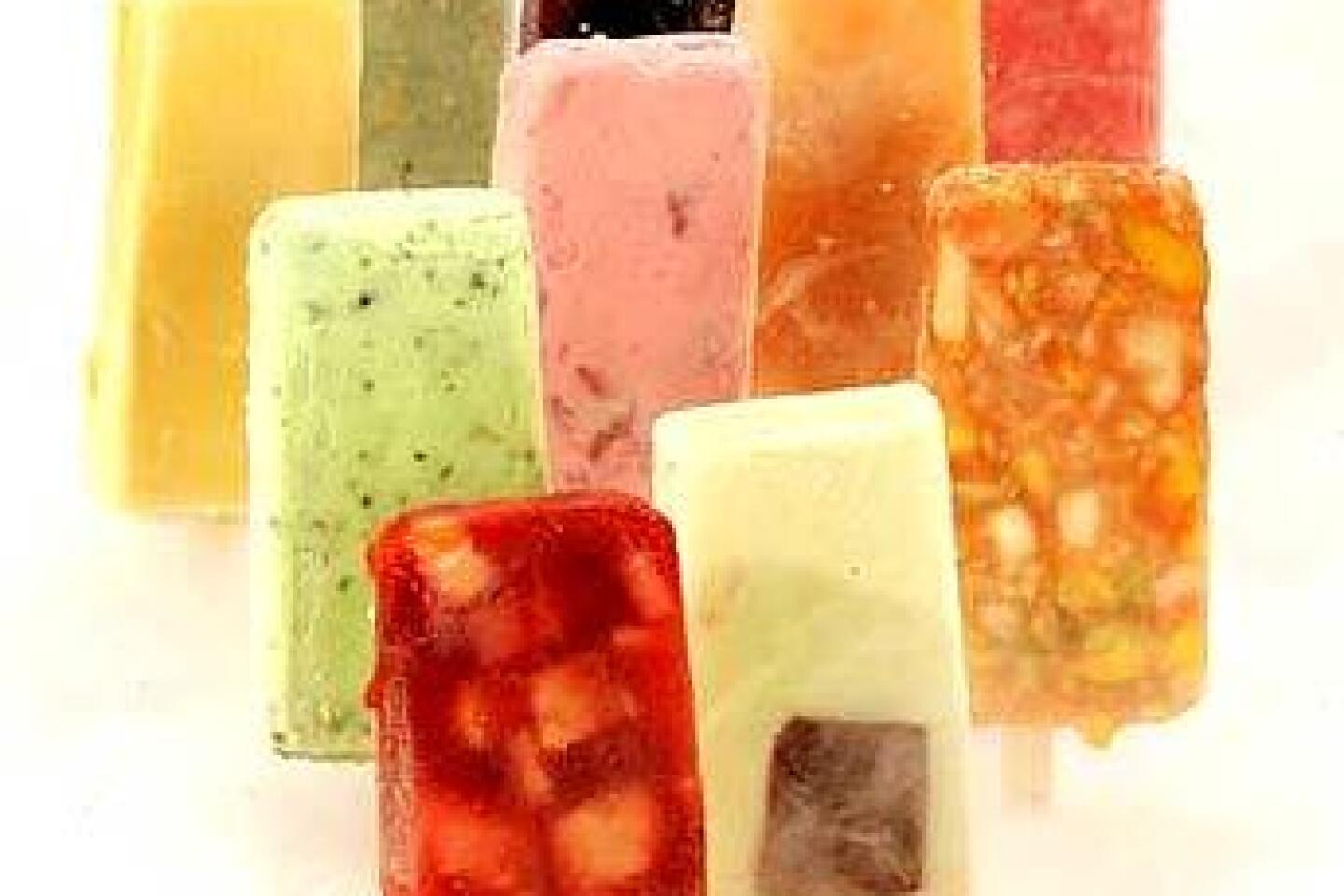 Paletas - Mexican ice pops - include such flavors as mango con chile, cantaloupe, corn, chamoy, strawberry and rice. The handmade ice pops are based on flavors traditionally found in Mexico and can be water- or cream-based. The paletería business in L.A. is expanding, reaching Latinos and non-Latinos alike.
(Carlos Chavez/LAT)
Melanie Agustin, 6, enjoys a strawberry and cream paleta at Paletería La Michoacana in downtown L.A.
(Stefano Paltera/For The Times)
Jorge Barragán, front, owner of Paletería La Michoacana, learned to make paletas from his father and mother, Agustin and Maria Elena Barragán.
(Stefano Paltera/For The Times)
Colorful paletas line a freezer at Delicias de México in Garden Grove. The owner says that on a hot day, he makes 500 to 1,000 of the ice pops.
(Irfan Khan / LAT)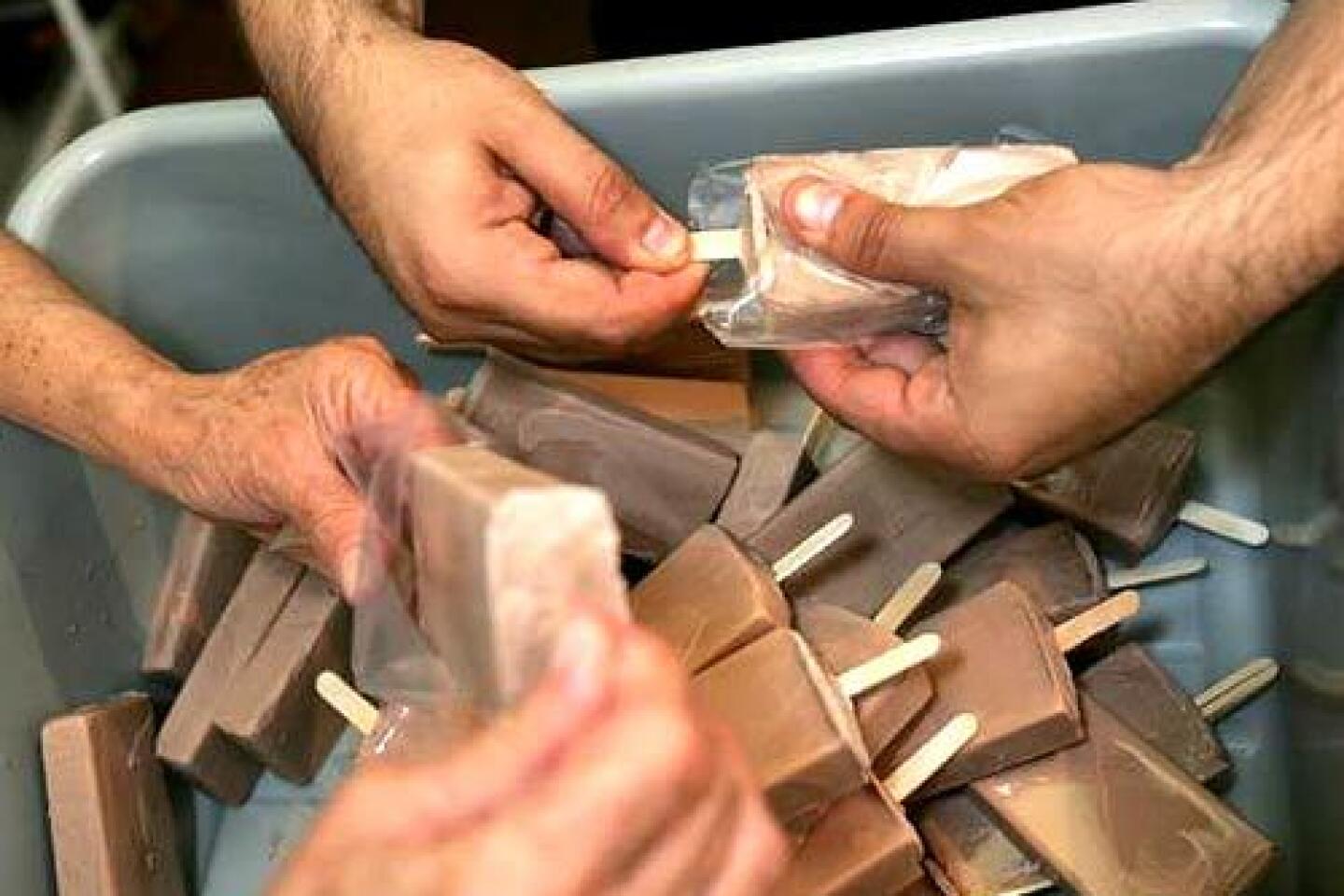 Chocolate paletas at Paletería La Michoacana are almost ready for customers.
(Stefano Paltera / For The Times)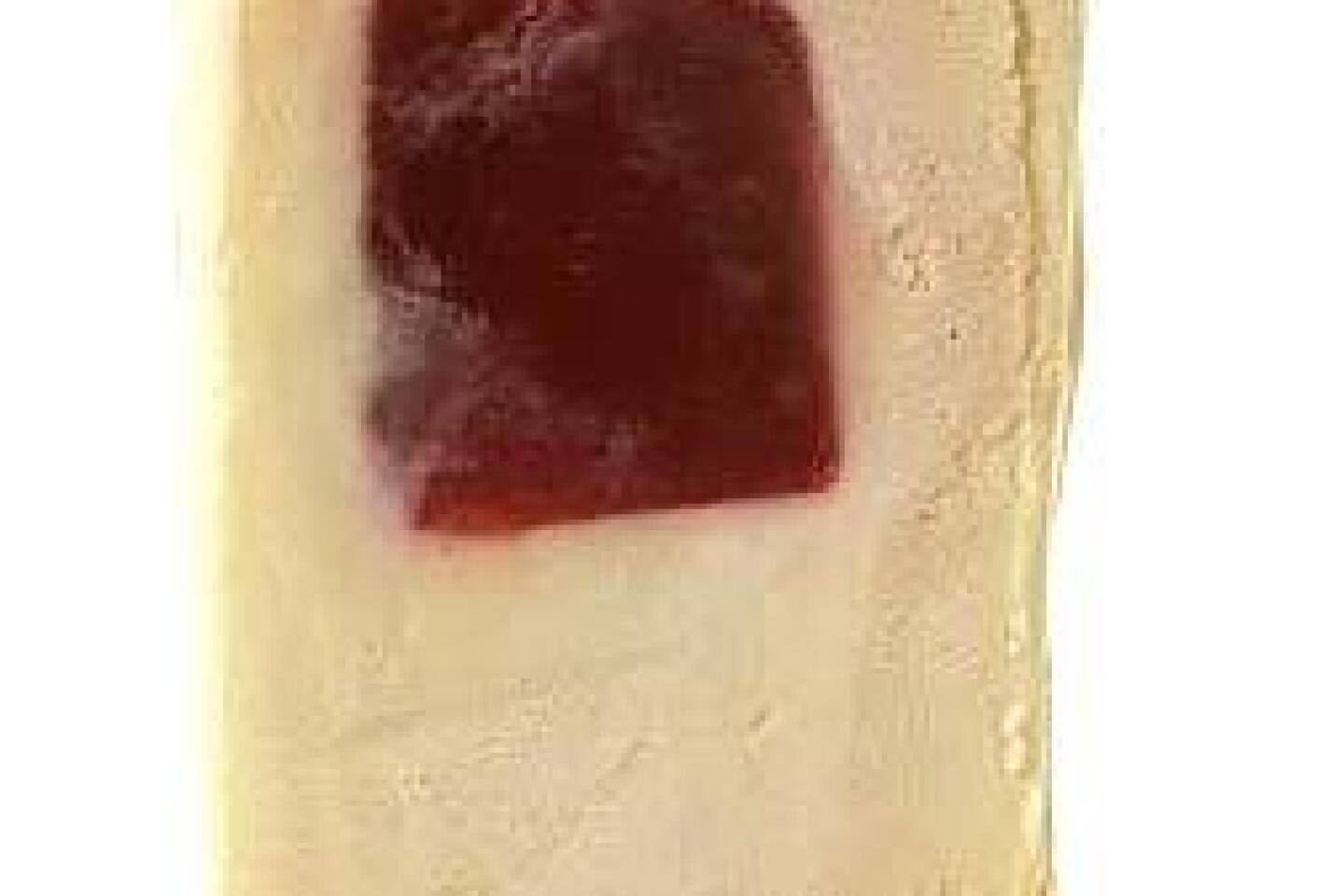 A piece of guava is suspended in a paleta.
(Carlos Chavez / LAT)
Cream-based nuez (nut) paleta - with pecans - is one of the most popular flavors at Paletería La Michoacana.
(Carlos Chavez / LAT)
SUMMERTIME is paleta time. These Mexican ice pops -- chock-full of chunks of fresh fruit and available in a hypnotizing array of colors and clear, not-too-sweet flavors -- conjure images of hot afternoons in the park, time spent on a bench under a shady tree, clear blue skies dotted with red, white and green balloons.
That's not just some idyllic Latino-Rockwellian fantasy. On a recent 80-degree-plus weekend in the courtyard of Plaza Mexico in Lynwood, a family of five took advantage of a park bench and a view of a replica of the Ángel de la Independencia, each of them holding fast to summer by his or her Popsicle stick. Customers at the nearby Paletería La Michoacana, a small, often crowded shop tucked into a corner of the plaza, lined up for paletas in flavors such as tamarindo, hibiscus flower and mango con chile. (If summer in L.A. had a flavor, it might be mango con chile.)
But if you haven't yet visited one of L.A.'s many neighborhood paleterías, you most likely haven't experienced fresh, handcrafted made-on-the-premises ice pops. Really, you've never had Popsicles or ice cream bars like these -- a treat so idolized that one city in Michoacán has even raised a statue of a paleta at the entrance to the town.
Luckily, the paletería business here is expanding, reaching Latinos and non-Latinos alike. Cities in Mexico might boast a paleta shop on every other corner; maybe Southern California is catching up.
"We really wanted to introduce paletas to non-Latinos," says Monica Ulla, co-owner of one-year-old La Mich Paletería, located in a major shopping center in Duarte. She and her partner have plans to open other shops in Los Angeles. "A lot of paleterías are located in Hispanic neighborhoods because they can do good business.
"Anyone who's not familiar with paletas might think they're just Popsicles. We have to explain that everything's made with fresh fruit, and that they're all made in the store every day -- we do everything by hand. And then they fall in love with the flavors."
--
A Proustian power
FOR those already intimately familiar with them, paletas have Proustian power, their flavors based on those traditionally found in Mexico: creamy, sweet mamey, a fruit that tastes almost like a cross between sweet potato and avocado; tuna, the fruit of the nopales cactus; custardy chongos, sweet curdled milk with cinnamon; cajeta, or caramel; grosella, a type of currant; pepino con chile, cucumbers with chile; rompope, a rum-flavored ice cream bar that tastes a lot like egg nog; arroz, a rice ice cream bar spiked with pieces of cinnamon stick; guanabana, or soursop; nance, the tiny, slightly acidic tropical fruit often listed on paleta menus as yellow cherries.
Traditional, yeah, but to some, they might seem cutting-edge, even -- or especially -- at a time when pastry chefs can't seem to stop putting their reinvented Creamsicles on restaurant menus and the "frozen yogurt wars" have reached the peak of tediousness.
The menus of paletas from shop to shop might echo one another, but each paletero will have his own flair.
The world of paletas, which translates literally as "trowels," is divided in two: paletas de aguas (water-and-juice-based pops) and paletas de leche, or de crema, (milk- or cream-based pops). The icy paletas de aguas are beautifully, barely transparent and have pieces of fruit suspended throughout (though sometimes concentrated at the stick end because the fruit floats to the top of the mold during quiescent freezing).
Bite into a paleta de leche, and it's a little creamy when your teeth first sink into it, but at the center there are still compact ice crystals, the stuff that gives you tingles of pleasure. Stacked up in freezer cases, they sort of look like individually wrapped troops in formation -- the purple ones together, the red, the yellow, the ones with inserted panes of membrillo or guava paste, all for about $1.50 each.
They're more straightforward than raspados (shaved ice often layered with fruit and syrup) and more transportable than ice cream cones -- people show up with their coolers outfitted with dry ice and buy dozens of paletas at a time, hence the "buy-10-get-2-free" (or even "buy-20-get-4-free") offers.
"Sometimes people say, 'What's so hard about making paletas?' " says Rogelio Garcia, owner of Delicias de México, a bright-pink-and-white-striped paleta parlor in Garden Grove in the shadow of the 22 Freeway.
On hot days he might make as many as 500 to 1,000 paletas. "It's not as easy as you'd think." But he's not giving up any secrets, family secrets. His recipes, which include a paleta de leche studded with corn, and a pico de gallo paleta made with pineapple, jicama, cucumber and mango, are from cousins who own ice-cream parlors in Tijuana and Enseñada. (He also makes a simple but amazing mangoneada -- a frozen mango pop in a plastic cup, flavored with lemon and salt and dipped in tart chamoy syrup, made from a plum-like fruit.)
Like many a paletero, Garcia is from Michoacán, from the village of Tocumbo, where a statue of a giant, three-story-high pink paleta greets visitors to the town; inside the giant paleta is a blue globe covered by, what else, more paletas. In Mexico, there are thousands of paleterías called La Michoacana or La Flor de Michoacana or Delicias de Tocumbo.
In the '40s, two Tocumbans established an incredibly successful paletería business in Mexico City and subsequently helped others from Michoacán open their own shops throughout Mexico, with an emphasis on making paletas on the premises.
In downtown Los Angeles, at Paletería La Michoacana (unrelated to the one in Plaza Mexico), Jorge Barragán makes paletas the way his father taught him. His father had opened a Paletería La Michoacána in Mexico in the '60s.
"Everybody knows that name. Same name, different owners," says Barragán, who's from Los Reyes, Michoacán, and who opened his own shop seven months ago.
"But everybody has a little touch [to their paletas] that's different."
Among stacked boxes of strawberries and mangoes, Barragán -- whose father, mother and sister also sometimes work alongside him in the tiny jewelry-district store -- pulls out one of his stainless steel paleta molds and starts filling each slot with nuez, which translates as nut or walnut, but he (and others) often uses pecans. Each mold holds 40 paletas, and he fills each slot to the brim with whole pecans, then pours in his ice-cream base and inserts wooden sticks; there are so many pecans that they hold the sticks upright in the liquid ice-cream base. He then places the mold into a bath of cold brine solution that freezes the paletas in 20 to 30 minutes.
--
Labor-intensive
AMONG Barragán's paletas de leche, the nuez is one of the most popular, crammed with so many nuts that there are more pecans than ice cream and so many that he charges $3 (instead of the normal $1.75).
He says one of the most labor-intensive paletas is his "cheemisse" -- and it's better than a Creamsicle turned inside out. The center of a partially frozen ice cream paleta is hollowed out and filled with fresh strawberries, then returned to the freezer. A peanut paleta is made with just a little bit of milk -- it's listed as a paleta de agua -- nutty and icy. To a paleta of pineapple and chamoy he adds a little Tapatío sauce, a little lime and a little salt for the right balance of sweet, tart and spicy.
"You can't use too much salt in paletas or they don't freeze right," he says. "And the paletas shouldn't be too sweet either, because that just makes you thirsty."
In his two freezer cases, his inventory includes more than 30 flavors of paletas made from recipes from his father or sister.
"I have customers who don't know what the flavors are," Barragán says, "but they just start at one end of the freezer -- 'this one, then this one, then this one' -- and work their way to the other end. . . . They taste it once, and they come again."
--
betty.hallock@latimes.com
--
(BEGIN TEXT OF INFOBOX)
The best and freshest: Discover handmade paletas
HERE'S a selection of paleterías in Los Angeles and Orange counties. Each offers a wide variety of delicious, made-on-the-premises paletas.
Delicias de México. Don't overlook the corn paleta de leche, savory-sweet and creamy, at this fantasy pink-and- white-striped ice cream parlor. Other favorites among the more than two dozen flavors are the spicy ones, such as cucumber or mango with chile. The paleta supplies run low on Sunday afternoons; get there early. 13466 Harbor Blvd., Garden Grove, (714) 590-0031.
La Flor de Michoacán. His tiny, hard-to-find shop might be spare décor-wise and he might not always stick his sticks in straight, but Albert Garcia makes some of the best paletas around. Try his coconut paleta de agua, shaggy with big strips of fresh coconut, or the mango with chile that strikes just the right balance between spicy and sweet. 1750 S. Main St., Suite B, Santa Ana, (714) 664-0701.
Mateo's Ice Cream and Fruit Bars. A small chain with a big menu -- of paletas, nieves (ice cream), licuados (shakes) and vampiros, or "vampires," vegetable juices. Paleta flavors might include tejocote (a Mexican fruit resembling crab apple) and pitaya, or dragon fruit. 1250 S. Vermont Ave., No. 105, Los Angeles, (213) 738-7288; 4222 W. Pico Blvd., Los Angeles, (323) 931-5500; 4929 S. Sepulveda Blvd., Culver City, (310) 313-7625; 522-B E. Vine Ave., West Covina, (626) 919-2090.
La Mich Paleteria Mexican Ice Creamery. A bright, contemporary paleta shop with plenty of seating and lots of options. You can even get any paleta dipped in chocolate and covered with coconut or nuts (resulting in "The Big Mich") or dipped in chamoy syrup for a chamoyada. 1026 Huntington Drive, Duarte, (626) 359-6333.
La Nueva Reyna de Michoacán. A popular nevería in Santa Ana's Fiesta Plaza, right next to a merry-go-round. Favorite paleta: a creamy strawberry one with a big, whole strawberry at the base, right where the paleta meets the stick. 300 E. 4th St., Santa Ana, (714) 835-0394.
Paleteria La Michoacana. Passion fruit, blackberry, soursop, nopales fruit, coconut, cantaloupe, watermelon, pistachio -- so hard to choose, but you can't go wrong. A yogurt paleta is tangy-creamy and filled with nuts and chunks of peach, apple and strawberry. The peanut paleta is one-of-a-kind: made with just a touch of milk, it's not so much creamy as icy with lots of crushed peanuts throughout. 306 W. 7th St., Los Angeles, (213) 623-2650.
Paleteria La Michoacana (unrelated to above). It can be standing-room-only at this paleta shop located in the Plaza Mexico shopping center and food court; stroll the courtyards with paletas in hand. The mamey paleta de leche has the perfect balance between fruit and ice cream. 3100 E. Imperial Highway, Building B1, Unit 1315, Lynwood, (310) 603-1943.
Paleteria Limon. Grab a number and stand in line for a vanilla ice cream paleta studded with raisins, or a pineapple paleta spiked with chile, or a chicle paleta -- bubble-gum flavored with a couple of gum balls inserted into the ice pop on either side of the stick, something to chew on after your paleta is long gone. 6100 Atlantic Blvd., Maywood, (323) 773-8806.
Betty Hallock
--
Cucumber-chile paletas
Total Time: 30 minutes, plus freezing time
Servings: 9 (3-ounce) paletas
Note: From recipe tester Noelle Carter. Popsicle molds are available at select Bed, Bath & Beyond stores and online at target.com and amazon.com.
2 pounds (about 2 large) cucumbers, plus an additional half cucumber, divided
1/3 cup fresh lime juice
½ cup sugar
1 dried New Mexico chile pepper, slightly crushed
1 teaspoon New Mexico chile powder
1 teaspoon cayenne chile powder
1 teaspoon salt
1. Place empty ice-pop molds in the freezer to chill. Dice 2 pounds of the cucumber into 1-inch pieces; do not remove the skins. Place the pieces in a food processor or blender and purée until smooth. Strain into a medium bowl through a fine mesh strainer, pushing out the juice with some of the pulp. You should have 2 1/2 cups juice and pulp. Set aside.
2. Peel the remaining half-cucumber and cut it into half-inch-by-one-eighth-inch pieces. Set aside in a small bowl.
3. Add the lime juice, sugar and crushed chile pepper to a small sauce pan. Cook over medium heat, stirring occasionally, until the sugar is dissolved. Remove the syrup from the heat and cool slightly.
4. In a small bowl, combine the chile powders. Strain the cooled syrup into the bowl with the cucumber juice, discarding the crushed pepper. Stir in the salt and one-fourth teaspoon of the combined chile powders.
5. Pour some of the mixture into each mold, leaving about a half-inch of space at the top. Stir several pieces of cucumber into each mold. Place lid on the molds and fit with the wooden stick. Place the molds in the freezer and freeze until solid, 2 to 4 hours.
6. Remove the molds from the freezer and run them briefly under warm water to loosen the paletas. Gently pull them from the molds and sprinkle the tops lightly with the remaining chile powder mixture to taste, if desired. Wrap the paletas in plastic wrap and return them to the freezer if not serving immediately. They will keep 1 to 2 weeks in the freezer.
Each paleta: 54 calories; 0 protein; 13 grams carbohydrates; 1 gram fiber; 0 fat; 0 saturated fat; 0 cholesterol; 263 mg. sodium.
Get our L.A. Goes Out newsletter, with the week's best events, to help you explore and experience our city.
You may occasionally receive promotional content from the Los Angeles Times.