A Santa Barbara wine country picnic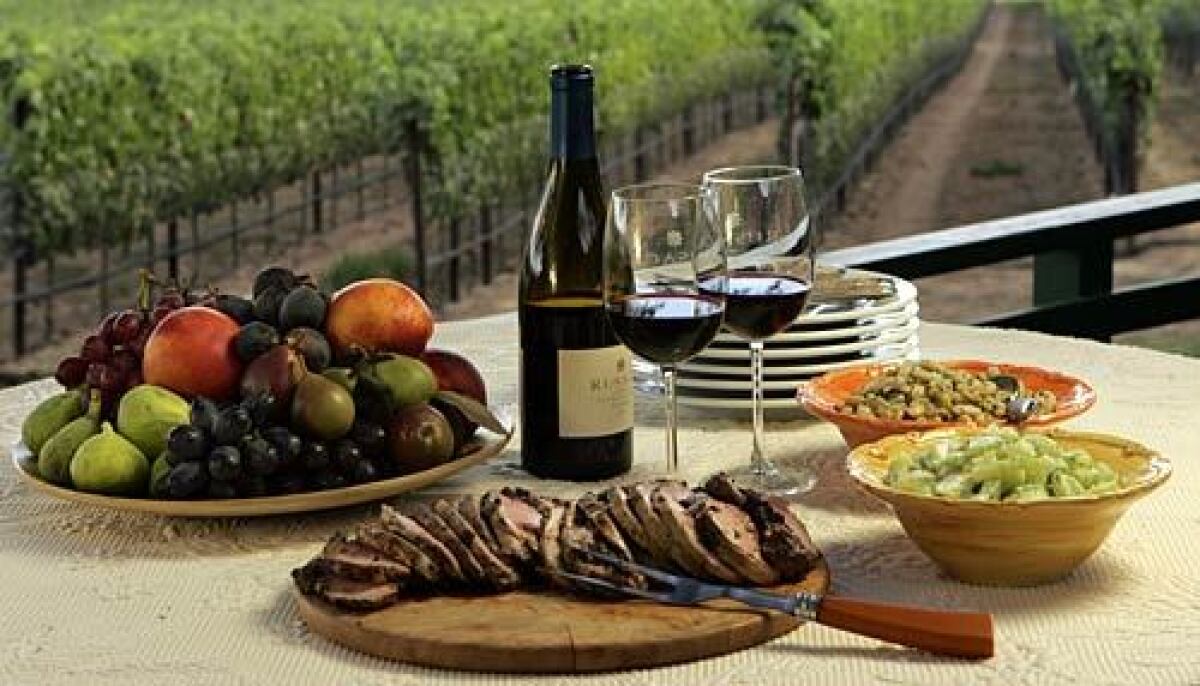 Los Angeles Times Staff Writers
LOS OLIVOS —
The dusky leaves of the gnarled live oaks undulate in the breeze, and acres of Syrah and Grenache and Sangiovese vines stretch out before you. A couple of cows make slow progress down the golden hills in the distance; there's the faint music of a fountain, a clink of glasses, a rustle of leaves. You break crusty bread, slice into a softly collapsing cheese. A plate of figs, a bunch of grapes, a glass of wine.
It's harvest season in Santa Barbara wine country, and the grapes are hanging fat and purple and heavy on the vines. It's the perfect moment for a picnic in the vineyards.
---
FOR THE RECORD:
Road name: A Sept. 5 article about the best places for a wine country picnic in Santa Barbara County said Buttonwood Farm and Beckmen Vineyards are on or near Pintado Road. The correct name is Alamo Pintado Road. —

---
From the bucolic, tree-lined lanes of the Santa Ynez Valley to the winding roads and steep, ocher slopes of Ballard Canyon and further west to the softer landscape of the Santa Rita Hills (you sense the sea just beyond), there are dozens of wineries where you can picnic.
Pack up a spread, something as off-the-cuff as sandwiches or as carefully thought out as a layered vegetable terrine and a rustic peach tart and make the drive a couple of hours north. But which winery to choose for the afternoon idyll? And what are the dishes that travel best, even benefit from an overnight rest?
We've scouted winery picnic spots around Santa Barbara County and found the most pastoral, the most gorgeous, the most convenient. But first, the menu.
Dishes that speak of late summer feel right now. Heirloom tomatoes, which are so great this year, make a salad no one can argue with -- just slice them in the morning before you leave, drizzle with sea salt, freshly ground black pepper, great olive oil and torn basil leaves. The flavors will meld on the way as you drive.
But ripe tomatoes take on a completely different character when you slow-roast them to concentrate and deepen that marvelous flavor, so instead, you might want to turn them into a gorgeous red soup that you chill overnight. Bring it along in a thermos, or in a jar in your cooler, along with some pistou (France's version of pesto, minus the pine nuts) or crème fraîche. Serve it in your best plastic low-ball glasses, swirling a little pistou or crème fraîche on the surface of each at the last minute (no spoons necessary).
The main eventTHE centerpiece of the menu is a butterflied leg of lamb stuffed with olives and figs and served cool. Roast it the night before, tuck it into the fridge, and slice it in the morning -- the pretty streaks of cured olives, black Mission figs and flecks of rosemary mean you need neither sauce nor condiment.
Served hot, it would feel too heavy this time of year (and, man, it can get hot in these vineyards), but cooled down, the flavors mellowed overnight, it's fantastic for a picnic, especially with a great Syrah.
A minted cucumber salad, dosed with thick Greek yogurt, provides a cool, refreshing counterpoint to the lamb. Salting the cucumbers before you make the salad makes them release much of their water; this also prevents the dish from getting soggy overnight. Bring fresh mint separately in a paper towel or plastic bag, then tear it and add it at the last minute so it doesn't discolor.
A simple dish of flageolet and cannellini beans, cooked till tender and laced with olive oil, shallots, rosemary and a generous confetti of fresh parsley, pulls it all together. A traditional match with lamb, the beans are great served at room temperature; the soft flavors of the beans and the herbs deepen overnight.
For dessert, tarts and crisps and crumbles are great this time of year and go well with the late-summer menu, but you really don't need anything more complicated than some great ripe fruit and cheese. Seckel pears are just coming in; nectarines are still fabulous, and of course figs still rock.
If it's Saturday, you might want to do your fruit shopping at the wonderful farmers market in downtown Santa Barbara; it's right on the way. The market, near the corner of Santa Barbara and Cota streets, is smaller than the Santa Monica Wednesday market -- it feels like a backyard garden party -- but many of the same farmers show up and even shop there. Lately, there have been wonderful peaches, plums and apples from Mud Creek Ranch. The market also provides good crudité opps: breakfast radishes from Jimenez Family Farm or multicolored carrots from McGrath Family Farms.
Fortunately, you don't have to worry about buying the cheese ahead of time -- there are a few shops in Santa Barbara with excellent selections (see information box). If you have easy access to great bread, you might want to pick that up before you hit the highway; there's pretty good bread in these shops too, but nothing as good as a fresh pain rustique from Breadbar or a baguette from Le Pain Quotidien.
When you pack it all up, tuck in a wooden cutting board or two -- they do double duty as platters (you can cut the bread and cheese right on them). Don't forget water -- harvest season can mean searing heat -- and a corkscrew.
So where, then, to picnic?
Maybe you got a later-than-planned start, and you're famished by the time you hit Santa Ynez. Just take a left from Highway 154 onto Mission Drive (Highway 246) heading west, and less than half a mile away, there's a pretty, peaceful spot at Gainey Vineyards.
Pick your vistaBUT if you're in the mood for a repast with a Provençal feel, Buttonwood Farm, a little ways up Pintado Road, can't be beat. Pintado Road feels like a vacation in itself -- it's apple country, and there are pick-your-own farms, as well as a lavender farm.
There are just three old rustic picnic tables in the little glade behind Buttonwood's tasting room, surrounded by peach trees and fronted by a vegetable and herb garden, with views of the vineyards. If you make it up there before peach season is over, plop your basket on a table, stroll over to the farm stand next to the tasting room, and pick up a paper bag full of fabulous, perfectly ripe peaches -- or even a freshly baked peach pie -- for dessert. Then head into the tasting room and buy a bottle of 2005 Sauvignon Blanc ($14) for your picnic; the employees there will be happy to loan you glasses. (If your group has more than three or four people, it's probably good form to bring some of your own glasses along with you too.)
The right wineNONE of the wineries we visited allows anything but their own wines to be consumed on their premises. (According to Wendell Lee, general counsel for the Wine Institute, with some exceptions, state law prohibits visitors from bringing any alcoholic beverage from outside to be consumed on the winery's property.) But buying a bottle for a group seems just right anyway -- after all, the winery's providing its own little slice of heaven for your enjoyment. You can go inside the tasting room at any of these spots and taste a couple wines or purchase a flight to see what you like; there will certainly be something just right for your picnic.
Not far from Buttonwood, just east of Pintado Road (though it must be approached from Roblar Avenue off Highway 154), is Beckmen Vineyards. Not only are the wines here magnificent, but so is the picnicking.
Start in the tasting room, next to the small red barn where they make the wine, and pick up a bottle of 2006 Grenache rosé ($18) or 2005 Purisima Mountain Sauvignon Blanc ($20), or, if it's cool enough out for a red to sound appealing, a bottle of 2005 Cuvée Le Bec, a delicious Rhône-style blend ($18). They won't open the bottle for you, but they'll loan you a corkscrew.
Three gazebos on grassy hills behind the tasting room provide some nicely latticed shade for the tables they shelter. Surrounded by olive and willow trees and pines, the picnic areas look out over a pond, vineyards and gently rolling hills. It's a wonderful place to lay out your spread, and if the gazebos are all taken (not unlikely on a weekend), there are more tables under the trees.
Lafond Winery and Vineyards is only about 20 miles away as the bird flies, on the south side of the Santa Rita Hills wine loop, but it feels like a world away. The vistas here are longer than they are on the eastern side of the county; here it feels less languid, more coastal and, yes, cooler (which is a good thing, since there's not much shade). Lafond's picnic area is dreamy -- a field of grass rimmed with wildflowers that looks out over a drop down to the vineyards in a lovely valley.
But our favorite of all the picnic spots at Santa Barbara area wineries has to be Rusack, the boutique winery back on the other side of Highway 101 in drop-dead gorgeous Ballard Canyon. Inside the tasting room, check out the old picture of the gas station: It's the same building you're standing in, moved up from Santa Barbara and rebuilt on the vineyard by the previous owners.
Geoff Rusack and Alison Wrigley (yes, that Wrigley) Rusack bought the property in 1991, resurrecting an old winery that had fallen into disrepair. On their 48 acres they grow nine grape varieties, predominantly Syrah, Sangiovese, Petite Sirah, Grenache and Sauvignon Blanc. They've just run out of their perfect picnic wine -- the 2006 Syrah rosé -- so go for a bottle of the 2006 Sauvignon Blanc ($17) or the 2005 Santa Barbara County Syrah ($25).
Adjacent to the tasting room, there's a spacious deck overlooking the vineyards, completely shaded by a spectacular stand of live oaks.
It's tranquil and lovely, with a breathtaking view of the vines, heavy with fruit. Spread out your tablecloth, pull out the provisions, meet up with friends, uncork the bottle. Summer vacation might be over, but it goes on forever up here.
brenner@latimes.com
amy.scattergood@latimes.com
Get our L.A. Goes Out newsletter, with the week's best events, to help you explore and experience our city.
You may occasionally receive promotional content from the Los Angeles Times.