Recipe: Buttermilk fried chicken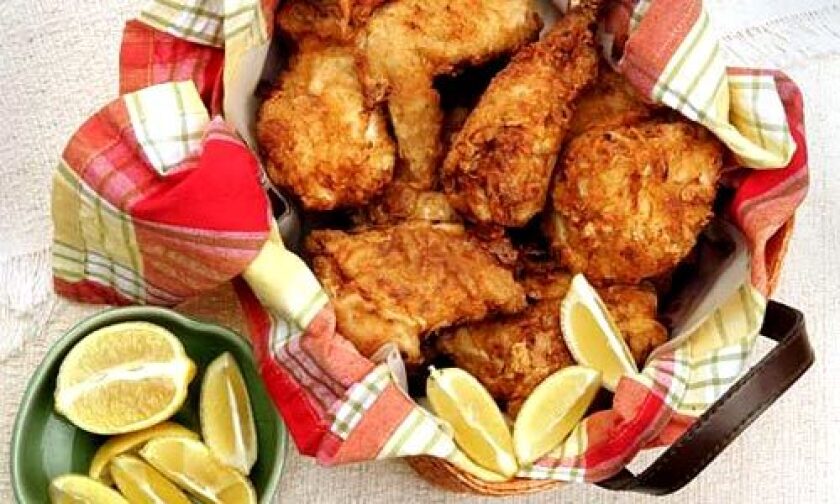 Total time: 55 minutes, plus overnight brining and drying time
Servings: 4 to 6
Note: From test kitchen director Donna Deane. Serve the chicken with lemon wedges and a drizzle of hot sauce.
1 whole chicken, about 4 pounds
1/3 cup kosher salt
3 cloves crushed garlic
6 sprigs thyme
6 sprigs rosemary
1 cup buttermilk
2 cups flour
1/4 teaspoon cayenne pepper
1 teaspoon Hungarian paprika
Canola oil
1. Place the chicken on a cutting board with the back facing up. Using a sturdy pair of kitchen shears, remove the backbone from the body. Halve the chicken lengthwise with a sturdy chef's knife, cutting through the sternum. Remove the thighs and drumsticks at the joints, as well as the wings. Cut each breast crosswise into thirds. You will have 12 pieces, not including the back (the back can be discarded or prepared with the rest of the chicken). Set aside.
2. In a large resealable plastic bag, or in a large nonreactive container, combine the salt with 2 quarts water, stirring until the salt is dissolved. Stir in the garlic, thyme and rosemary, then add the chicken pieces, making sure they are completely submerged. Seal the bag or cover the container tightly, and refrigerate overnight.
3. Remove the chicken from the brine and pat dry with paper towels. Place the buttermilk in a medium bowl. In a large, shallow baking dish, combine the flour, cayenne pepper and Hungarian paprika.
4. Dip the chicken, one piece at a time, in the buttermilk. Shake off the excess buttermilk and dredge in the flour mixture, coating the piece completely. Repeat once more with the buttermilk and flour for a double coating of batter. Repeat with all of the pieces, placing the dredged pieces on a wire rack. Allow to stand at room temperature for 1 hour to dry completely.
5. Heat one-half inch of oil in a large, heavy-bottom skillet over medium-high heat until a thermometer inserted reads 325 degrees. Fry the chicken, a few pieces at a time, until they are a rich, golden brown on each side, about 15 minutes total. The meat should be firm; a thermometer inserted should read 160 degrees. Remove the fried chicken to a paper-towel-lined pan or plate.
5. If not serving immediately, allow the chicken to cool to room temperature, then refrigerate until cold. Pack in an air-tight container before transporting.
Each of 6 servings: 640 calories; 45 grams protein; 34 grams carbohydrates; 1 gram fiber; 34 grams fat; 7 grams saturated fat; 160 mg. cholesterol; 775 mg. sodium.
---
Life is stressful. Our weekly mental wellness newsletter can help.
You may occasionally receive promotional content from the Los Angeles Times.