Recipe: Senator Danforth's chili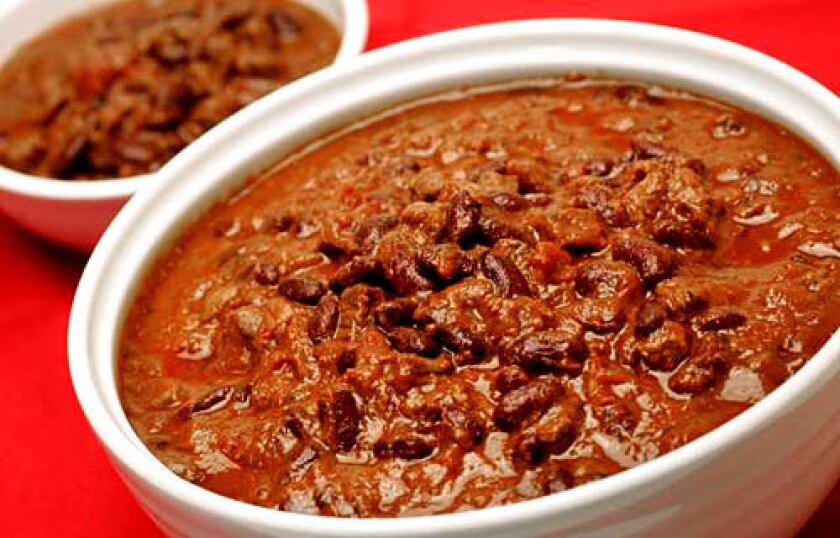 Total time: 2 hours and 40 minutes, plus overnight refrigeration
Servings: 12
Note: Adapted from "How to Eat Like a Republican: Or, Hold the Mayo, Muffy -- I'm Feeling Miracle Whipped Tonight" by Susanne Grayson Townsend.
3 1/2 pounds top round, cut into 1/2 -inch cubes
5 tablespoons oil, divided
2 cups coarsely chopped onions, about 2 medium
4 garlic cloves, minced
4 tablespoons chili powder
1 1/2 teaspoons oregano
1 1/2 teaspoons ground cumin
1 teaspoon crushed red pepper flakes
2 cups beef broth
1 (19-ounce) can whole tomatoes, drained of juice
1 (6-ounce) can tomato paste
1 1/2 tablespoons salt, divided
1 teaspoon sugar
3 (15-ounce) cans kidney or pinto beans
1 to 2 tablespoons yellow cornmeal, optional
1. In a large, heavy pot, heat 3 tablespoons oil over high heat until hot. Add the meat and sear until the pieces are lightly browned on all sides, 5 to 7 minutes, stirring constantly. Transfer the meat and their juices to a large bowl.
2. Heat the remaining 2 tablespoons oil in the pot. Add the onion and garlic; sauté until the onion is wilted but not browned. Stir in the chili powder, oregano, cumin and red pepper flakes; mix well until the onions are coated. Add the beef broth, tomatoes, tomato paste, salt and sugar, mixing well. Break up the tomatoes with a spoon.
3. Return the meat and its juices back to the pot. Stir to combine, cover and simmer gently for 1 hour. Uncover and continue to simmer for 40 to 50 minutes. Add the beans and remove from heat. Cool, cover, and refrigerate overnight.
4. To serve, bring slowly to a simmer and cook until heated through, stirring occasionally. Thicken with cornmeal as desired.
Each serving: 341 calories; 37 grams protein; 22 grams carbohydrates; 6 grams fiber; 12 grams fat; 3 grams saturated fat; 76 mg. cholesterol; 1,379 mg. sodium.
---
The essential weekly guide to enjoying the outdoors in Southern California. Insider tips on the best of our beaches, trails, parks, deserts, forests and mountains.
You may occasionally receive promotional content from the Los Angeles Times.