At Angelini Osteria, an ongoing <i>festa</i>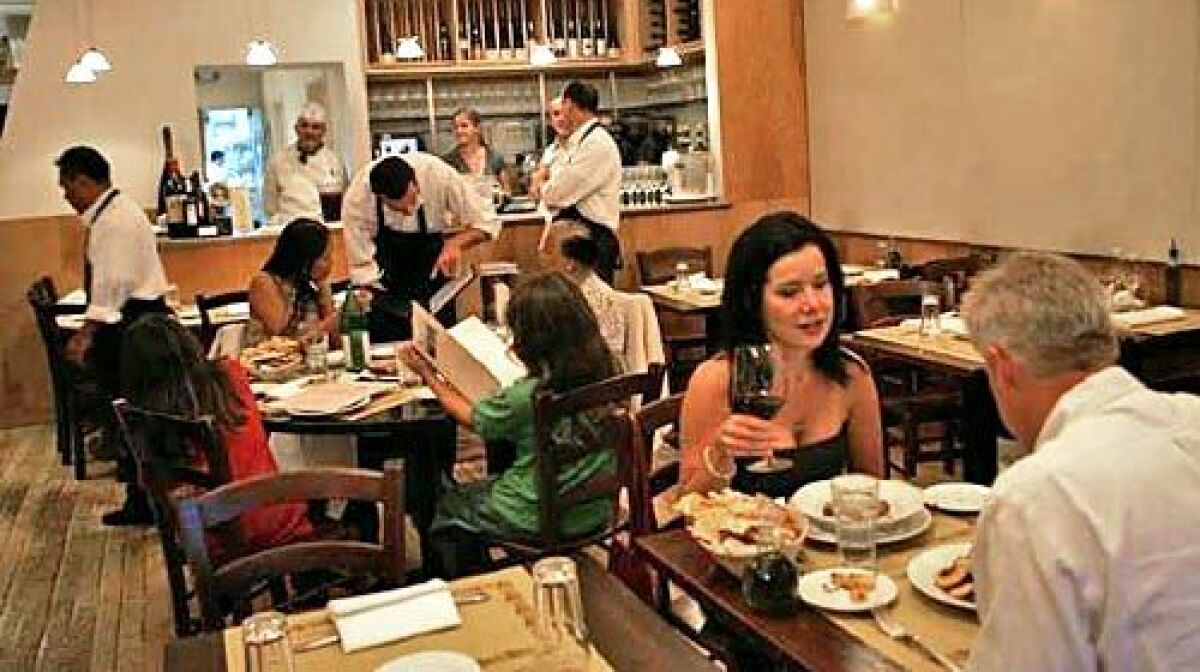 Los Angeles Times Staff Writer
The stark, contemporary Beverly Boulevard storefront of Angelini Osteria is noisy, crowded and full of energy. All around us, the beautiful and the ravenous are diving into plates of bombolotti all' amatriciana or spaghetti with eggplant and ricotta, bickering over who gets the last slice of pizza with cherry tomatoes and burrata, or that last order of oxtail alla vaccinara.
The wine flows. Laughter erupts in one corner and then another. Waiters, mostly Italian and male, are cheerful and engaging, urging on diners by saying almost every dish under consideration is "fantastico."
I'm always amazed how the cooks can turn out such an extensive menu in such a minuscule space. Everybody must enjoy all the togetherness, though -- the bumping of chairs, the waiters threading their way through the room with trays of salt-encrusted branzino or an enormous veal shank held aloft -- or they wouldn't be here.
One night a waiter sets a heavy tray on a folding stand 2 inches from my elbow, between our table and the next. "Oof! You get to watch the show," he jokes. And he proceeds to deftly filet the branzino.
Meanwhile, the barista churns out the espresso. Italian tourists show up looking for some Italian food, and troop out halfway through their meal to cadge a smoke outside where a couple of chairs are set out as an improvised waiting room.
It's that impromptu character, I think, that everybody finds so appealing about Angelini. And the sense of accomplishment once you finally get a table or a seat (one of a handful) at the counter. From then on, no worries. There will be wine, pasta, action. And all is well with the world. Who wouldn't want in on the ongoing festa?
Gino Angelini burst out of the starting gate in 2001 with this, his first restaurant, a casual Italian with food that tasted like Italy. It wasn't fake Tuscan or red sauce Italian American, but beautifully executed northern Italian cooking.
Unlike Rex or Vincenti, the two high-end Italian restaurants where Angelini had been chef, it wasn't expensive either. And the wine list featured a beautiful collection of Italian wines by the carafe -- not just your basic Chianti, but some of Italy's best wines at fair prices.
All these elements made Osteria Angelini a runaway success. It still is going strong, but a lot has changed in six years. Cooks have come and gone. Angelini opened a second restaurant, La Terza, in 2004, which means he splits his attention between the two places.
And the competition in the Italian restaurant arena heated up this year with the advent of All' Angelo and the Mozza phenom (pizzeria and osteria) from Mario Batali and Nancy Silverton, both just blocks away. Terroni, a newcomer from Toronto, is slated to open any day in the old Authentic Cafe space on Beverly Boulevard.
Angelini, however, is holding its own. On a weekend night, would-be eaters are lined up at the door as the early crowd files out, some with neatly packaged doggie bags in hand. Those who haven't reserved well ahead may end up eating unconscionably early or very late -- or signing up for a table on the sidewalk terrace, well away from the action inside.
My friends and I opted for a table outside one night recently, and enjoyed not only a splash of rain, but a fashion parade of black Borsalino hats and prayer shawls as the faithful walked to and from the nearby Jewish temples, carefully skirting the sidewalk terrace.
Our waiter hands us the menus, along with a hefty list of specials printed out that day. But when I look them over, I realize they're essentially the same ones on offer a few weeks before. Is Angelini pulling the Giorgio Baldi trick of having a kazillion specials always the same? Maybe not, but close.
Shanks in demand
That night the old Roman dish oxtail alla vaccinara was the piatto del giorno. Tonight, it's stinco di vitello -- roast veal shank, another one of my favorites here. And because it's so in demand, we ask the waiter to save an order for us; the kitchen sometimes runs out.
But on this and on some other recent visits, the food, I'm sorry to say, isn't nearly as good as it used to be. Gino Angelini is cooking mostly at La Terza now, and without the master chef's steady presence, or someone as capable at the helm, the kitchen often loses its focus.
A special pizza bianca with sausage and mushrooms doesn't have enough cheese to weld the toppings to the surface of the dough, and they fall off when you try to eat a slice. An octopus dish is mushy, either overcooked or not the same high grade served at other restaurants around town. Baby artichokes in cazuela (in casserole) have been cooked so long they're the texture of oatmeal.
The plating can be sloppy too. Angelini's wonderfully earthy dish of tripe simmered in tomato sauce is still very good, but what's that big ugly cuttlefish doing splayed in the middle of the plate? Who thought this was so dashing?
And how did the steamed mussels in tomato sauce ever pass muster? They're too funky to eat, but no one in the kitchen seems to have noticed before sending them out. Fegatini (chicken livers) with green beans is no beauty queen either, and the overdose of inexpensive aceto balsamico does this dish no favors.
Time to call in Gordon Ramsay for a makeover? Not quite yet. On other nights, the restaurant is its old, charming self. The pasta fagioli tastes just like the soup my friend Paola's mother makes, earthy and comforting. The green lasagna is splendid, layered with a subtle meat ragù. And the porchetta comes out of the wood-burning oven with a crackling crust and fragrant with wild Mediterranean herbs. The bombolotti (wide, ribbed tubes of pasta) is the bomb.
Angelini drops into the osteria frequently and sometimes cooks. He'll serve up that bombolotti in an amatriciana sauce made with San Marzano tomatoes and his own house-cured guanciale (cured pork jowl.)
The problem is that lately the restaurant has been wildly inconsistent. The cooks seem inexperienced at running such a busy kitchen and in need of guidance. One night, when Angelini is not there, the bombolotti shows up made with rigatoni instead of the wide tubes. When I asked the waiter why he didn't mention that the kitchen was substituting another shape, he shrugged it off by saying nobody knows the difference anyway. Really?
A special of squid ink pasta with sea urchin sounds interesting, but it's not an appealing visual -- glops of orange urchin roe lurking in the black noodles -- and the whole thing is gummy and slopped together.
Fortunately, the stinco is as delicious as ever. At $30, it had better be. One of the most requested dishes on the menu, it is now relegated to a Friday-night special. But the veggies on the side are perfunctory: the same roasted potatoes, broccoli and carrots that come with almost every other main course. It's like something you'd get on an Alitalia flight.
Dry-aged T-bone steak from Harvey's Guss Meat Co. here in L.A. is tender and suffused with flavor. The cut looks awfully small, though, considering that it costs $75 for two.
Rising prices
After six years, it would be naive not to expect prices to rise somewhat. Once a shade on the inexpensive side, now they're inching up on the high side. But at these prices, the food should be less rough and ready.
Wine prices have risen too. When the osteria opened, it was one of the first restaurants in L.A. to offer wine in carafes, giving diners the chance to taste a broad array of cutting-edge Italian wines at affordable prices. Now, sorry to say, there's not a single carafe under $37. Remember, we're not talking whole bottles, but 500 milliliters, two-thirds of a normal 750-milliliter bottle.
A carafe of Felsina 2005 Chianti Classico, for example, which wholesales for about $15 a bottle, costs $37 for a 500-milliliter carafe. That's a markup of well over three times the wholesale price. A glass of that same wine is $12. And not all the choices are as worthy. The wine list is a disaster at the moment with prices all over the place, too many high-end bottles and not enough intelligent choices in the middle.
Desserts have never been Osteria Angelini's forte, but I always liked the martini glass filled with mascarpone with some amaretti cookies crumbled over. This time, though, the dessert our waiter touts turns out to be two scoops of mascarpone mixed with very sweet whipped cream and a few berries, and pretty lame by any standard.
The one reliable sweet is something I crave in warm weather, an affogato, which is vanilla ice cream "drowned" in a cup of hot espresso. Ready, set, go. As soon as the espresso is poured over, the ice cream begins to melt. There's something so refreshing about that jolt of bitterness with the vanilla ice cream that soothes and cools after a meal here.
When the bill comes, I see that without wine and with shared desserts, we've spent almost $70 per person -- and that's before tax and tip. At this price level, the kitchen has to perform more consistently. I can't be alone in wanting the old Angelini Osteria back.
Rating: * 1/2
Location: 7313 Beverly Blvd. (at Poinsettia Place), Los Angeles; (323) 297-0070; www.angeliniosteria.com
Ambience: Crowded, clamorous, energetic osteria with a devoted following for Gino Angelini's relaxed Italian cooking.
Service: Brusque and charming.
Price: Dinner antipasti, $8 to $15; primi, $7 to $18; secondi, $20 to $38; dolci, $7. Lunch pizza, $10 to $14; piadina (flatbread sandwiches), $12 to $14; salads, $8 to $12; primi, $10 to $16; secondi, $16 to $24.
Best dishes:Pizze, pasta fagioli, bombolotti all' amatriciana, lasagne verde, branzino roasted in sea salt, veal shank, T-bone steak for two, porchetta, affogato gelato.
Wine list: Pedestrian Italian selection with overpriced wines by the glass and carafe. Corkage fee, $20.
Best table: One in the right corner or a seat at the counter.
Details: Open for dinner from 5:30 to 10:30 p.m. Tuesday through Sunday and for lunch from noon to 2:30 p.m. Tuesday through Friday. Wine and beer. Valet parking, $5.50.
Rating is based on food, service and ambience, with price taken into account in relation to quality. ****: Outstanding on every level. ***: Excellent. **: Very good. *: Good. No star: Poor to satisfactory.
---
Get our L.A. Goes Out newsletter, with the week's best events, to help you explore and experience our city.
You may occasionally receive promotional content from the Los Angeles Times.