Recipe: Edamame sandwich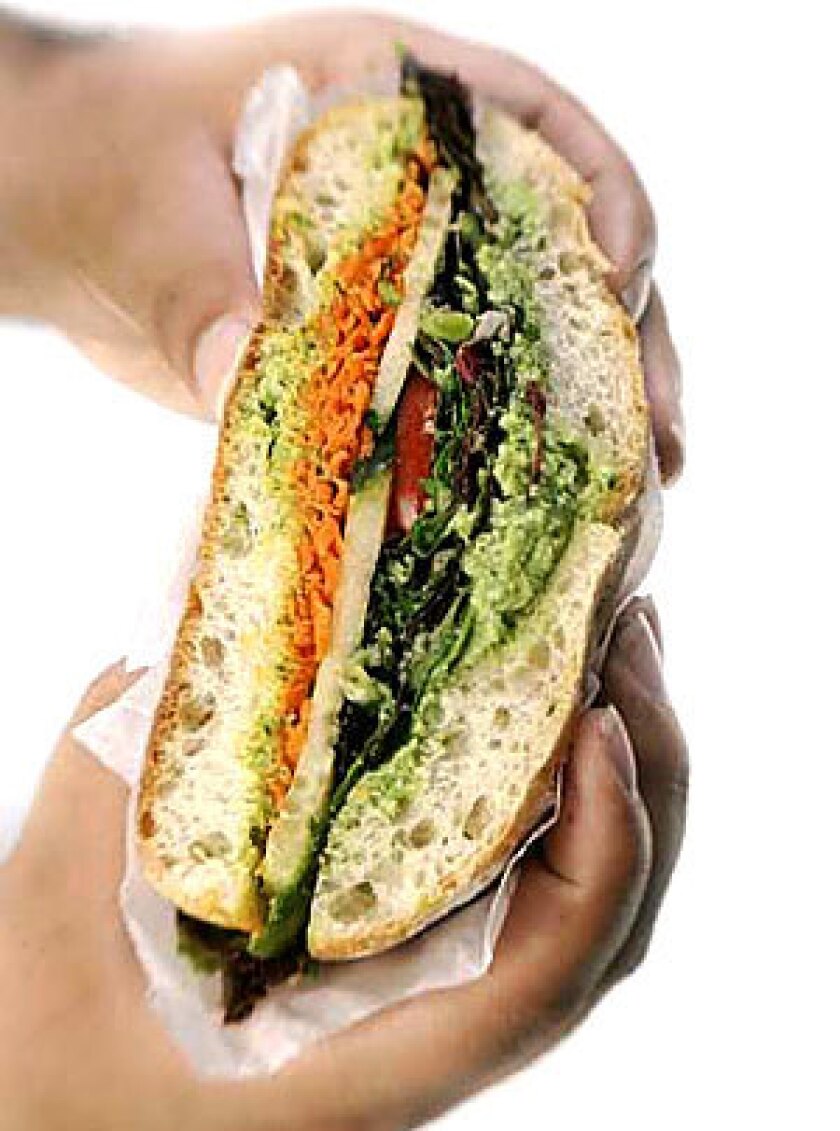 Total time: 35 minutes
Servings: 4
Note: Adapted from Jeffrey Price of Skratch Restaurant in Culver City. The restaurant uses La Brea Bakery ciabatta or rustique rolls. Agave nectar and wasabi peas are widely available. White miso is available at Asian markets as well as in the refrigerated Asian sections of well-stocked supermarkets.
Edamame hummus
10 cups loosely packed, cleaned and trimmed spinach leaves
2 cups shelled edamame beans
2 cups shelled garbanzo beans
3 tablespoons chopped garlic
Juice of 1/2 lemon
2 tablespoons tahini paste
1 tablespoon ground ginger
3 teaspoons kosher salt
1 cup olive oil
1. Blanch the spinach in a large pot of boiling water to bring out the vibrant color and wilt just slightly, about 1 minute. Drain and shock the spinach in a bowl of ice water. Drain the spinach again, pressing out all excess water. You should have one-half cup.
2. Place the edamame and garbanzo beans in the bowl of a food processor, along with the spinach, garlic, lemon juice, tahini paste, ground ginger and salt. Pulse until the contents are the consistency of a coarse paste. With the processor running, drizzle in the olive oil until the mixture is smooth. Place the hummus in a nonreactive bowl, cover tightly and refrigerate until needed. This recipe makes 4 cups hummus, more than needed for the sandwiches, and can be used as a spread on crackers or bread. It will keep for 4 days refrigerated.
White miso dressing
3 tablespoons plus 1/2 teaspoon white miso
3 tablespoons agave nectar
1 tablespoon plus 1 teaspoon brown sugar
1/4 cup plus 1 1/2 teaspoons rice wine vinegar
1/4 cup vegetable oil
2 1/2 tablespoons sesame oil
In a small bowl, whisk together the miso, agave nectar, brown sugar and vinegar. Slowly whisk in the vegetable and sesame oils until emulsified. This makes 1 scant cup dressing that will keep for 3 days refrigerated.
Sandwich assembly
4 ciabatta or rustique rolls, halved
1 1/3 cups hummus
1 cup peeled and grated carrots
1 large cucumber
8 slices ripe plum tomato (from 1 large or two medium)
6 cups mixed baby field greens (about 4 ounces)
1/4 cup white miso dressing
40 wasabi peas, crushed
1. Spread a heaping 2 tablespoons hummus over each roll half (top and bottom). Top each bottom half with one-fourth cup grated carrot.
2. Trim the ends off the cucumber and halve it crosswise. Slice each half lengthwise into one-fourth-inch-thick slices. Place 2 slices on top of each mound of carrots, then top each with 2 slices of tomato.
3. In a large bowl, toss the field greens with the dressing and crushed wasabi peas. Divide the salad among the 4 sandwiches and carefully mound in place.
4. Top each sandwich with the remaining ciabatta and press down firmly (if necessary, wrap each sandwich with parchment or butcher paper so that the contents don't fall out). Halve the sandwiches and serve immediately.
Each serving: 725 calories; 21 grams protein; 88 grams carbohydrates; 12 grams fiber; 33 grams fat; 5 grams saturated fat; 0 cholesterol; 987 mg. sodium.
---
The essential weekly guide to enjoying the outdoors in Southern California. Insider tips on the best of our beaches, trails, parks, deserts, forests and mountains.
You may occasionally receive promotional content from the Los Angeles Times.