Cayenne Cafe chicken dish puts spotlight on pomegranate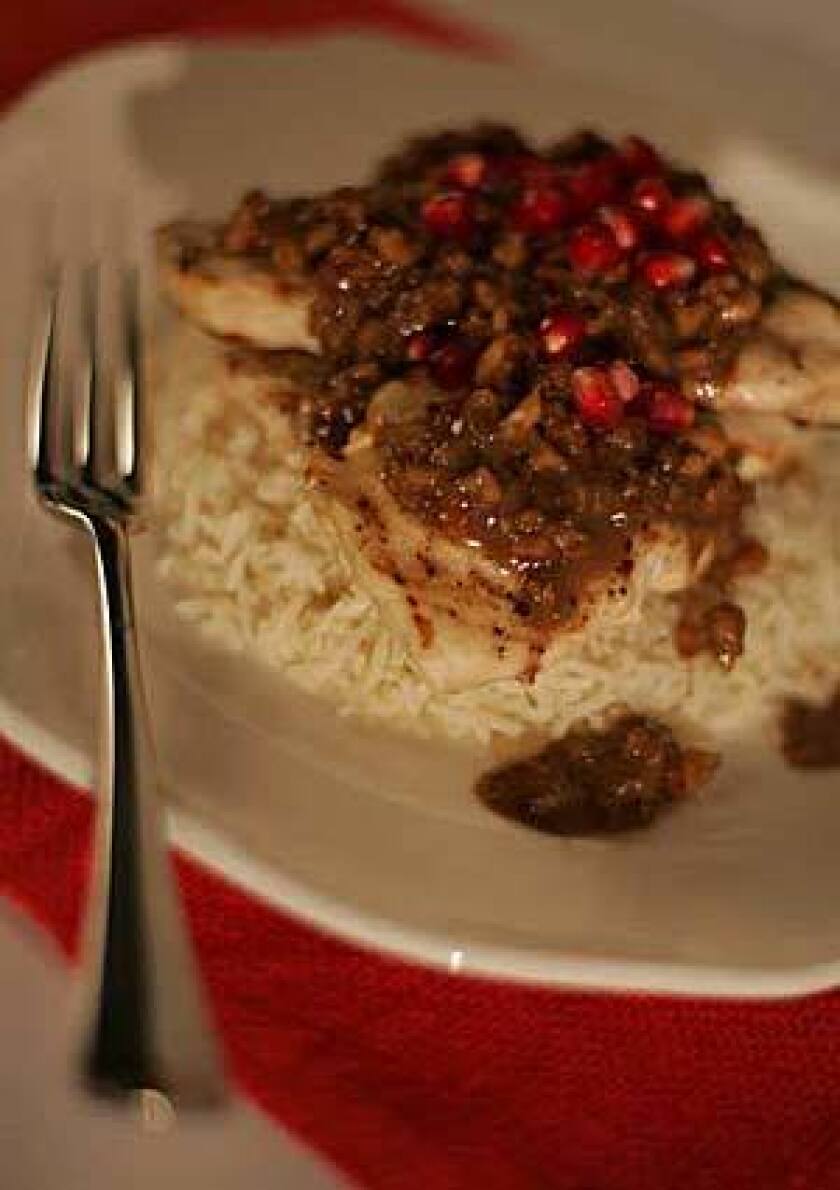 Los Angeles Times Staff Writer
Dear SOS: There is a neighborhood restaurant on Beverly Boulevard, just west of La Brea, called Cayenne Cafe. An outstanding dish is its grilled chicken with pomegranate-walnut sauce. It is the most delicious sauce -- I could eat it alone. I would love it if you could get the recipe and publish it.
Judy Hollander
Los Angeles
Dear Judy: We've got just a few more weeks before the end of pomegranate season, so it's great to find a new way to showcase them. This simple grilled chicken dish highlights the fruit in a rich garlic-walnut sauce that plays the tartness of the pomegranate against the sweetness of dark brown sugar.
Cayenne Cafe chicken with pomegranate-walnut sauce
Total time: 30 minutes
Servings: 4
Note: Adapted from chef Noura Elnasser at Cayenne Cafe. To toast the walnuts, place them on a baking sheet in a 350-degree oven for about 8 minutes, until toasted. The restaurant serves this over rice pilaf.
4 boneless chicken breasts Salt 1 teaspoon black pepper, plus more for seasoning the chicken 1/4 cup light olive oil, plus more for brushing the grill 1/4 cup puréed pureed fresh garlic (about 16 cloves) 2 cups chopped toasted walnuts 1/4 cup pomegranate molasses, plus additional to taste 1/4 cup dark brown sugar, plus additional to taste 1 1/4b to 1 1/2 cups chicken broth
1. Heat a grill over medium-high heat. Slice each chicken breast on the bias into three crosswise pieces. With a mallet, pound each piece between two pieces of plastic wrap to one-fourth-inch thick. Season each piece lightly with salt and pepper. Lightly oil the surface of the grill, and place the chicken on the grill. Grill each piece about 2 minutes on each side, until cooked through. Remove and set aside to in a warm place.
2. In a medium saucepan, heat the oil over medium heat until warmed. Add the garlic and cook, stirring constantly, until the garlic just begins to color, about 2 to 3 minutes. Remove from the heat.
3. Add the walnuts, pomegranate molasses and brown sugar and stir to combine. If the mixture is too thick, add just enough chicken broth until thin enough to stir.
4. Return the pan to medium heat. Heat the mixture, stirring in additional chicken broth just a little at a time, until the mixture has a sauce-like consistency (it will be thick but pourable). The sauce should be dark. The sauce should have a nice balance of sweet and sour flavors, but it can be adjusted with a little extra brown sugar or pomegranate molasses. Pour the sauce over the chicken and serve immediately. Extra sauce can be saved for another use.
Each serving: 511 calories; 40 grams protein; 23 grams carbohydrates; 3 grams fiber; 30 grams fat; 4 grams saturated fat; 94 mg. cholesterol; 221 mg. sodium.
---
The essential weekly guide to enjoying the outdoors in Southern California. Insider tips on the best of our beaches, trails, parks, deserts, forests and mountains.
You may occasionally receive promotional content from the Los Angeles Times.