Mix and match to create a spice blend all your own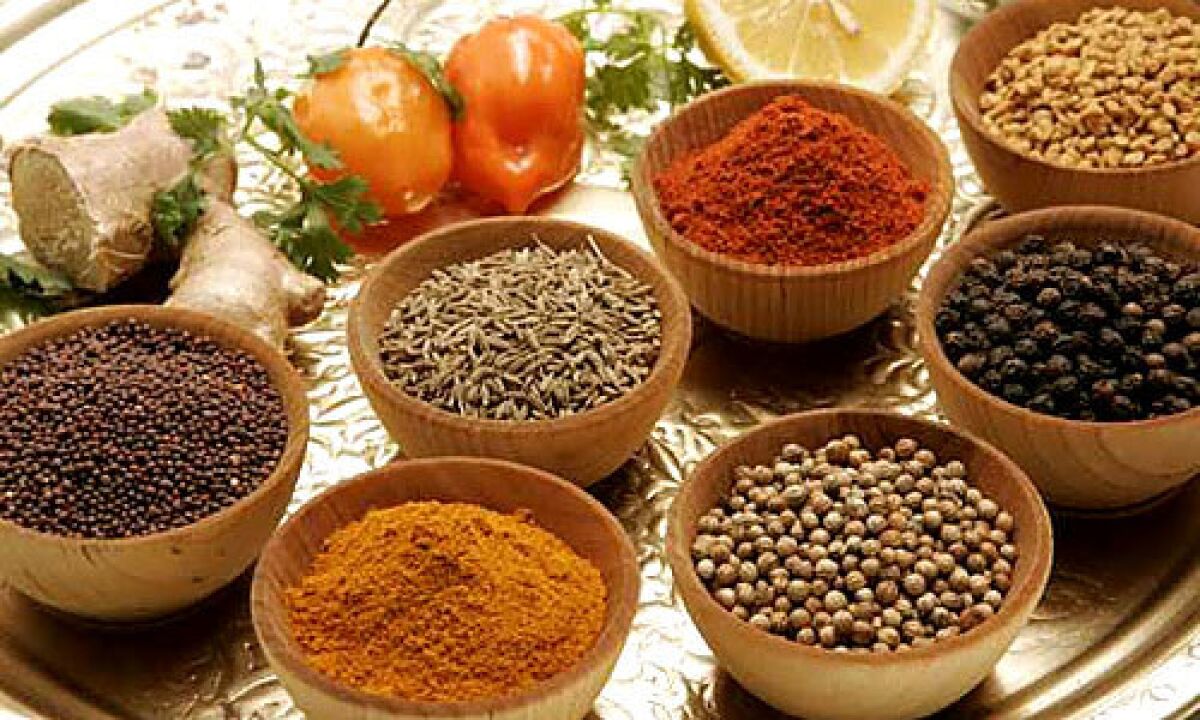 Los Angeles Times Staff Writer
Bold Cajun blends, Chinese five-spice powder, Caribbean jerk, garam masala garam masala from India, Middle Eastern baharat, Thai green curry paste -- each of these blends of spices and herbs has its origins as a cornerstone of a regional cuisine. Traditionally developed over time and honed through generations, spice blends are calculated combinations of fresh or dry ingredients that create a symphony of flavors. Walk the spice aisle of any store and commercial variations abound.
But make your own -- all it takes is a little ingenuity and the proper tools -- and you'll be delighted at how fresh, vibrant and aromatic the flavors are. And you can tailor your blends to suit your tastes and your family's palates.
To make dry spice blends or powders, use a spice mill or coffee grinder; for a more rustic version, use a mortar and pestle and a little elbow grease. To make spice pastes or fresh blends that incorporate such ingredients as garlic, lemon and herbs, try a food processor or blender. Dry blends will keep for weeks properly stored in an airtight container; fresh will keep refrigerated for a week or so, ready to punch up a last-minute meal.
Start with a single spice or herb and build around it. This foundation doesn't need to dominate the mix, but it's a base. Construct your blend along the lines of a classic or create your own medley.
For example, not only does allspice fit into a traditional Ethiopian berbere blend alongside cardamom, garlic, coriander, fenugreek and red pepper, it also marries well into a chili powder of garlic, oregano, coriander, cloves and a range of chiles. Amber-colored, white or black cumin seeds, each with its own flavor, might be the basis for a Southwestern-style rib rub or an Indian-style masala for braised vegetables.
Two of the lesser-known traditional spice blends, poudre de Colombo and charmoula, are terrifically versatile, easy to make and great to have on hand for everyday cooking.
Poudre de Colombo, or Colombo powder, is the quintessential spice blend of the West Indies. Recipes vary. There's a fresh-paste Colombo of ground chiles, garlic, lemon and aromatics; the powder is a dry blend of toasted spices, including mustard, cumin, coriander, turmeric, peppercorns and fenugreek (toasting the spices gives the mix an earthy, rounded profile). It's used as a flavor base in a traditional stew of the same name, though it can also be used as a marinade or rub for all kinds of meat.
Charmoula -- a North African blend of fresh herbs and spices that includes garlic, lemon juice, parsley, cilantro, salt, pepper and oil -- can be made on a weekend and stored in the refrigerator for up to a week.
In this recipe, garlic, ginger, parsley, cilantro and lemon are ground to a paste, then mixed with ground cumin, bay leaf, saffron, cayenne pepper and Spanish paprika.
The paste is mixed with more or less olive oil -- depending on whether it is used as a marinade or sauce -- then is stored overnight for the flavors to develop. Use charmoula as a 30-minute marinade for fish, a finishing sauce for meats and vegetables, or even a dip with bread.
To really show off a batch of poudre de Colombo, try the dish called Colombo pork loin curry from "Creole," a new cookbook by Babette de Rozières. Pork loin is marinated in a blend of onion, garlic, cumin, habanero peppers, vinegar and oil, then quickly stewed in a broth that's flavored with half a cup of poudre de Colombo (there's alsoa fresh paste of garlic, ginger and habanero pepper). Potatoes, zucchini and eggplant are also cooked quickly in the broth, and the spicy dish is finished with a splash of fresh lime juice.
Charmoula is a perfect complement to fish and shellfish. For a fabulous entree that, with some planning, requires very little last-minute effort, marinate jumbo shrimp for a couple of hours in a charmoula blend, then thread them onto skewers with sliced fresh lemon and grill over a hot fire. The flavors are vivid and bright, rounded out with just the faintest heat from the cayenne.
You can blend even more ingredients into your spice blends. Sweeten poudre de Colombo with some agave syrup or honey and rub it on a pork roast or rack of ribs. Combine the powder with a citrus marinade for zesty chicken on the grill. Mix charmoula with a little yogurt as a marinade for lamb chops, or thin it with a little more oil and use it to baste halibut or salmon on the grill.
At the end of the day, it's your blend.
---
Get our L.A. Goes Out newsletter, with the week's best events, to help you explore and experience our city.
You may occasionally receive promotional content from the Los Angeles Times.