Learn more about manzanitas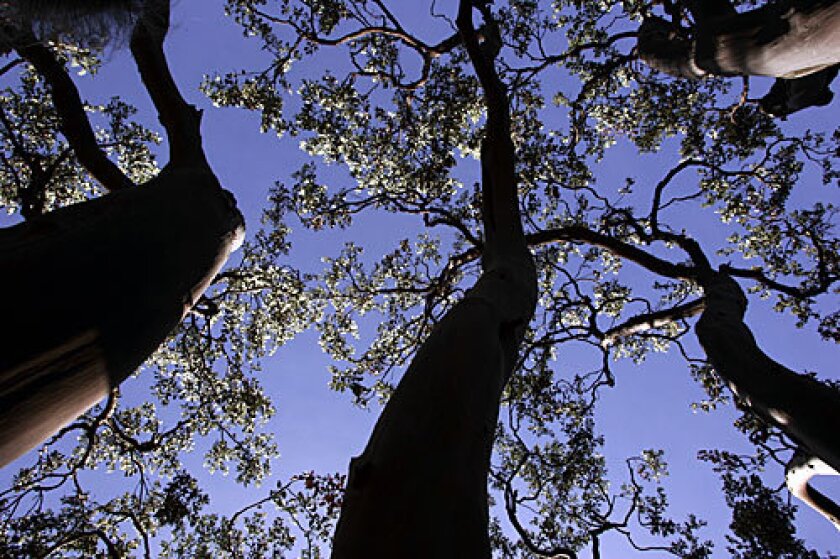 Whether you want manzanita to be your garden's main event or just a side attraction, there are plenty of resources to get you started. And with more than 200 types of species and cultivars at your disposal, it will be quite a show:
Planting season: Now through May, then resuming in November.
Location: Most manzanitas like full sun, though many can tolerate some shade. All varieties need good air circulation. The plants are good at eking out nutrition from poor soil.
Maintenance: Try not to prune ends of branches as the plants enter summer dormancy; buds for next year's flowers are already setting. Never prune more than 15% of a plant.
Viewing: In Claremont, see a range of manzanitas at Rancho Santa Ana Botanic Garden, an excellent source of advice for native-plant gardeners, (909) 625-8767, www.rsabg.org. In La Cañada Flintridge, visit Descanso Gardens, (818) 949-4200, www.descansogardens.org.
Selection: Manzanitas can be highly adapted to specific terrains. Investigate which species suit your microclimate or stick to cultivars best adapted to more common garden conditions. Dwell most heavily on size and shape when selecting a plant. For ground cover, consider 'Point Reyes,' 'John Dourley' and 'Pacific Mist.' Medium shrubs: 'Sunset,' 'Howard McMinn' and 'Louis Edmonds.' Tall shrubs or trees: 'Lester Rowntree,' Arctostaphylos refugioensis and 'Byrd Hill.'
Sources
Central Coast wholesaler Native Sons Nursery carries more than 20 varieties of manzanita and supplies most quality independent Southern California garden centers. If your local store does not stock manzanita or have the quantity you need, request that it place a special order with Native Sons. nativeson.com.
The nonprofit Theodore Payne Foundation for Wildflowers and Native Plants in Sun Valley has a nursery with more than 30 varieties of manzanita and an expert staff. (818) 768-1802, www.theodorepayne.org.
Matilija Nursery in Moorpark stocks manzanitas in all sizes and with keen prices. (805) 523-8604, matilijanursery.com.
Las Pilitas Nursery in Escondido has a list of Southern California manzanitas adapted for the Santa Monica Mountains and Riverside and San Diego counties. (760) 749-5930, www.laspilitas.com (click on "Nature of California," then "California Plants," then "California Manzanitas"). Online store: (805) 438-5992, www.laspilitas.com/stores/online.
Tree of Life in San Juan Capistrano is a well-regarded native plant nursery listing 17 manzanitas in a wholesale catalog and extensive materials for new gardeners online. Go to www.californianativeplants.com and click on "Resources," then scroll down to "Thirty Basic California Native Plants." (949) 728-0685.
-- Emily Green
---
The essential weekly guide to enjoying the outdoors in Southern California. Insider tips on the best of our beaches, trails, parks, deserts, forests and mountains.
You may occasionally receive promotional content from the Los Angeles Times.