Dave Navarro's new pad: sleek, sexy, with a rock-star twist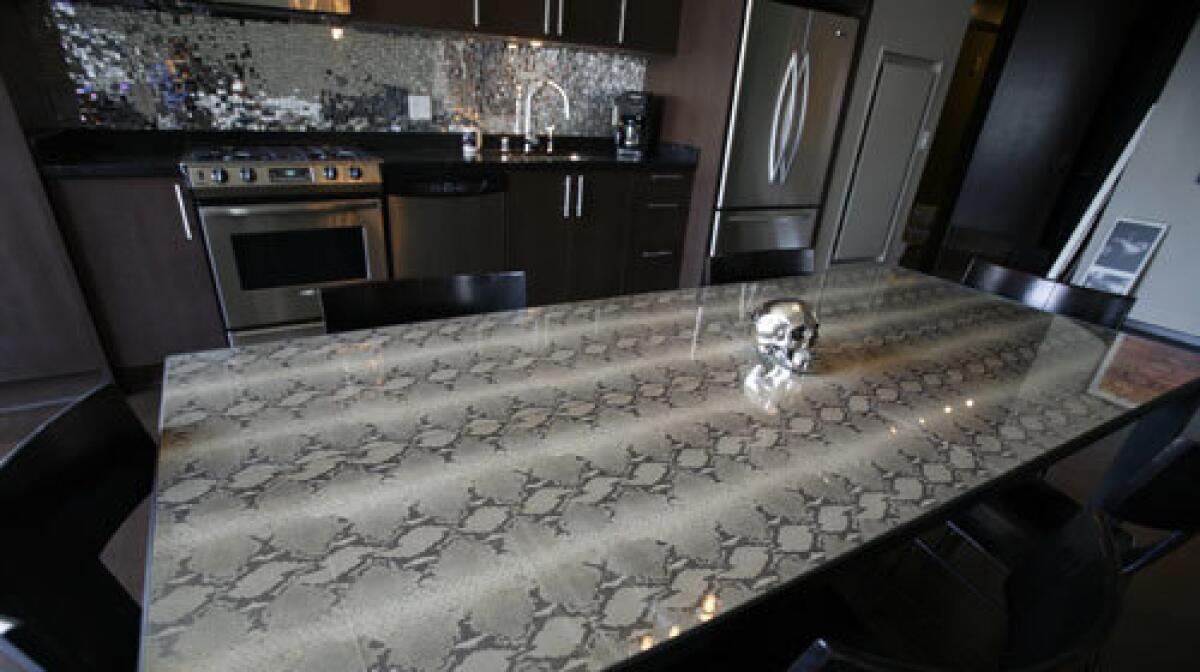 WHEN former Jane's Addiction guitarist Dave Navarro hired designer Heidi Toll to outfit his Broadway Hollywood loft, he knew the look -- or, rather, the looks -- he was after.
The space needed to be clean and streamlined but funky and sexy too -- something Navarro describes as "functional, but with the ability to feel like a late-night, after-hours bar." Toll, who had designed Navarro's previous pad with Carmen Electra in the Hollywood Hills, accepted not only that challenge but also Navarro's timeline: two weeks.
"I'm the instant-gratification type," Navarro says. "I just want the result. I don't want the journey. I want the destination."
Navarro had sold most of his furniture, leaving Toll to start almost from scratch. She snagged mostly stock pieces, including a chenille sectional off the floor of B&B Italia. Of course, a few custom pieces had to be rushed. In the end, Toll managed to deliver the vibe -- and the platform bed upholstered in a white vinyl called Spank -- that Navarro was after.
"Once I get home from the chaos of everyday living, from tour or from working with the band or whatever the case may be, I want to feel like I'm stepping into a vacation," Navarro says. "Living in a loft is the closest I could get to living in a high-end hotel while owning the place."
In this case, bringing the hotel home meant creating a clean, modern space with rock-star twists. The kitchen backsplash is a mirrored mosaic from Ann Sacks ("Mirrors and rock stars play well together," Toll says), and the dining area lighting consists of more than a dozen orbs suspended from the ceiling that echo the urban setting -- "bright lights and big city," she says.
"Dave is modern and sophisticated and intelligent, but he's also got tattoos and piercings, and that's how the space is -- sleek and cool, with unexpected touches," Toll says.
Sticking with a neutral palette established by the building's dark woods and black and white tile, the designer made Navarro's interior simple and streamlined so her client could add his signature surprises, such as the black crystal chandelier that casts a red glow over the bed. "Everybody looks great under red lights," Navarro says. "I wanted it to feel like a bordello, and it does. Sexy, dark, a little spooky. And the beautiful thing is there's a tremendous juxtaposition between the modern, clean design concept and these funky old-school elements."
A faux deer head, dyed black and given stainless-steel antlers, came from Zelen in Los Angeles and "turns that idea completely on its head," Toll says. In one corner, by a tall window looking out to the Hollywood sign, sits her favorite find: a curvaceous, persimmon-colored throne she picked up at Blackman Cruz.
"I could totally see him sitting in it, smoking a cigarette and holding court in his loft," she says.
Not that Navarro is hosting many parties at his new place.
"I'm not big on entertaining groups of people because, unfortunately, I'm obsessive compulsive when it comes to cleanliness and tidiness," he says.
Go as minimal and streamlined as he has gone, Navarro says, and every object must be in a precise position.
"There's a place for a magazine, and it sits squarely on the coffee table," he says. "If someone leaves it open, I have a heart attack."
Get our L.A. Goes Out newsletter, with the week's best events, to help you explore and experience our city.
You may occasionally receive promotional content from the Los Angeles Times.