Eat, drink and take notes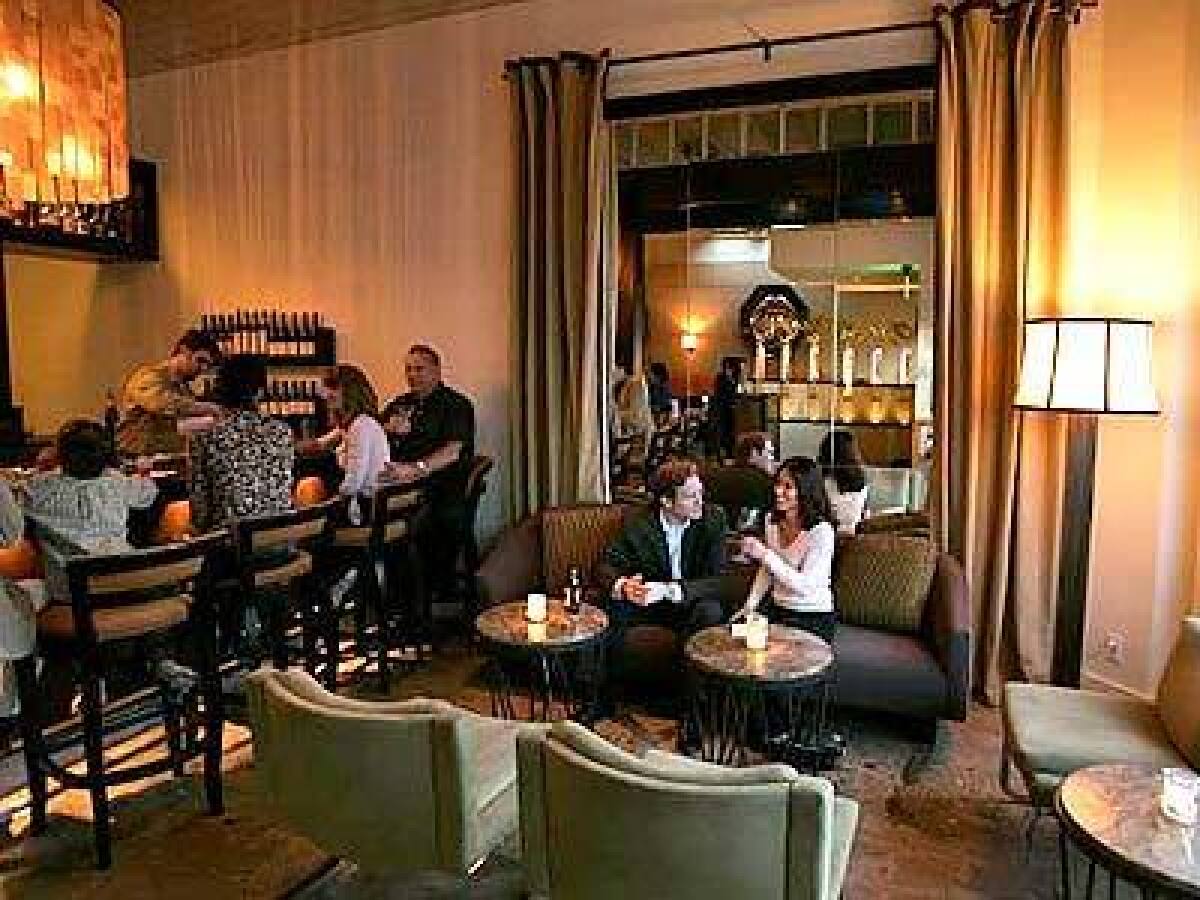 Times Staff Writer
You know the feeling. It's been a long day, you're wrung out, you can't wait to get off this maddening freeway and into the enveloping warmth of the living room, sink into the sofa next to the fireplace, drink a nice, dry martini before dinner under the low light of the floor lamp while you listen to a samba or jazz CD. You are at once relaxed and uplifted.
Honey, I'm home! Or could be, if your home had a chef, a sous-chef, a bartender and enough white-clothed tables and tufted banquettes in the dining room to seat 100 strangers.
Instead, you're in one of the latest versions of a new style of L.A. restaurants, the kind of place you wish were your home right about now. So comfortable and comforting and yet so glamorous, so … sexy. That filmy curtain billowing ever so slightly against the bared legs of the woman in the snappy heels. A certain jolly, familial atmosphere tinged with an unmistakable hint of flirtation, like a weekend country gathering in one of those jaunty French films. The way the peachy-pink light is softening faces in the dining room — this crowd glows, every last young person, every last old one.
Do you detect the clever hand of an interior decorator at play here? You bet you do. Dining out in a restaurant like this isn't just dining out anymore — you're getting decorating ideas you're going to immediately steal.
There's a move afoot. Restaurateurs are getting smart and going residential. They're forgoing the formulaic, ubiquitous commercial designs and hiring the best of the L.A. interior designers, who are bringing the snug, well-appointed look and feel of a friendly home to the whole experience. Enough already of the cold, stark, institutional morgue-ishness of the hyper-hip, fashion-forward, fly-by-night eateries that have all the allure of a slick office. Enough of the multimillion-dollar blockbuster environments with the thumping foreground music, the walls of fire and crashing waterfalls that shout Big Event! Nightly premiere! Weekend in Vegas!
They're on to something, and you're just as taken with the décor as you are with the food. In fact, don't those oversized mirrors casting subtle shimmer and reflecting back the entire room, don't the sink-back club chairs, doesn't the dark red room with the zebra-print rug make everything taste all that much better? Doesn't it make you want a second martini so you can prolong the pleasure?
You won't leave before you ask the hostess where you can buy that row of 3-foot-tall bottom-lit vases with the willowy tuberoses in the entry or get the name of the burnt amber paint enlivening the ceiling against the caviar-colored wall. What a risky gesture, but how brilliantly effective it is. You'd never have thought of it, and if you did, you'd have thought you needed more sleep. But it's the best thing you've seen since, well, since the last L.A. restaurant you visited, with the kicky poured-pebble floor of custom-striped patterning that you would never have dreamed would work anywhere but next to a pool.
Or the one before that, with the red-shade table lamps at each end of the bar — was that where you also saw the Japanese silk-shaded sconces that were even more romantically luminous than the candles in the curvy hand-blown holders? Where you were sure that evening you looked, OK, admit it, dewy and desirable?
Timelessness and classic beauty is on its way back, reminiscent of the glory days of Hollywood when architects and designers of the caliber of Paul Williams created quietly refined restaurants such as Perino's, clubby establishments that became like a second home.
Home, the key ingredient, the sense of being in a private space with a flavor of unpretentious opulence. Add to that a well-prepared menu and smooth service, and you've got the makings of the kind of instant success that has every promise of becoming long-term. Consider Lucques on Melrose and AOC on West 3rd, both designed by internationally known interior and furniture designer Barbara Barry, one of the first to enter the field. Make your reservations well in advance.
"There's a shift in the L.A. restaurant genre in the sense that everybody is starting to take elements of residential design and adapting them to commercial design," says Michael Berman, also an interior and furniture designer who is responsible for the sense of, as he puts it, "the combination of calmness and excitement" of Grace on Beverly Boulevard and Citrine on Melrose, and the current revamping of Pasadena standbys Parkway Grill, the Arroyo Chophouse and Smitty's.
"One reason some of these restaurants may be so successful is because they stand out among a lot of the sameness in the industry, all that homogeneous styling. Every restaurant — and every hotel, for that matter — looks the same. We're giving them a singular, personalized, more original vision because we're approaching the project as though it's actually someone's living room or dining room," Berman says.
On a recent Saturday, Grace was brimming with customers, every table filled, every bar stool and vintage '70s lounge chair occupied. Four family members cozied up together in front of a scored mirror framed by khaki and chocolate brown ultra-suede drapes on the eggplant gros point sofa inspired by the iconic furniture designer Vladimir Kagan. The place took on a golden aura as the evening light outside faded and was replaced by subdued, filtered, diffused indoor light coming from lamps, sconces, candles and the dramatic hanging fixtures made from hundreds of squares and rectangles of Imago, a clear resin panel encasing fabric.
Go over to Table 8 or Meson G on Melrose, EM Bistro or Jar on Beverly Boulevard, and you'll encounter pretty much the same general atmosphere, give or take a few particulars.
Forget location, location, location. The mantra for home-inspired restaurants is lighting, lighting, lighting. It's the maker or breaker of a good interior, including your own dining and living rooms, and designers can't overemphasize how critical it is. It's got to be soft, they insist, no more than 25-watt bulbs, and it's got to come from several sources — overhead, ambient, indirect. All of the designers use lamps, table or floor or both, all of them use custom or antique hanging fixtures, and all use lights in unexpected ways, under shelves, behind mirrors, even inside furniture.
"Lighting, of course, is everything," says Sandy Davidson, designer of the recently opened Meson G and of Rocca on 4th Street in Santa Monica. "I'm so bothered by the lighting in so many restaurants. I'll think, 'Why is that lightbulb shining in my eye? Didn't the owner see what that shadow hitting the face does to the nose, the chin, the cheeks?' "
Berman believes that "lighting is the most important element in a dining room. The glare of exposed lightbulbs can be very unappealing and it's harsh on the eyes — lights should always be on dimmer switches."
Agreed: No harsh lighting ever, no one wants to sit in a big, over-lighted space, says Bret Witke, who designed EM Bistro and Jar (as well as the Paris apartment of fashion designer Tom Ford, late of Gucci), and is currently designing a third in L.A., Town and Country. In his restaurant work, he reimagines the atmosphere of places where he has felt best: "dark, smoky, woody old steakhouses," cannily lit pubs in England. "It creates a sexiness. Everyone wants to look great. Everyone should look great."
Yes, lighting makes all the difference, so never scrimp on fixtures is the rule strictly observed by Robert Wildasin, designer of Table 8. He liberally used Imago to create backlit, amber-toned wall panels that appear to almost dance with the free-form patterns of the textiles shining through the translucency.
If lighting is everything, what's left? Plenty. Don't take these designers that literally. They know what makes a home a home, and they know what makes a restaurant a fair semblance of a home.
You begin to notice the similarity of certain elements in their aesthetic, however personalized and inventive the take from place to place: the use of drapes or sheers to separate and define areas. Calculated delineations of those areas — lounge, dining room, private room, bar — to suggest a flow of rooms. Flow itself in harmonious interplays of shapes and tones and architectural movement of space. Warm, alive colors. Juxtaposition of light colors and dark woods. A mixture of textures from stone to lacquer, satiny sheen to leather. Simple, agreeably scaled furniture with big and small mirrors. Lounge areas that admirably mimic living rooms or dens. Area rugs. A minimal if not minimalist employment of well-chosen accents such as floral arrangements and art. And generous, womb-like banquettes. Banquettes command almost as much designer attention and affection as lights.
"I always request a banquette," says Wildasin, who is completing an 8,000-square-foot restaurant in South Beach. "They're so cozy and comfortable" — a sentiment repeated almost exactly by Davidson, who designed curving banquettes covered in a Hermès-like orange faux leather for Meson G. "I'll always choose a banquette. I'm sitting on something comfy, against the wall, looking out at the room and the people."
Berman, who has designed houses for Steve Bornstein, former ESPN president and current NFL Network head, and Armand Marciano of Guess Inc., has lately been putting banquettes in residences and now wishes he had put one in his own home. "A banquette gives you flexibility — you get to play with fabric and texture and it takes better advantage of space. It allows the room to be more open."
Despite kindred attitudes of all four designers about what makes their restaurant designs so appealing, their signature styles of — both commercial and residential — are identifiably different, all ingenious in their way and all confident blends of various eras and looks.
Davidson's is an animated mingling of art deco, midcentury modern, Asian and contemporary Italian; Witke's is reassuringly clean, comfortable and "solid, not set-like," revealing an affinity for leather, wood, marble and zinc; Wildasin's is what he calls "transitional" — a mix of traditional and contemporary, seamlessly pairing 18th century pieces with paintings by the likes of Warhol and Rothko; and Berman's is "transmodern," a term and approach he "coined, sort of," referencing neo-Greco (reinterpreted Klismos chairs in Grace), neoclassical and Regency but interpreted in an updated, simple manner.
Judging by the hordes of customers who come and go and come again to Meson G, EM Bistro, Table 8 and Grace, who settle in and make themselves very much at home, the designers are doing something right — really right — by whatever name they give it.
---
Times staff writer Barbara King can be reached at barbara.king@latimes.com.

*

(BEGIN TEXT OF INFOBOX)

Get their look

Some of the best home design ideas are on display at L.A. restaurants. Here's a list of resources to capture their style:

EM Bistro

Carpets: Crenshaw Carpet Center, 4611 Crenshaw Blvd., L.A. (323) 295-7731.

Chair fabric: Diamond Foam & Fabric, 611 S. La Brea, L.A. (323) 931-8148.

Hanging globe lights: F.I.R.E. LTD, 639 N Fairfax Ave., L.A. (323) 782-9110.

Club chairs: I.M. David Furniture, 1556 W. 130th St., Gardena. (310) 243-1260. Lloyd's Custom Furniture, 8550 Melrose Ave., West Hollywood. (310) 652-0725.

Paint: Benjamin Moore.

Table 8

Fabrics: All, except drapery, from Knoll Textiles, Wilshire Boulevard and 2nd Street, Santa Monica. (310) 289-5800. Fabrics are fire-rated and commercial grade.

Drapery: Fabric by Rogers & Goffigon, Cowtan & Tout, 8687 Melrose Ave. #B-647. (310) 659-1423.

Furniture: All furniture and upholstery by Maziar Abedian, L.A. Comfort, 1657 Alvira St., L.A. (323) 297-0606.

Mirrors: Sherman Gallery, 4039 Lincoln Blvd., Marina del Rey. (310) 305-1001.

Bamboo plants and pots: Rolling Greens Nursery, 9528 Jefferson Blvd. Culver City. (310) 559-8656.

Mosaic tiles: Glass mosaic tiles on bar. Walker Zanger, 8750 Melrose Ave., West Hollywood. (310) 659-1234 or https://www.walkerzanger.com .

Leather chairs: in restaurant from L.A. Mart, 1933 S. Broadway, downtown L.A. (800) 677-6278.

Imago: (Lucere gold) from Knoll Textiles (see fabrics).

Grace

Main dining room: Klismos dining chairs, Ivar convex mirrors, Beato head table lamp, Lombard mahogany console, Pongee silk and bronze wall sconces. Michael Berman Limited, 7215 Beverly Blvd., L.A. (310) 933-0220.

Metallic vinyl on chairs and banquettes: Forza (color: Cosmos) from Knoll Textiles (see fabrics).

Banquette back chenille: Maharam Textiles, 8687 Melrose Ave., L.A. (310) 659-9550.

Light fixtures: Imago, Knoll Textiles.

Cork and Alchemy wall coverings: Innvironments "Cork." Innovations 8687 Melrose Ave. #M-20, L.A. (310) 289-0100.

Carpet: "KAGO," (color: Bayberry). Atlas Carpet Mills, 2200 Saybrook Ave., L.A. (323) 724-9000.

Lounge area: Sofa and custom marble and steel tea tables, all Michael Berman.

Meson G

Sugarpine sconces in lounge: Charles Jacobsen, Pacific Design Center. (310) 652-1188.

Glass and mirrors: Randy Ford at Designer Glass, 615 N. La Cienega Blvd., West Hollywood. (310) 659-4461.

Aluminum and glass custom chandeliers: Carmine Abbinante at Saturn Lighting. (323) 258-9434.

Table bases, bar stools: Paston Rawleigh Everett at Pacific Design Center. (310) 652-4060.

Pebblestone floor: Mountainstone. (800) 476-6651 or https://www.pebblestone.net .

Interior door hardware: Details, 593 N. La Cienega Blvd., West Hollywood. (310) 659-1550.

Exterior vintage door hardware and restroom logos: Liz's Antique Hardware, 453 S. La Brea Ave., L.A. (323) 939-4403.

T.H. Robsjohn-Gibbings armchairs in lounge: Dragonette Decorative Arts, 750 N. La Cienega Blvd., L.A. (310) 855-9091.

Console against wall of patio entrance adjacent to the bar-lounge: Warisan, 7470 Beverly Blvd., L.A. (323) 938-3960 or https://www.warisan.com .

Bar sofas: Futurama, 446 N. La Brea Ave., L.A. (323) 937-4522.

Drapery: Premier voile fabric (color: champagne). International Silks & Woolens, 8347 Beverly Blvd., L.A. (323) 653-6453.

Floor and table lamps: Zipper, 8316 W. 3rd St., L.A. (323) 951-9190.

Dining room: Barcelona chairs, Eileen Gray tables. Blueprint, 8366 Beverly Blvd., L.A. (323) 653-2439.

Zebra carpet: Fairfax Carpet, 657 S. La Brea Ave., L.A. (323) 932-8881 or fairfaxcarpet@sbcglobal.net.

Sconces : Lighting Expo, 647 S. La Brea Ave., L.A. (323) 938-6026.

Asian table: In center of dining room. Mortise & Tenon, 446 S. La Brea Ave., L.A. (323) 937-7654.

Landscape-flower designer: Bobbe Vagel, , 6521 Fountain Ave., L.A. (323) 468-8899 or https://www.bvfloralconcepts.com .

*

(BEGIN TEXT OF INFOBOX)

Luminous

Imago might sound like a character from Shakespeare, but it's an innovative product created by Knoll Inc. — "fabric trapped in resin," as Nikki Sanoff of Knoll Textiles in Santa Monica describes it and "an alternative to decorative glass." Light plays with the textures of the lamination and textiles, projecting a luminous patterned effect. It can be used not only as panels, (as at Table 8, right) but for light fixtures, in partitions, windows, ceilings, shower doors and cabinetry.

It comes in a dozen patterns in 35 colors, all made to order, from $10 to $40 per square foot. Knoll showroom: 214 Wilshire Blvd., Santa Monica.
---
Life is stressful. Our weekly mental wellness newsletter can help.
You may occasionally receive promotional content from the Los Angeles Times.