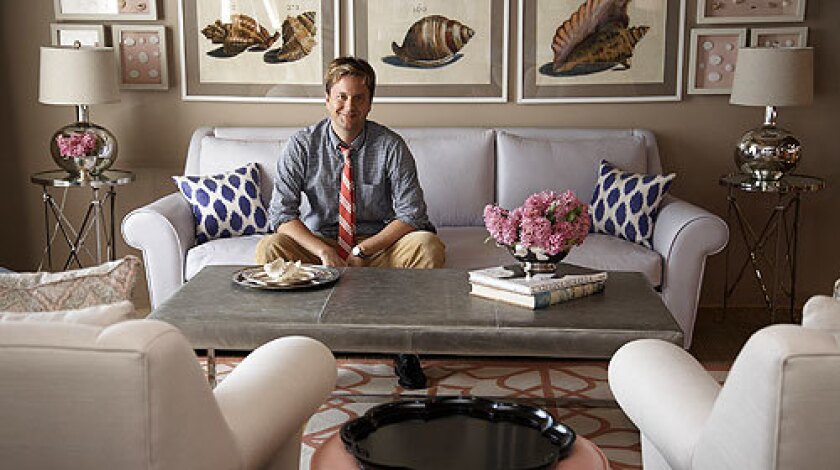 Los Angeles Times Staff Writer
Antiques dealer Nathan Turner has a sort of design X-ray vision. He can see through the heavy needlepoint and Napoleon toile upholstery on the 19th century Belgian furniture to see the gracious forms that lie beneath. Thus, he was inspired to fashion a contemporary version of Belgian roll arm seating as well as 20th century modern ottomans and a table in a new collection for Elite Leather.
---
FOR THE RECORD:
The Scout: A May 29 article said the price of the Blanchard ottoman designed by Nathan Turner for Elite Leather is $600. It is $2,125.
---
The designer, shown here on the Helsa sofa, which retails for $6,600, created the three-seater with one long mattress-style cushion. "I wanted something you can plop onto and spread out on instead of thinking you have to sit in one section," he explains. Coordinating Helsa armchairs in the foreground, $2,800 each, are flanking Turner's Blanchard ottoman, $600, which is a scaled-up version of a 1920s French footstool. For his Timms coffee table with polished stainless steel legs, Turner prefers luxe leathers such as crocodile print or this nickel metallic. With the table at $3,125, he adds, "coasters are not optional." Nathan Turner, 636 N. Almont Drive, West Hollywood. (310) 275-1209 or www.eliteleather.com.
---