T. Rex's Marc Bolan, always famous -- and flamboyant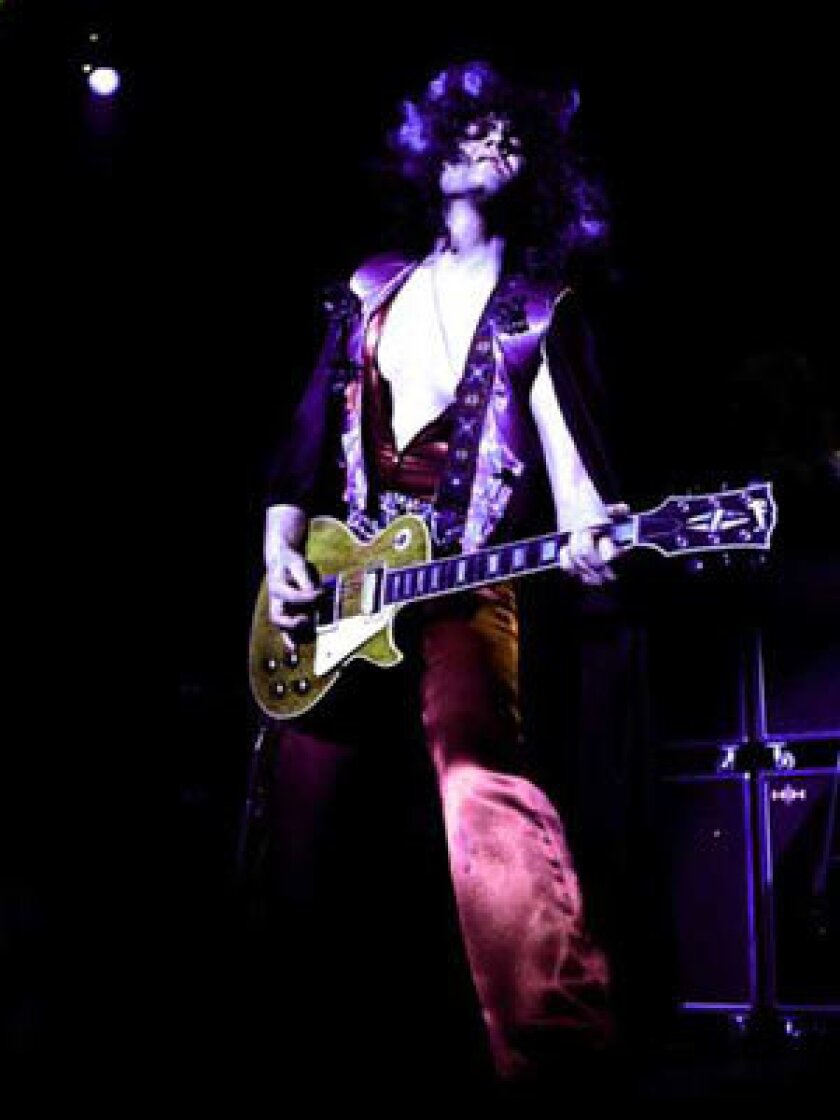 Los Angeles Times Staff Writer
It was Aug. 11, 1973, at the Santa Monica Civic Auditorium. Onstage was Marc Bolan, the enigmatic singer of T. Rex, in a shiny purple jumpsuit unzipped to his navel, wailing on a Gibson Les Paul Custom guitar. A halo of bushy hair swung around his face, grazing a satin waistcoat with an attached cape.
The outfit was on the tame side for Bolan. The singer -- a former teen model who founded the band in 1967 -- spawned a sea of eyeliner-wearing copycats (David Bowie included) after he performed on the British TV show "Top of the Pops" in satin and full makeup.
"He was like an alien landing from the fashion planet Mars," recalls Neal Preston, the L.A.-based rock photographer who shot Bolan at the Santa Monica show.
T. Rex barely climbed the U.S. charts, but the band was huge in the U.K. in the early '70s, churning out campy hits including "20th Century Boy" and "Metal Guru."
It was Bolan's look that ricocheted across oceans. He gravitated to glitz like a magpie: smudging glitter on his cheeks, wearing sequined pants and jackets teamed with top hats and feather boas.
The look was a gender-bending assault on masculinity that transcended Bolan's untimely death in 1977, and it remains a touchstone for modern musicians such as Velvet Revolver, the Killers and Devendra Banhart.
Preston, barely out of high school at the time of the '73 show, was on assignment for Circus magazine with his equally fresh-faced roommate, Cameron Crowe -- who went on to write and direct "Almost Famous" and "Singles."
The pair went to interview Bolan at the Beverly Wilshire Hotel the night before the show, and Preston remembers him as an atypical rock star. "He seemed personable and sweet and delicate -- like he looks," he said. "He was the opposite of the John Bonham, bull-in-a-china-shop rock star. If he wasn't Marc Bolan the rock star, you probably wouldn't look twice at him."
Hence the glitz.
The photo is one of 70 on display at the Sunset Marquis hotel through Aug. 24 as part of "Gibson Through the Lens," an exhibition presented by the guitar maker that captures rock legends -- including Jimi Hendrix, Bruce Springsteen, Nirvana and John Lennon -- with their guitars.
Displayed on the walls of the hotel's lobby and outdoor areas, the show is open 24/7 -- just don't show up with an entourage.
Sunset Marquis Hotel & Villas, 1200 Alta Loma Road. West Hollywood, (310) 657-1333.
---
The essential weekly guide to enjoying the outdoors in Southern California. Insider tips on the best of our beaches, trails, parks, deserts, forests and mountains.
You may occasionally receive promotional content from the Los Angeles Times.