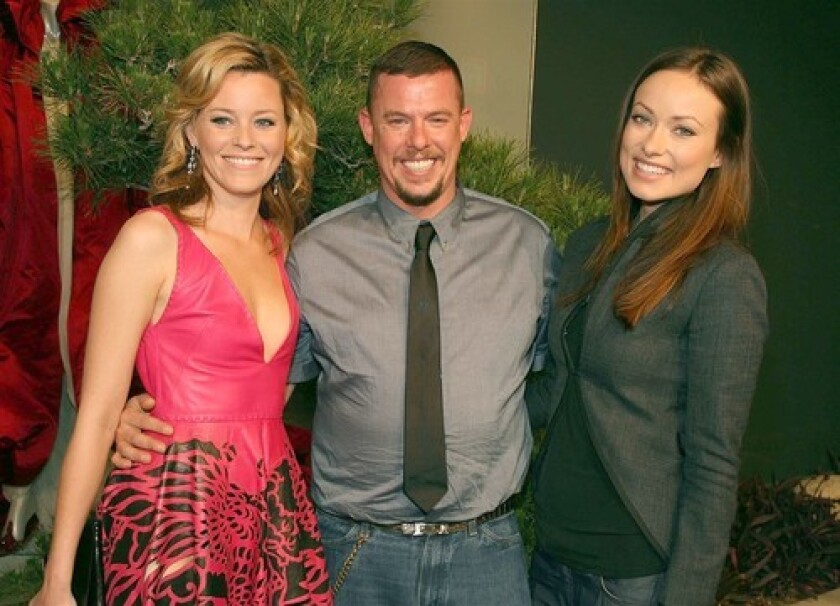 Los Angeles Times Staff Writer
ALEXANDER McQUEEN was the name on the invitation, but the party girls, actresses and designers who turned out last week for the opening party of the British designer's first L.A. outpost left with another name on their lips: Beth Ditto.
The fiery, full-figured singer -- who fronts the dance-punk band the Gossip -- transformed what might have become another faceless fashion soiree into a rollicking indie-rock extravaganza.
The setting: the boutique's back parking lot at the corner of Melrose and Orlando avenues, West Hollywood adjacent, which was cast as a red-carpeted den of iniquity for the occasion -- with red vinyl banquettes, mirrored columns and a sizable stage.
The British designer, clad in his usual jeans and button-front shirt, squeezed his way through the party's packed crowd to introduce the band, naming Ditto as someone who embodies the spirit of the brand.
Then the husky-voiced singer hit the stage in a jumpsuit covered in red sequins designed by McQueen. Did she personify the McQueen sensibility? Not quite (we've never seen anyone over a size 6 wearing his designs). But the message was loud and clear: Fashion's stick-thin standards were being challenged.
Affecting a shiny cartoon devil -- sans staff -- Ditto danced nonstop through the first few songs (pausing occasionally to take drags off cigarettes sent up from the crowd) before jumping into the audience, grabbing a photographer's camera and pretending to take pictures, then passing the mike to partygoers and boogieing with McQueen, who had been bopping around in the back of the space.
Ditto, a 27-year-old Arkansas native who speaks with a charming Southern drawl, is accustomed to changing environments -- and minds. For a few of fashion's most daring designers, the singer, 5 feet 2 and more than 200 pounds, has become an unlikely muse.
McQueen, one of the industry's most lauded designers, may be Ditto's most impressive devotee, but up-and-coming British designer Charles Anastase has been calling her "muse" for years -- and even caught some ugly press for it early on. "But things have changed," said Ditto, adding that offers from designers to make clothes and attend runway shows have been coming in only recently.
The singer's confidence (she posed naked on the cover of British music magazine NME) and her punk cachet are likely draws for heat-seeking fashion houses. Ditto describes her style as "cheap garbage," favoring bright colors, metallics and spandex, both onstage and off, adding, "The key to my success as a fat person is maternity stores."
Her favorite retail spot is mall shop MLK in Portland, Ore. -- where the band now lives -- which hawks custom grilles (the ones for your teeth) and brass knuckles as well as ultra-baggy trousers and neon stretch pants in size 2X. Her favorite shoes are Keds and Converse All-Stars, and she's "obsessed" with Levi's high-waisted 512 jeans. "They're $33 and amazing," she said. "You could buy a fancy pair of jeans, but there's a reason why everyone wears Levi's and Keds. They're sensible and down to earth. I think there's something really nice about normal and sensible."
Not that Ditto is immune to luxury. She's toting a Mulberry purple patent-leather bag these days and calls a black satin Luella evening bag that never made it to production "my pride and joy." She covets Miu Miu heels but says if heels are too tall "you look drunk . . . and actually, I have to be drunk to wear those shoes." Instead, she sports heels from comfort shoemaker Sofft.
Ditto credits the female-centric music scene in Olympia, Wash., where the Gossip gelled, with empowering her to put herself out there as a plus-size powerhouse performer.
Guests at the McQueen party couldn't resist her: Tracee Ellis Ross, Jena Malone, Magda Berliner, Katy Rodriguez and China Chow hooted and hollered for Ditto as though they were front row at the Troubadour.
As the party wound down, word got out that Janet Jackson, in a dramatic McQueen gown, was in the house, as was Natalie Maines and rapper Eve. But everyone was done with stargazing. Rocking out had sapped their energy. Besides, the charisma quotient was filled for the evening.
---