Jonas Brothers are all dressed up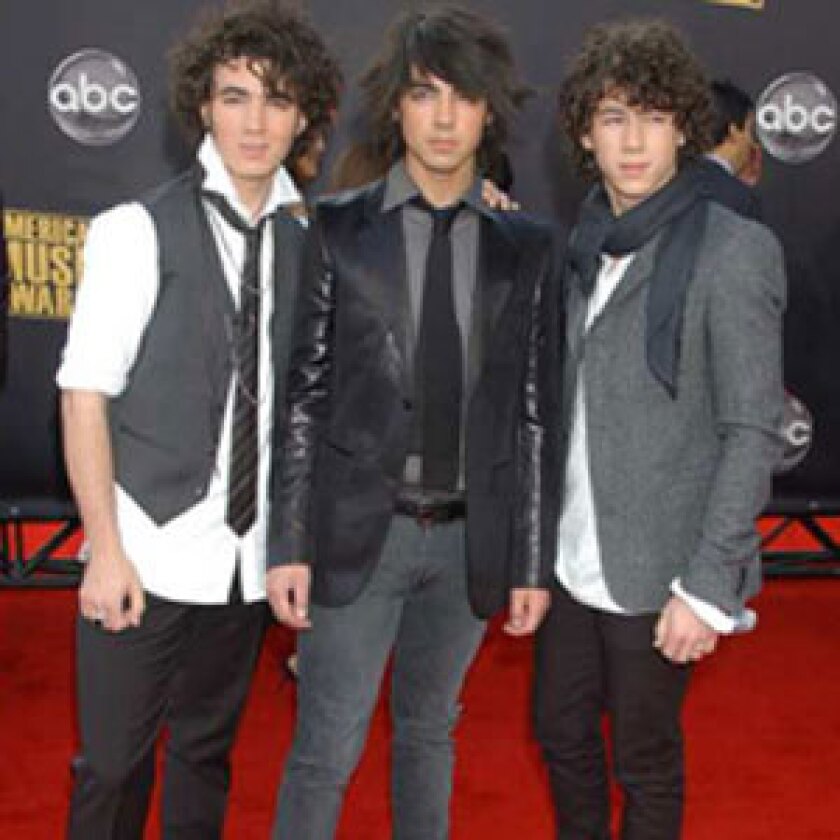 Special to The Times
HOW DID you spend your summer vacation? If you happen to be one of three brothers with the surname Jonas, you squeezed in a 50-date arena tour for millions of tween fans, along with a dizzying array of award shows and appearances on the season finales of " American Idol" and " So You Think You Can Dance."
This summer the Jonas Brothers -- Kevin, 20, Joe, 19, and Nick, 15 -- were hard to ignore even if you never tuned in to the Disney Channel, home to the trio's reality show and original movie, " Camp Rock." The New Jersey-bred siblings appeared on the cover of Rolling Stone, were named in Vanity Fair's "Hollywood's Next Wave" and performed on "The Ellen DeGeneres Show" and "Live With Regis and Kelly."
To appeal to those older than 14, the Jonases have taken a page from the Madonna and Kanye West manual, cultivating a distinct style point of view. Unlike recent tween idols, the siblings take their sartorial responsibility seriously, sporting outfits that could've been ripped from the pages of a Barneys Co-Op catalog. And Jonas Brothers fans are copping the singers' looks with a frenzy not seen since the days of Duran Duran, stocking their dressers with colored jeans, Ray-Ban Wayfarers, blazers, ties, fedoras and ethnic scarves.
Their fashion sense gives their otherwise squeaky-clean image an edge. And their style -- defined by a penchant for ascots, Dior Homme suits, A.P.C. jeans and 3.1 Phillip Lim T-shirts -- has been noticed by designers, the media and heads of state.
During an Easter event at the White House, President Bush famously asked Joe Jonas where the singer got his dusty pink Superga sneakers (and he now owns a pair, courtesy of the Jonas brother).
The Jonases rose to fame about the time they embraced their inner stylistas. Dropped by Columbia Records, they signed with Disney's Hollywood Records in 2006 and quickly ditched their graphic T-shirts and hoodies for a more fashion-forward look created by stylist Michelle Tomaszewski, who'd previously worked with a pre-meltdown Britney Spears. Soon the spiffed-up boys were opening for Disney phenomenon Miley Cyrus on her "Hannah Montana" tour, garnering fans with a YouTube-ready look. Their sophomore album, "Jonas Brothers," released last year, went on to sell 1.5 million copies.
The brothers' third album, "A Little Bit Longer," released last month, debuted at No. 1 on the Billboard 200 chart, selling more than half a million copies in its first week, and they've got two nominations in tonight's MTV Video Music Awards.
Kevin, Joe and Nick took a break from headlining the "Burnin' Up" tour to talk about one of their favorite subjects: fashion.
Which designers do each of you like?
Kevin Jonas: I'm a huge Dior [Homme] fan, J. Lindeberg, Raf Simons. We really pay attention to who's out there -- what they're putting out. Phillip Lim is a really big one for us.
Joe Jonas: I love J. Lindeberg. I also really like Alexander McQueen.
Nick Jonas: My favorite: John Lobb [shoes], Ralph Lauren, J. Lindeberg.
Which musicians do you admire who you also think have a great look?
NJ: A music influence as well as a style influence is Elvis Costello -- he was always true to who he was as an artist, and he's never lost that. From then until now, he's always incredible.
JJ: A lot of bands from the 1970s and 1980s have inspired us. Duran Duran is a big one. The Police have always dressed really cool.
Have you gone to any fashion shows?
KJ: No, not yet. That is something we would like to start to get into. It would be a lot of fun, definitely, for us to see the new clothes. We can't really wait to start doing our own line.
You want to start your own clothing line?
KJ: Maybe. We could do it two ways: We could do our line for us and for other guys. And then we could do a girl line -- what the Jonas brothers want to see a girl wear. [Laughs.]
When did you notice fans were copying what you were wearing?
JJ: When people would show up to shows with white jeans and all those different colored pants. We went to Barneys in New York, and looking at the clothes I was like, wow, I wore that about eight weeks ago. It's fun to poke around and see things we wore two to three months ago now in the store showcased.
What do you think of Barack Obama's style?
KJ: He wears his suits well.
Mick Jagger?
JJ: Mick Jagger is a big influence on us style-wise. What he wears on stage and the way he performs. He wears clothes you can move around in. We're big James Bond fans -- Daniel Craig is likely another influence style-wise. He shows up to award shows in the sweetest suits.
And you're not worried about your style overshadowing your music?
NJ: When they look at artists, the first thing they see is what they're wearing. Then they hear the music. We're just being ourselves, not trying to wear outrageous expensive outfits, wearing clothes that we like, we find comfortable and that we enjoy wearing.
---
The essential weekly guide to enjoying the outdoors in Southern California. Insider tips on the best of our beaches, trails, parks, deserts, forests and mountains.
You may occasionally receive promotional content from the Los Angeles Times.