A chic, new Washington?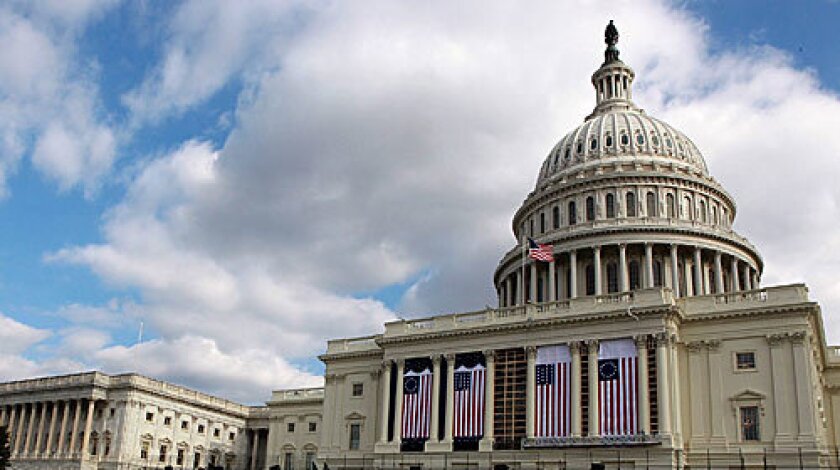 The Founding Fathers wanted to separate the center of government from the center of commerce. So after contentious wrangling they decided to move the capital from New York to a swamp on the Potomac.
And in some senses, it still is a swamp. Purely in terms of fashion, Washington has been a disaster.
We're talking subway cars filled with women in toast-colored hose and shapeless blazers whose main objective seems to be blending in -- often in polyester blends.
We're talking helmet-haired matrons wearing the inevitable eagle-shaped pin now being replaced by glittery Obama ones. And then there are the men, who still wear heavy-soled wingtips and blue blazers with gold buttons.
All the hoopla around the sleek man from Chicago and his innately chic wife has raised expectations that the Obamas will, among other things, rouse a global interest in a cool and unhurried style rooted in individuality rather than designer dictates.
But it is one thing to influence the world and quite another to change Washington.
It has been a city of fashion don'ts for so long that even the periodic infusions of trendy true believers moving in for new administrations have not made it a crossroads of style, culture and government in the manner of Paris, London, Moscow, Buenos Aires or Santiago, Chile.
"Washington women haven't cared about fashion," says Peggy Noonan, a bestselling author and former speechwriter for President Reagan. "They thought if you care about how you looked, it's evidence that you are unserious about policy and power." Noonan, 58, describes women during the era she lived there as, "small men with breasts."
After surviving years of square-shouldered suits and big bows, Noonan moved to fashion-centric New York, landing in "the heart of this fabulous, frivolous thing."
Still, she acknowledges that things are improving in our nation's capital.
"Washington expresses a continuing resolution to keep up with us," says Noonan, who now writes a column for the Wall Street Journal. "They do a much better job than they used to, and God bless them."
It could be said that Washington's case of Mid-Atlantic Blahs Syndrome is letting up.
There aren't sample sales and an H&M or Zara on every corner the way there are in New York or Los Angeles, making of-the-moment fashion accessible to the masses. But there is all that on the Internet, as well as new shops from big names such as Gucci, Louis Vuitton and Jimmy Choo as well as Italian men's clothiers in posh D.C. suburbs such as Chevy Chase and Bethesda, Md.
"Everybody has access to everything now," says Kate Betts, editor of Time's Style & Design magazine. Unlike New York and Los Angeles, however, Washington has not developed a distinctive image because it doesn't have a fashion or design industry to inspire people, Betts says.
"I'm trying to remember when I went to the White House correspondents' dinner what people wore," Betts says, pausing thoughtfully. "But I can't, because there is no indelible image."
Betts, 44, thinks that, like the late Princess Diana, Michelle Obama will "perk up" women around the world -- and, yes, even in Washington -- because she's not chasing fashion but radiating confidence with her personal style.
"It takes a lot of confidence to wear color and prints and accessorize the way she does," she says.
Betts also thinks that the next first lady will put an end to a D.C. determination to make fashion unimportant. "There's a new energy around fashion because of her."
This new energy is not just about Michelle Obama. The Obamas' inner circle includes a select group of women, many African American, some from Chicago, who are turning heads in the capital.
Beth Dozoretz, a well-put-together Washington hostess and Democratic fundraiser, was delighted at a recent party by the original style of such Obama-ites as social secretary Desiree Rogers and advisor Valerie Jarrett.
"I love that these beautiful women look so fabulous," says Dozoretz, 57.
But the former New Yorker and apparel industry executive has found Washington liberating for the very reason that you don't have to look fabulous all the time, the way you do among the power elite in New York.
"You can wear a dress 10 times or wear a dress 10 years old and nobody is going to care," says Dozoretz, who has a personal shopper in New York but who also shops for herself in Washington.
What matters, she adds, is that you wear your clothes without too much attitude. "Humility, integrity and being involved are the things that really matter here," she says. "Fashion is a sidebar, not the substance."
This probably explains why women -- from Cabinet secretaries to office secretaries -- still feel compelled to dress conservatively for success. Successive secretaries of State (except for Colin Powell) have attempted to make a fashion statement. But Madeleine Albright, Condoleezza Rice and, now, contender Sen. Hillary Rodham Clinton have all appeared a lot more glamorous in Vogue spreads than they've ever managed trotting the globe for America.
The problem is not that Washington women don't care or don't try to be stylish. They're just often far too cautious, says Debra Lee, the glamorous chairwoman and chief executive of Black Entertainment Television, based in D.C.
When Lee, 54, first moved to the capital after finishing Harvard Law School in 1980 and went to work for a white-shoe law firm, she was careful not to make a statement with her outfits, even though she loves to follow fashion. She wanted to make partner, and high style wasn't in the equation. But joining BET in 1986 as a vice president and corporate counsel freed her from worrying about what others thought of her outfits.
Still, she notices that when leaving Washington for New York or Los Angeles, she packs slightly edgier clothes.
"I still have a sense of what's too far," says Lee, who wore a white leather skirt and taupe patent leather shoes to a television critics' conference last week in L.A.
A friend of the Obamas, Lee bought only one item for the inaugural weekend -- a fur coat.
"I figure it will be the only thing anyone really sees me in," she says. "And I'll be warm."
Driving down Connecticut Avenue on a frigid morning last week, Ainsley Perrien, 48, a private investigator in Washington, spotted a cluster of bundled-up women.
"Oh, my God, one looks like 'Thoroughly Modern Millie' and the rest look like refrigerators," she blurted into her cellphone.
Perrien moved to Washington from New Orleans 25 years ago to attend college, and she's convinced the capital is still a sartorial backwater where new transplants feel the need to shed their individuality.
"I call it Lord & Taylor syndrome," says Perrien, a petite woman who dresses on a budget. "People come here and want to look like everybody else, so they wear conservative suits from Lord & Taylor."
Noonan, for one, is looking forward to a fresh start at the first state dinner at the Obama White House: "Obama will walk in in a beautiful tux and Michelle will be in a beautiful Oscar de la Renta or Carolina Herrera, and they will be so tall and beautiful and dignified, and it will startle the world and be a sweet moment."
But will that moment jolt "Washington fashion" out of being an oxymoron?
---
Life is stressful. Our weekly mental wellness newsletter can help.
You may occasionally receive promotional content from the Los Angeles Times.