If you don't want to reveal much body, don't worry. Suddenly, clothing is cut roomier than loungewear for Jabba the Hutt. Palazzos, for example, fan out gradually from the waist to end extra wide, and pants with baggy waists are held in place by big belts. Skirts are examplified by yards of crinoline or pleats. For blouses, sleeves are inflated or blowing in the wind, while dresses are festooned with feathers and ruffles. And more ruffles. Fashion pranksters Viktor & Rolf added so many to a gown for their Paris show that it obscured the model's face; the feathers adorning one of Giambattista Valli's cocktail pieces would have made a peacock feel underdressed. Meantime, Yohji Yamamoto channeled Scarlett O'Hara with wire foundations for his skirts and gowns. So, if you've got amplitude on the bottom, go for a fitted top-and vice versa. Leave infinite space to Einstein. * Jill Stuart strapless dress, $395, by special order, Jill Stuart, NYC, (212) 343-2300.
(Kurt Iswarienko / For The Times)
If you slap down the AmEx for only one new item this season, invest in a dress: super-short, swingy smocks and tunics by Chloe and Miu Miu; cocktail numbers with cascading ruffles by Michael Kors; full-skirted affairs with layers of crinoline by Jean Paul Gaultier; balloon hems by Balenciaga. Designers have either opted for the opulent-gold brocade, accordion pleats, puffed sleeves, lace and bows-or for the minimalist, marked by narrowed skirts with cinched waists. High-belted dresses from Burberry Prorsum and high-neck shifts by Calvin Klein recall the '60s and '70s. Otherwise it's pure sex appeal, with hemlines designed to expose miles of legs. * Calvin Klein Collection cotton trapeze dress, $1,190, at Calvin Klein, New York City.
(Kurt Iswarienko / For The Times)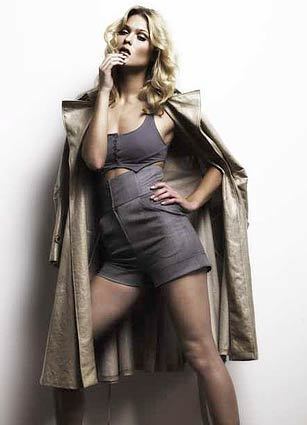 Are designers under the impression that all women possess the kind of two-story gams that come with an insurance policy? That might explain why shorts are peeking out from under tailored jackets, silky kimonos, diaphanous tunics, structured trench coats, even the ubiquitous linen suit. This is potentially dangerous shopping territory, but thankfully we're offered a range of silhouettes, from just-above-the-knee to postage stamp-sized skivvies. Dries Van Noten pairs a red floral kimono with blue-and-gold striped shorts. Stella McCartney tops wispy white shorts with a wide-belted navy bomber. And Givenchy mixes high-waisted cuffed black shorts with a cummerbund and white dress shirt. Today's shorts are cocktail-party appropriate, provided a pair of Blahniks accent the effect. Too bad we can't wear them to work. * Trench coat by Kai Kuhne, $1,499, at Diavolina, Los Angeles; vest by H&M, $14.99, at H&M, San Francisco; shorts by Robin O'Reilly, $192, at Showroom Seven, (212) 643-4810.
(Kurt Iswarienko / For The Times)
After several seasons of smack-you-up-side-the-head primary colors, pale pinks and purple, muted yellow and nudes are back. Elie Saab's rainbow of dresses in soft hues is representative of many collections. Those who dare to differ have picked colors associated with fall. Much of Lanvin's collection, which conveys sexy power dressing, is black, while Burberry Prorsum is awash in sepia tones. Patterns also abound. The star of stripes is Kenzo, whose Paris show was like a stampede of zebras. Also in the City of Lights: Christian Dior chose dresses that gradated from purple, orange or green to tan. And Cavalli embraced black-and-white plaid. As Cole Porter wrote, "Anything goes." * Ruffian blouse, $875, at Saks Fifth Avenue, Beverly Hills.
(Kurt Iswarienko / For The Times)