Was geography really the biggest impediment between them?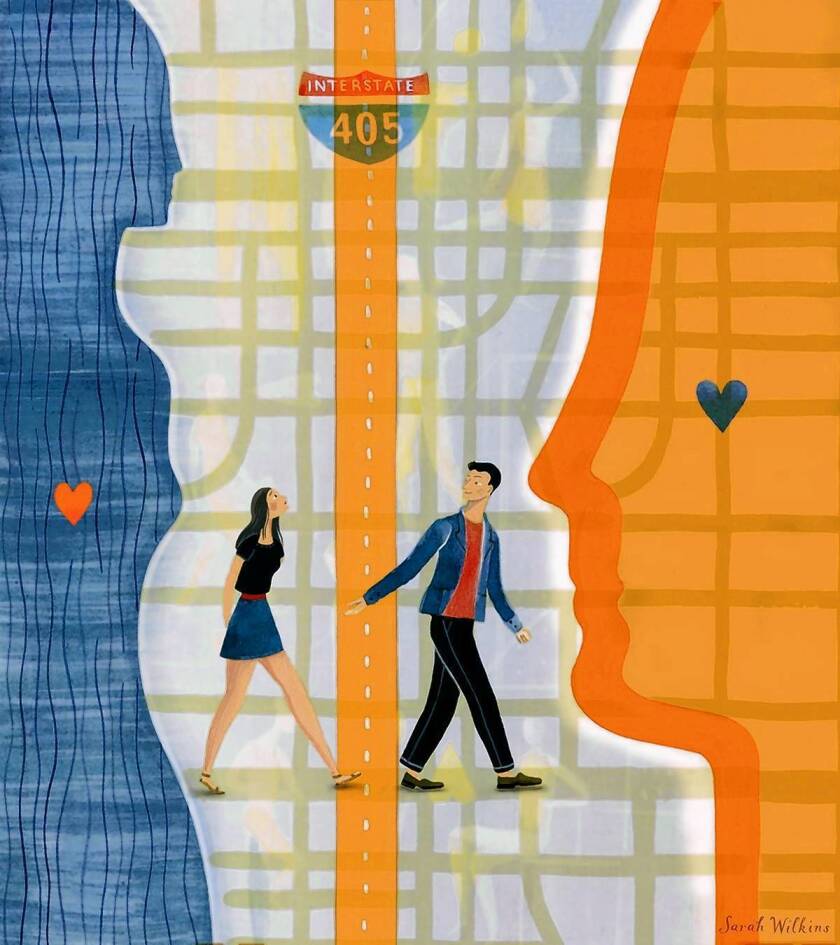 Looking back, perhaps it was just timing. Or perhaps it was the peculiar ambience of the Saddle Ranch Chop House (mechanical bull, sticky floor and stale beer smell) that thwarted a connection. Normally I wouldn't have been caught dead in that place, but it was Christmas Eve, and I had agreed to meet my friend Rachel, her boyfriend and their friend Joe for drinks.
Joe was handsome in a normal-guy kind of way. Not my type — a bit too old and too well dressed. All I remember from that day is that he smoked menthols, he lived in Hollywood, and never in my life had a guy shown less interest in me.
The next couple of years, I saw Joe once or twice, always at parties on the Eastside, where, to my dismay, my newly married friends had been migrating. I was a Venice Beach devotee and didn't find the Eastside appealing — too hipster-y, too much traffic and no beach.
One lovely fall day I bumped into Joe at a party in Echo Park. I was in a post-breakup, I'm-never-dating-again, chakra-clearing stage.
"Hey, it's so great to see you. You look great," he said, leaning in for a hug.
I was confused.
"Good to see you too," I said as I wriggled free.
Every time I turned around there was Joe, his sparkly blue eyes following me around the party. He looked good, healthy. He'd quit smoking and started boxing, and he had apparently learned to flirt.
"Isn't this music great?" he asked. "I've been really into jazz lately."
I said I didn't know anything about jazz.
"Maybe I could teach you," he said.
"Sure, maybe sometime," I mumbled, still confused, as I made my way toward friends.
By the end of the night Joe asked me out. I said yes but hoped he wouldn't call — not because he wasn't charming, but because he lived in Hollywood and was, therefore, incompatible geographically.
Dating someone who lived in Hollywood was out of the question. Although it was only 14.8 miles from my doorstep to his, those 14.8 miles could take 30 minutes or two hours. After my long daily commute, getting back in the car was asking a lot. I had recently dated someone in Orange County, and the combination of fighting traffic and heartbreak had made me weary and cynical. I was determined to find a guy who, like me, preferred to stay west of the 405.
But Joe did call, and I reluctantly agreed to have dinner. Three hours before our date, he called to reschedule. It was Halloween, and he lived north of Santa Monica Boulevard. The parade traffic was too crazy, confirming my theory that a crosstown romance was futile.
The following week, after a fun dinner at Wabi-Sabi and a stroll down Abbot Kinney in Venice, he walked me home and left me at my door without a kiss and no mention of a second date. I was relieved. I genuinely liked him but not enough to ignore his geographic shortcomings.
Yet Joe called again and again. The less interest I showed, the more he pursued me. I was used to dating the typical Westside guys, cool and aloof, so I mistook his pursuit of me for desperation and tried to brush him off by canceling a date last minute. He called me out.
"It was really inconsiderate of you to cancel like that," he said. "I like you, but if you aren't into me, then just say so."
Suddenly I liked him more.
I apologized, he accepted, and we made plans for that weekend.
Before our date I stumbled upon a journal entry I had written after my last breakup, and I had a revelation: Joe had many of the qualities I was looking for, and he wasn't desperate. He just liked me and wasn't playing the usual games. So I set aside my geographic bias and gave him a chance.
I discovered that Joe was emotionally mature and respectful: a man in a city full of guys. That Christmas Eve, exactly three years after our Saddle Ranch disconnect, we fell in love. I immediately took myself to therapy, where I quickly realized it wasn't the 14.8 miles of traffic that I had been afraid of. It was stepping outside the safe, small sandbox I'd been living in. I also discovered something dreadful about myself: I wanted to get married. I had never considered marriage, and I had vehemently sold myself as someone who wasn't interested in it.
I came clean to Joe. He said he didn't see much point in marriage unless there were children involved, but he'd think about it. Our relationship blossomed, and a year later Joe proposed. I left my beloved Venice Beach bungalow behind and did something else I'd never considered: I moved east of the 405.
For a couple of years we went back to Saddle Ranch on Christmas Eve. Last year after a particularly dismal dining experience, we agreed we needed a new tradition. This year we will have one — spending it with our new baby girl, due this summer.
Reichling is a freelance writer who lives in Los Feliz and has never been happier.
L.A. Affairs chronicles romance and relationships. Past columns and submission guidelines are at latimes.com/laaffairs. If you have comments to share or a story to tell, write us at home@latimes.com.
---
The essential weekly guide to enjoying the outdoors in Southern California. Insider tips on the best of our beaches, trails, parks, deserts, forests and mountains.
You may occasionally receive promotional content from the Los Angeles Times.