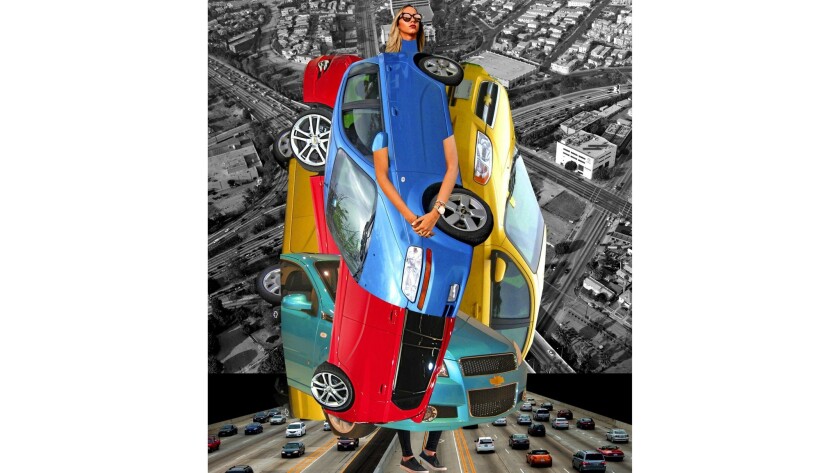 A man I once dated in Los Angeles broke up with me in his car, then immediately asked if I wanted to get dinner across the street.
"I don't think this is working," he said, his long eyelashes flickering, as he gripped the steering wheel and stared straight ahead. And then: "Are you hungry? I'm hungry. Do you want to get some food?" As if the weight of being with me had suddenly lifted and a burrito would suffice.
"No?" I replied, confused, my fingers frantically reaching for the door handle.
Are you a veteran of L.A.'s current dating scene? We want to publish your story
On the drive home in my dented Chevy Aveo, I cried hard and angrily, which is something you can do for extended periods of time in L.A. traffic. There has been plenty said about the emotional toll the 405 has on an Angeleno, but for all the road rage and automotive breakdowns, there is also this: Our cars offer us personal space that allows for grieving in transit, the trauma of heartbreak compassionately confined in a steel box.
By the time I got to my doorstep, 50 minutes and three freeways later, my tears had dried.
Cars are the enduring third wheel in an L.A. courtship, the backdrop of breakups, makeups and all the shifting status updates in between.
I once matched with a woodworker on OKCupid, and after exchanging a series of flirtatious texts we met at a dark tequila bar in Highland Park, where he showed me pictures on his phone of the beautiful shelves and bookcases he had crafted.
"Here is a man who knows how to take care of things," I thought. Since he had taken an Uber to the bar, I offered to drive him home, envisioning a lengthy makeout session in the front seat. But on the drive through a particularly congested stretch of the 110, he told me he had a tattoo on the bottom of his foot that read "mediocrity" so he could "stomp out mediocrity" every morning. He said this while changing my radio station without asking and then spitting gum out the window, and I didn't care so much about his woodworking skills anymore. This man was not going to be my copilot.
I went on a third date with a man who had inexplicably outfitted the inside of his Dodge Charger with neon blue track lights that pulsed along with the bass booming from the speakers. After going to a concert at the Troubadour where he drank too much and tried to start a fight with a stranger, I was done for the night and headed home.
On the drive through Coldwater Canyon, my phone lighted up next to me: "I lost you." "Where'd you go?" "Are you trying to escape hahaha."
Yes, I was trying to escape. His car may have been a roving dance club, but mine served as an escape hatch from the men driving around Los Angeles, the ones I swiped both left and right on. In my car, I could pretend that I had confidence and power in asking for what I needed. I could practice difficult conversations aloud.
"Where do you see this going?" I would ask the rearview mirror on the way to a dinner date, trying it again with a different look in my eye; with a playful, noncommittal air. "Listen," I'd practiced, parked outside one man's Echo Park apartment. "I need you to be more affectionate."
I never thought I would love driving. I grew up in loud, sprawling cities (Beijing, Taipei, Hong Kong, Budapest) where I rode buses, subway trains and tuk tuks. I bought my car after moving to L.A. to be with a man I had been dating long distance for almost four years. I was stupidly, wildly in love with him, and he said he felt the same way about me, but he also called me names and gave me the silent treatment when I looked at men in a way he didn't like. In San Francisco, where I lived during the beginning of our relationship, I didn't have a car in which I could weather his rage.
"You can't be that dense," he would seethe on the phone as I rode the bus home from work — angry that I had made plans with coworkers, or gone to a movie he deemed inappropriate, or forgotten a detail to a story, which he took as a sign of deception — and I would look around at the passengers next to me, wondering if it felt like their insides were drowning too.
And still I quit my job in San Francisco and moved into his tiny studio in Burbank, spending almost all the money I had saved over the past three years on that used Aveo.
I christened my car Sherman — a dorky, nonthreatening name — and drove it to the ocean and the Getty and the Thai Town strip malls while I slowly fell in love with being behind the wheel. I cried in it when he'd accuse me of lying and took it on long drives when the glaring at home proved too much. My car became the only place I could practice saying "I'm leaving" over and over until I believed it.
One night I sat down on our living room couch and started to shake uncontrollably, the remnants of our dinner still on a nearby table. "What's wrong?" he asked, though the answer to that question was never something we would agree on. That weekend, I filled my car with all of my boxes and suitcases and I drove to my uncle's house on the Westside, rows of palm trees ushering me toward a fuzzy sunset. An earthquake would roll through the neighborhood later that night and set off every alarm, and I would think: swallow me, swallow me.
But first I sat in my uncle's driveway with the air conditioning running and the radio playing and my heart feeling like a flooded engine trying to start.
"I'm OK!" I said brightly, looking at my red eyes in the rear-view mirror. "I'm OK, I'm fine." It didn't sound convincing. So I kept my seat belt on and stayed for a while, my car idling, giving me the space I needed until I was ready to begin again.
The author is a former editor for Time Out Los Angeles and is a food writer at Boston.com. She is on Twitter @erin_kuschner
Straight, gay, bisexual, transgender or nonbinary: L.A. Affairs chronicles the search for love in and around Los Angeles — and we want to hear your story. You must allow your name to be published and the story you tell has to be true. We pay $300 for each essay we publish. Email us at LAAffairs@latimes.com.
MORE L.A. LOVE STORIES …
I'm black. He's white. Here's what happened
I went on a bunch of blind dates with total losers
I was sleeping alone in a stranger's bed — and falling for him
---