L.A. Affairs: I asked her to marry me two weeks after our first date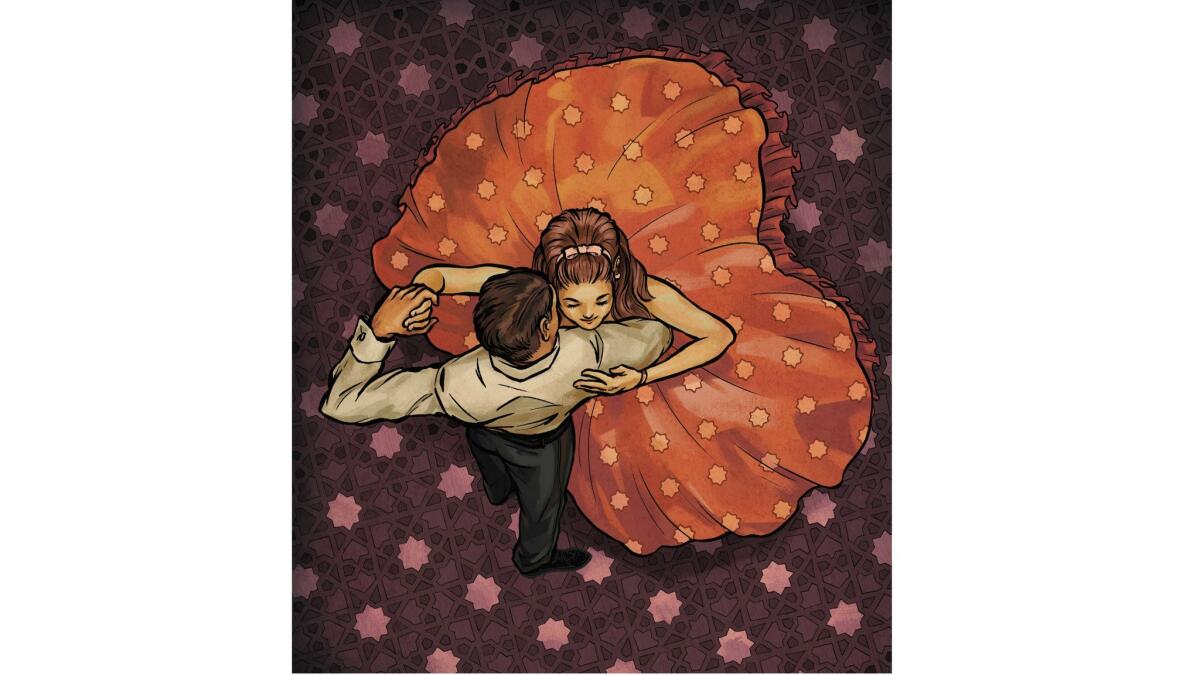 I had recently graduated from Cal State Northridge with a degree in mathematics. I was working for an aerospace firm in the San Fernando Valley when I noticed a flier on the wall in the break room: It advertised a dance at the Biltmore Hotel in Los Angeles. A jacket and tie were required, so I figured it must be a nice place to go.
It was a Friday night in late November, and much to my disappointment, I wasn't dating anyone. So I figured, what the heck, might as well go to the dance.
As I entered the ballroom, the band had already begun to play. I found the bar and ordered my usual Scotch and soda and joined a group of other guys eyeing the lovely ladies coming into the ballroom.
I saw her as soon as she entered.
She was the most beautiful woman I had ever seen.
We've curated some of our favorite L.A. Affairs columns set against the backdrop of the year-end holidays. We guarantee they will give you all the feels.
She had dark-chestnut, silky hair that flowed around her shoulders. Her large eyes were deep brown and had a magical twinkle about them. I couldn't stop staring. I finally came out of my trance long enough to figure out what I was going to do. I suddenly noticed all the other bachelors around the dance floor — they were all looking at her, too.
If I'm going to do anything, I thought, I'd better do it now.
I wondered if I should let her take her coat off first. But if I did that, it might be too late. I swear there was a mad dash of young men trying to make their way to her side, but I had the advantage in that I happened to be standing closest to the door she walked in.
I walked up to her and, in my most masculine voice, I asked, "Would you like to dance?"
She looked at me with a big, bright smile and those exquisite eyes. I almost fainted right then and there and wondered if I was going to keep my composure.
"I would love to," she answered. "Let me take off my coat."
Not only had she agreed to dance with me, but it turned out that she agreed to dance a slow dance. That meant that I could put my arms around her. She felt so soft and warm as I put my hand on the small of her back.
I found out her name was Sandra. I thought that was the most charming name I had ever heard. She told me other things about herself: where she worked, about her family, and more. I told her a few things about myself, although I was mostly interested in what she had to say.
After the song ended, I had to make my move. I figured, well, this is it: Either she likes me enough to try me for another dance or she'd make up some excuse to brush me off.
She not only accepted my request for a second dance, but another and then another.
After about four or five dances we decided to explore the grand hotel for a bit. I hesitantly reached for her hand. She didn't object, to my delight. We found a quaint pastry shop and split a sweet roll, and talked some more. I found out that she was an executive secretary at a bank. I told her I was a computer programmer.
After a while, we went back to the dance. We were interrupted by a few other would-be suitors trying to steal her away from me for a dance, but she turned them down again and again and stayed with me. We danced and talked until the place closed at 2 a.m.
When it was time to leave, I mustered all the courage I could and asked: "Will you go out with me tomorrow night? I know a great place for dinner."
I melted when she smiled, her eyes twinkling, and said, "Yes."
She said "yes" when I proposed to her two weeks later. And she said "yes" — or, actually, "I do" — when we were married four weeks after that, just before New Year's Eve. We recently celebrated our 50th wedding anniversary.
We consider ourselves soul mates. Every year at this time, we see the holiday decorations and feel like the whole world is sparkling in honor of our special love for each other.
We raised three wonderful sons who are all married to great wives, and we have three wonderful grandsons.
And I still melt when she looks at me with those dark eyes and that smile.
The author is a retired information technology professional who lives in Mission Viejo.
L.A. Affairs chronicles the search for love in and around Los Angeles. If you have comments or a true story to tell, email us at LAAffairs@latimes.com.

Get our L.A. Goes Out newsletter, with the week's best events, to help you explore and experience our city.
You may occasionally receive promotional content from the Los Angeles Times.