L.A. Affairs: How R2-D2 helped me find love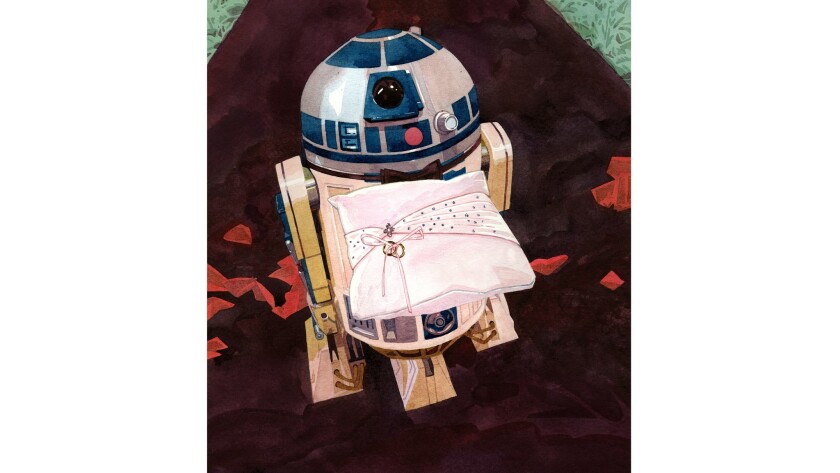 My boyfriend proposed at San Diego Comic-Con with a ring that looks like R2-D2. Yes, R2-D2. And, yes, I mean the robot (droid, actually) from the "Star Wars" movies.
Even if you hate everything related to science fiction or fantasy, you're probably familiar with him. He's the little white, blue and silver tin-canned character who beeps and boops and hangs out with an annoying gold-plated android named C-3PO. The sides of my white gold ring, like R2-D2, have etchings that mirror the droid's mechanical legs, and the top of the ring has a halo of sapphires around a diamond and a small ruby in the front that echoes R2-D2's blinking lights.
Right now, you might be raising your eyebrows.
You might be wondering why I, a woman in my mid-thirties, would want to wear a ring on my finger (for the rest of my life, no less) that was inspired by a fake robot (droid, actually) from a 40-year-old science-fiction movie franchise. You're not alone; not everyone in my life understands my love of R2-D2, either.
Are you a veteran of L.A.'s current dating scene? We want to publish your story
I heard my sister's pause when I called to tell her I was engaged, and that my ring was inspired by an astromech droid. I saw the confusion behind the eyes of my business school friends when I showed them my hand and that, yes, I was marrying the professional magician I had been dating for a few years. I understand where they're coming from — to them, my love of R2-D2 (also lovingly known as Artoo) came from nowhere.
For years I was silent about my love for the droid; I was silent because I was trying to be who I thought I was supposed to be — a Very Serious Business Person.
I can't remember the first time I saw Artoo; he was an integral part of my childhood growing up in suburban New Jersey. I loved Artoo because he was brave, persistent and loyal to his friends. He was everything I wished to be. Being a Very Serious Business Person wasn't something I ever really wished to be, and I wasn't very good at it. A string of high-workload positions with Very Serious titles like "management consultant" and "business development director" marked my 20s, and each one left me more miserable than the last. In my early 30s, I had had enough — I quit my latest job working with Very Serious tech start-ups and moved from New England to Los Angeles.
The move surprised everyone I knew. "Why would you ever want to live in Los Angeles?" some people said. "How can you move across the country without a job?" other people asked. Both reasonable questions, and to be honest I didn't have good answers to either of them. All I knew was that I needed a drastic change.
My first weeks in Los Angeles were full of long walks around Silver Lake reservoir and trying to figure out what I wanted to do with my life.
Just a month after I moved, I was at L.A.'s Original Farmers Market and bought a pack of "Star Wars" stickers, my first R2-D2-related purchase in over 20 years. A few months later, I met Jon. We met where many people meet: at a bar. This bar, however, was at the Magic Castle and Jon was a professional magician. I liked him: He was charming and smart, and his love of Batman superseded most things.
For a moment, my Very Serious Business side reared its ugly head, telling me that dating a magician was not a Very Serious thing to do. But my other side — the side that openly loved Artoo — told my Very Serious side to shut up.
Our first date at the Cat & Fiddle on Sunset was typically awkward, as most first dates are, but it was good enough to spark a second date at MOMA a couple days later. After that, we went on another, more informal date at Canter's. Several other dates followed (most of them at Canter's). We fell in love. One of the reasons I fell in love with Jon was that he loved exactly who I was, my quirks and all.
He loved that I was excessively excited about fall and — even though we lived in Los Angeles — I would decorate my apartment with pumpkins and fake foliage and cinnamon-scented candles the day after Labor Day. He loved that I called my dog "a precious peach" (even though she was neither precious nor a peach) and that my favorite way to unwind in the evenings was to eat Oreos and drink red wine. And he loved that I loved Artoo.
The previous men I dated tolerated these quirks but didn't love them. I don't blame them; at the time I didn't love who I was either.
As I was falling in love with Jon, I was also learning to love myself. I began challenging tenets that teachers had drilled into me since I was a teenager; that being creative was a frivolous pastime, that scoring in the 99th percentile on standardized tests was the only way the world would judge my worth. The fact I did well on those standardized tests made me even more ashamed of my Artoo side, more reluctant to admit that I cared more about fantasy worlds than drafting Excel spreadsheets.
Jon had never held a 9-to-5 job; he had been making a living performing and creating magic his entire life, ignoring the countless people who told him he should go get a "real" job. He helped me realize there were other paths I could follow besides being a Very Serious Business Person who held a Very Serious job.
But changing was hard. The Very Serious Business part of my brain rebelled at leaving my current career for writing, knowing I'd be trading a steady salary for uncertainty. But a voice inside me told me to be brave, that if I stuck with it, I could build a life that reflected who I really was.
So I bought an R2-D2-themed dress and hoodie and quit the corporate job I unwisely took after my first few unemployed months in Los Angeles. Instead of working for another company with a business-formal dress code (Very Serious!), I became a freelance consultant and worked out of my apartment (still Very Serious but at least I could be Very Serious and work in my Artoo hoodie). Working freelance also gave me a more reasonable work schedule, so I started writing more.
Life moved on. My boyfriend and I moved in together and I got two R2-D2 necklaces.
I finished my first manuscript and dyed my hair blue, a huge nail in the coffin for my Very Serious Business career.
The outside changes were what people noticed, of course.
My biggest change, however, was accepting who I was — an adult woman who loved R2-D2.
Jon proposed to me on our third Comic-Con together.
The ring was inside a vintage R2-D2 toy, the perfect ring box for the perfect ring. There's a picture of us hugging after he proposed, and I'm staring at the ring with a big smile on my face.
I had found myself. And I had found my love, and my love had given me Artoo.
The author lives in Los Angeles, and is getting married May 27, 2018. You can find her on Twitter as @vfarmstrong.
L.A. Affairs chronicles the current dating scene in and around Los Angeles. If you have comments or a true story to tell, email us at LAAffairs@latimes.com.
MORE L.A. LOVE STORIES …
I'm black. He's white. Here's what happened
I went on a bunch of blind dates with total losers
I was sleeping alone in a stranger's bed — and falling for him
---
The essential weekly guide to enjoying the outdoors in Southern California. Insider tips on the best of our beaches, trails, parks, deserts, forests and mountains.
You may occasionally receive promotional content from the Los Angeles Times.