L.A. Affairs: She asked me to marry her, and I thought it was a big joke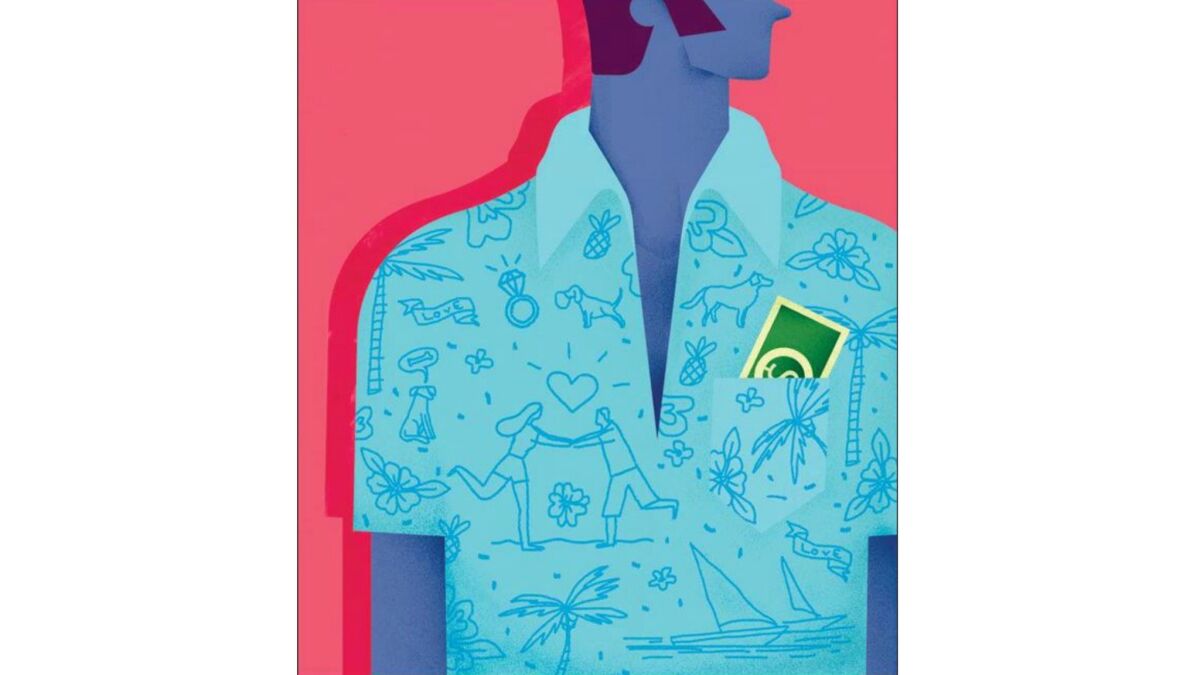 I am a self-admitted, card-carrying, incurable romantic.
How else to explain a lifelong addiction to the slowest, most-expensive and uncomfortable means of travel known... sailing.
It was late October in 1974, and I was a love-lorn graduate engineering student at CSUN. True to my nature, I was also a member of that institution's sailing club, a bunch of starving students banded together to sail a ragtag fleet of dinghies every Sunday.
I was also in it to meet girls.
Are you a veteran of L.A.'s current dating scene? We want to publish your story
We had two rooms of an old house on campus, including a kitchen, for our clubhouse. On one particular Sunday, I happened to be washing dishes in the clubhouse kitchen, arms elbow deep in soapy water, when in walked a beautiful, brown-eyed brunette. She proceeded to stuff a $20 dollar bill in the pocket of the turquoise Hawaiian shirt I happened to be wearing that afternoon.
She had my immediate, undivided attention.
I was decidedly un-hunky and had not suddenly become irresistible in that instant. So why the money? The explanation, when it came, was much less interesting than her appearance at my side:
Members of the sailing club would group-charter boats for weekend excursions, such as overnight trips to Catalina Island. Lynne — that was her name — explained that the $20 was for her share of a charter, and it ended up in my shirt pocket because I was in charge of collecting for the next trip. And my hands were wet and soapy.
The trip in question was on a small, 25-foot boat, and there were five souls scheduled to be aboard. It was cozy, necessitating the sharing of bunks.
With my luck, Lynne and I were stuffed into a sleeping space designed for two, along with a guy named Gary, who had also taken an interest in Lynne.
It takes a long time to sail to and from Catalina, and I took advantage of that time to get to know Lynne.
It turned out she was a shy French literature major, in her third year. (I have forever been grateful to Lynne's mom for forcing Lynne outside her comfort zone and making her go sailing that Sunday.) It turned out we had much in common. Being a card-carrying romantic had led me to an interest in classical music and art. She played the oboe and had taken honors arts classes at El Camino Real High. The intersection of our values and attitudes was discovered while stargazing on the foredeck during the Catalina trip. (Gary was and still is a good friend, but Lynne is one of a kind. I had to fight off not only Gary on that trip, but, later on, a housemate and, ultimately, my brother as well.)
By the time we returned to Marina del Rey I was smitten beyond redemption.
Despite our seeming incongruity of backgrounds, she accepted my invitation to dinner and a movie, perhaps because her father was also an engineer. Here is where the universe sent us a great, big sign. I found a second-run, double feature of "The Dove" and "Romeo and Juliet" to take her to. "The Dove" is the story of how teenager Robin Lee Graham became the youngest person to sail around the world alone and met the love of his life along the way. The other movie is kind of romantic as well. That particular double feature appealed to both our passions — my sailing and her literature — and was the perfect way for each of us to see the other's world back on shore.
We slowly became inseparable. And then, get this: She proposed to me, in 1976. It was on leap year day — that's the day when legend has it that women can boldly choose their mate. It was a fiasco, and I misread badly. I foolishly did not take the proposal seriously. I pretty much knew I wanted to marry her by then, but, I mean, who proposes on leap year day?
Fortunately, I recovered from my faux pas and proposed to her soon enough after that and "saved it." It involved lots of grovelling.
We have sailed together ever since, sharing 41 years of adventure, five houses, four international assignments, three dogs (although not all the dogs at the same time) and two sailboats, including a cruise on one of them to Mexico.
As for Gary, he did finally get his own girl, a wonderful woman he also met through the sailing club.
As for that Hawaiian shirt, I came to find out that turquoise is Lynne's favorite color.
The author is a retired Disney Imagineer. He lives in Simi Valley and sails out of Ventura.
L.A. Affairs chronicles the search for love in and around Los Angeles. If you have comments or a true story to tell, email us at LAAffairs@latimes.com.
MORE L.A. LOVE STORIES …
I'm black. He's white. Here's what happened
I went on a bunch of blind dates with total losers
I was sleeping alone in a stranger's bed — and falling for him
---
Get our L.A. Goes Out newsletter, with the week's best events, to help you explore and experience our city.
You may occasionally receive promotional content from the Los Angeles Times.