My dog was there to help me grow up — and help me keep going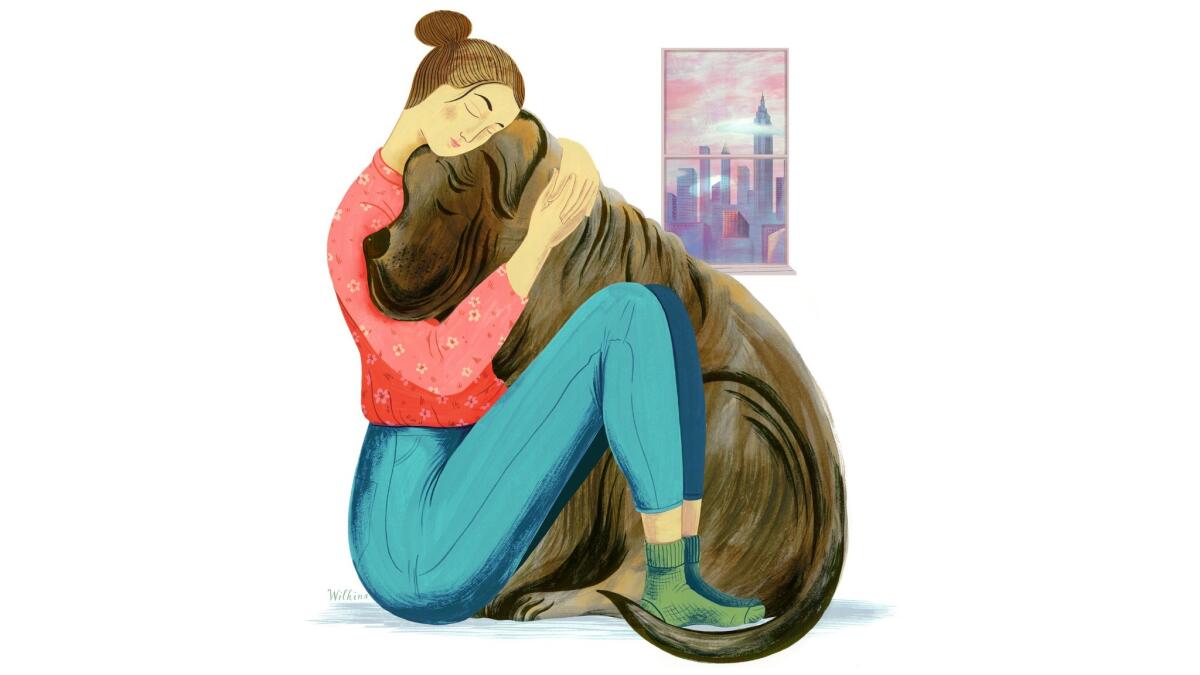 On the line next to Roommate, I wanted to write "Gizelle," but as my eyes scanned the rental application for my new New York apartment, I realized that there was a separate section to be completed for "Pets." I guess that's what she is, I conceded, writing her name in the box before moving on to the next question about her, which was: Weight.
Uh-oh.
There was nothing practical about it. I was 23 and moving to Manhattan from my hometown of Nashville with a dog the size of a small pony. As a first-time renter, I didn't have much to put under "Proof of Income." There were no commas in my most recent bank statements. My parents were in the middle of a divorce. I didn't have a real job or a couch or a clue. I did, however, have Gizelle, a 160-pound English mastiff.
We found an apartment on 43rd between 8th and 9th avenues, which meant our new backyard was Times Square. Walking around Midtown, Gizelle was frequently mistaken for "The Beast" from "The Sandlot" movie, some sort of farm animal, or worse — Cujo, that dog that eats people. Sure, Gizelle's head was the size of a basketball and shoestrings of slobber swung from her jowls after she ate. She knocked frames off tables with her tail and her No. 2s required two bags to clean up. But when she looked at me with her dark, sensitive eyes, I knew we understood each other. She was not a beast or a steer or a rabid character from a Stephen King novel, she was my family.
My best friend.
My roommate.
Gizelle watched as I lint rolled my blazer to rush out the door for job interviews. She waited for me by the door until I returned, always eager to see me even though no one else in Manhattan seemed to be. Dinner was leftover french fries from my restaurant job, which Gizelle and I shared on a mattress on the floor. We watched "Gossip Girl" at midnight, while I looked for writing jobs on Craigslist and boys on Tinder. I went from hostess to fashion closet assistant to PR girl. We moved from Midtown to the East Village. We found a boyfriend who told Gizelle he loved her, but couldn't seem to say the same about me. And what would I do if he did say that? I struggled. I cried. I loved New York City and I hated New York City. I wanted to quit my job and ask for a promotion at the same time. I worried about my mom. I was afraid of the future, terrified I'd never figure out my life.
But at night, I pulled the covers up over my head and Gizelle wrapped her paw around me. The lights of New York City flickered outside my window. I'd press my head against her massive brindle chest, slow my breaths to match hers and feel safe.
To me, Gizelle was almost human. But far enough away from actually being human that I could love her without fear of being rejected or heartbroken.
At least, I could until I was 25. Until I found out that what I thought was only a limp was cancer and that she had only a few months to live.
I miss blasting "Wide Open Spaces" by the Dixie Chicks in my tiny Times Square apartment while sweeping clumps of dog hair from the floor. I miss the sound of Gizelle's tail thwacking against our salvaged-from-the-sidewalk IKEA futon. I miss walking side-by-side across 42nd street in my dirty old Ugg boots and cut-off denim shorts in the searing hot summertime. I have to hold back the tears when I think about her and us and those moments — Gizelle, and my younger self. I know I'll never get those girls back.
But I also laugh because I know that all of that time I thought I needed a plan, I didn't realize that where I was and who I was at that point of my life was totally fine. It was the plan.
I'm 28 now, single and living in Los Angeles with my new rescue dog, Bette.
Thirty pounds and full of energy, I don't know why I thought downsizing would be easier. I chase her around my backyard, yelling and pleading with her to please come inside. I tug her away from barking at strangers. She thinks cute boys are chew toys and she dug a hole in my mattress last night. She annoys me and challenges me and loves me. "She's going to think her name is Bette-no," my brother says. I roll my eyes.
On the inside, I'm never really mad at Bette, I'm only laughing. I'm laughing because I love Bette too. And I still have no idea what we're doing. I have no plan. But I clip on her leash and we march out the door to watch the sunset in Silver Lake.
All I know is that one day, I'll look back on these years and I'll miss them too.
The author wrote a book, "Gizelle's Bucket List: My Life With a Very Large Dog," published by Simon & Schuster and available in print, e-book and audiobook, about making sure Gizelle's last days were her best. Her website is LaurenFernWatt.com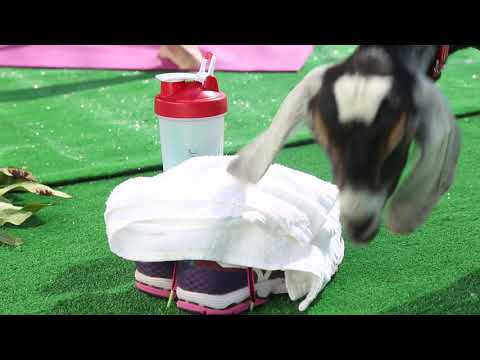 On Now
In goat yoga, the point isn't to sweat. It's to have a baby goat climb on your shoulders during your plank
On Now
On Now
Hanging out with Instagram's famous cats Nala, Coffee and Luna
On Now
Poolside with Kaley Cuoco, Norman, Shirley, Rose and friends
On Now
Watch a pet therapy dog at work
On Now
Visit the Pug Nation Rescue
On Now
Visiting the dog beach with Shari Sandberg
Get our L.A. Goes Out newsletter, with the week's best events, to help you explore and experience our city.
You may occasionally receive promotional content from the Los Angeles Times.