Six unique ways to memorialize a beloved pet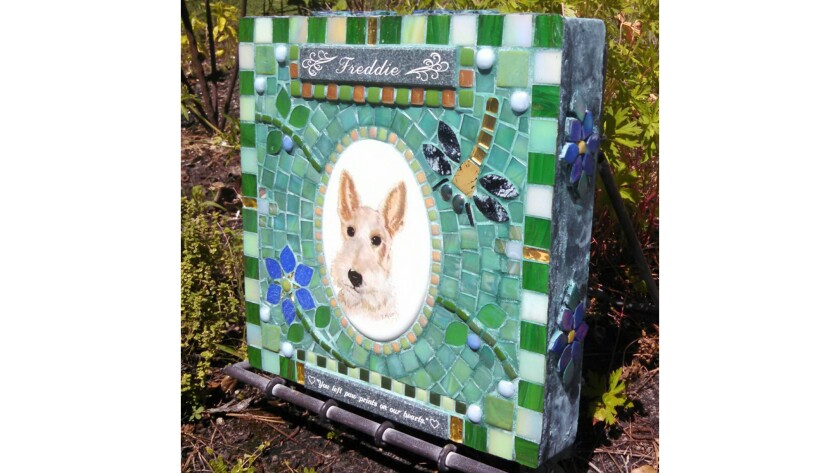 The black box sits on the counter, encased in something that looks suspiciously like a gift bag, a cloud of netting pulled together at the top with an olive green ribbon. From a distance it looks like a tissue holder, but its contents are more likely to produce tears than dry them.
The box holds a small plastic bag of ashes, the remains of my dog Biscuit, a canine that filled a great deal of space during his 15 years. It wasn't his size (he weighed only 30 pounds); it was his goofy, please-love-me personality that prompted strangers to fall at his feet.
Now all of that has been reduced to a neat little package whose contents need to be scattered somewhere — under the lemon tree, perhaps, or at every stop on our morning walks — another ritual from the human world that has been embraced by pet owners.
Pet cremations — along with burials and tributes and memorials — are increasing worldwide, contributing to the continued growth of the pet industry (spending is expected to reach $70 billion in 2017). But many of us still struggle with public expressions of grief. How can the death of a dog or a cat possibly compare with human loss?
The answer to that question has inspired scholarly articles and countless essays from experts. A 2013 National Geographic report suggested that the bond between dogs and humans is about more than habit and close physical contact. "Researchers from the University of Chicago and several international institutions found that several groups of genes in humans and dogs ... have been evolving in parallel for thousands of years." The connection is "embedded in our genes."
Other research suggests that hormonal responses cement the bond.
All of which is interesting, but research and studies and experts probably won't make you feel better. Remember that black box? It holds the remnants of a relationship that most of us hope we can achieve with another human, one that is distinguished by unconditional love.
Sometimes the experience of grief can be assuaged by the mourning process.
And that's where memorials — photos, paintings, tiled stones, cremation jewelry — come in.
They're a very public acknowledgment of loss, objects that convey your sadness even if you are silent.
In the years to come, your friends and family might view that acrylic portrait above the mantle and chortle as they recall a Thanksgiving dinner when they slipped bits of turkey to the dog "that never gets people food." Perhaps they will remind you of ill-fated squirrel hunts or challenges to the Great Dane across the street that prompted snarky remarks about natural selection.
That kind of acknowledgment is likely to enhance your bonds with family and friends. But it's unlikely that you will need a reminder of that other bond.
It's embedded in your genes.
Here are a few examples we found of ways to memorialize a beloved pet:
Pet portraits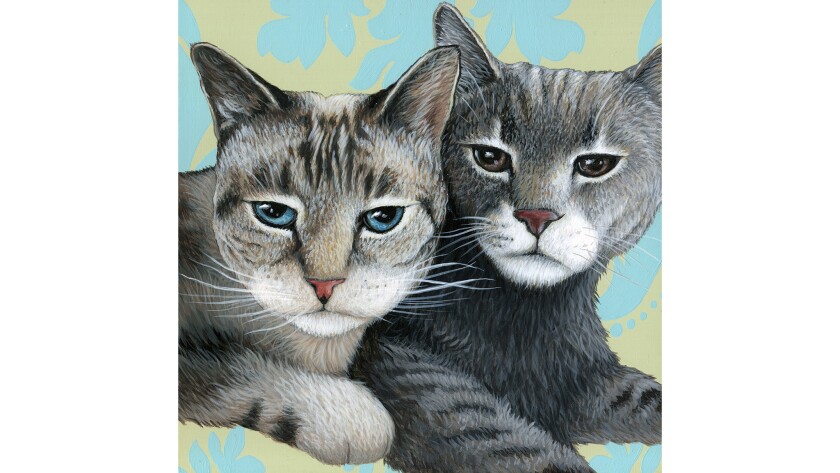 We live in a world that is saturated with photos, but pet owners may want something that speaks to an earlier age — a portrait. Lena Sayadian is an L.A. illustrative artist who creates "nature inspired" works including pet memorials, painted on wood blocks and wood panels. Sizes range from 3-by-3 inches to 11-by-14 inches; prices range from $96 to $560. LenaSayadian.com
On a slightly larger scale, there's My Pooch Face. You can order a digital portrait for $149 (11-by-14 inches) or a hand-painted, acrylic version for $295 (16" by 16"). TheGrommet.com/my-pooch-face
Stuffed animals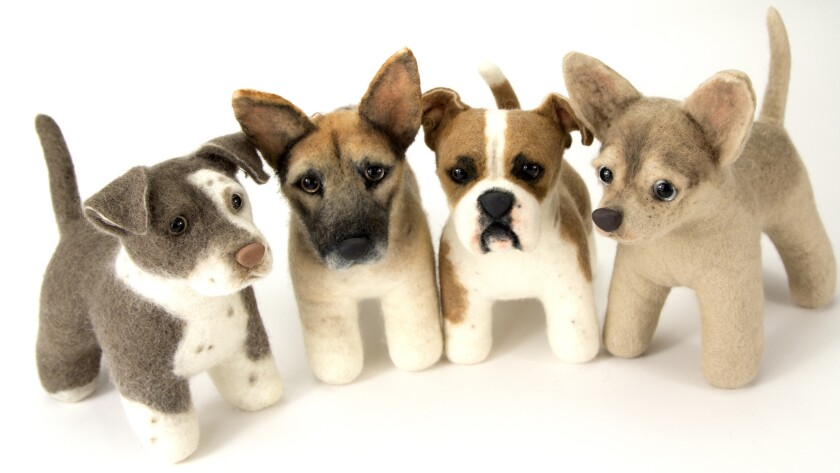 No, we're not talking about taxidermy (although that's an option for grieving humans). Shelter Pups is one of a handful of companies that will use photos of your dog or cat to guide the manufacture of a stuffed animal that, in many instances, will bear a remarkable likeness to your pet. $125. ShelterPups.com
Garden stones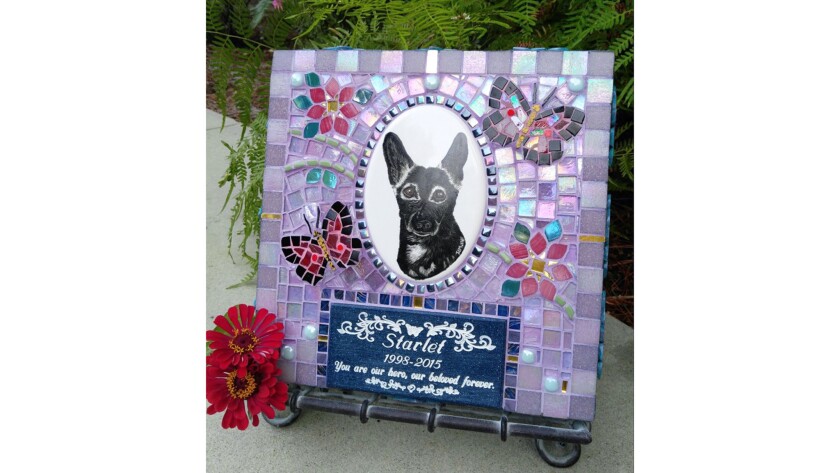 If you can access your own patch of greenery (and even if you can't), a mosaic portrait stone may be in order. Send a photo to the Water's End Studio and the artist will make a 12-by-12-by-2-inch stone with a hand-painted image that is fired onto a porcelain tile and surrounded by Italian glass tiles. $775. GardenBenches.us
Jewelry
If you want to memorialize a pet with a necklace or bracelet or ring, the options are plentiful. There are vials (that hold remains) to wear around your neck, charms that incorporate paw prints and pendants stamped with photos.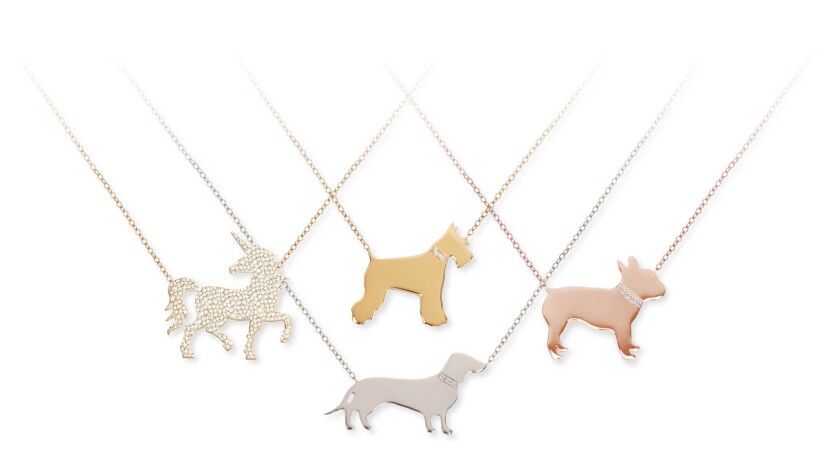 Inspired by her schnauzer Atticus, stylist Carrie Cramer launched her eponymous jewelry line last year, and many of her necklaces feature dog charms crafted to look like a specific breed (a poodle or a dachshund, for example). They come in silver, gold plate, and solid gold (yellow, white and rose) and can be ordered with diamond collars or all-over pave. Prices start at $195. CarrieCramer.com
There are many lines of jewelry that use the solidified ashes from cremation instead of gem stones — like this North Star pendant offered on Etsy. The artist from CloseByMe jewelry makes an eight-pointed star (in sterling silver or 14 karat gold) designed to cradle a "stone" that looks like ancient Roman glass. Last we checked: $200 for silver, $420 for gold. Etsy.com
On Now
In goat yoga, the point isn't to sweat. It's to have a baby goat climb on your shoulders during your plank
On Now
On Now
Hanging out with Instagram's famous cats Nala, Coffee and Luna
On Now
Poolside with Kaley Cuoco, Norman, Shirley, Rose and friends
On Now
Watch a pet therapy dog at work
On Now
Visit the Pug Nation Rescue
On Now
Visiting the dog beach with Shari Sandberg
On Now
Video: The scene at CatConLA
1:53
---
The essential weekly guide to enjoying the outdoors in Southern California. Insider tips on the best of our beaches, trails, parks, deserts, forests and mountains.
You may occasionally receive promotional content from the Los Angeles Times.