With luck and many volunteers, L.A. city shelters on track to reach no-kill status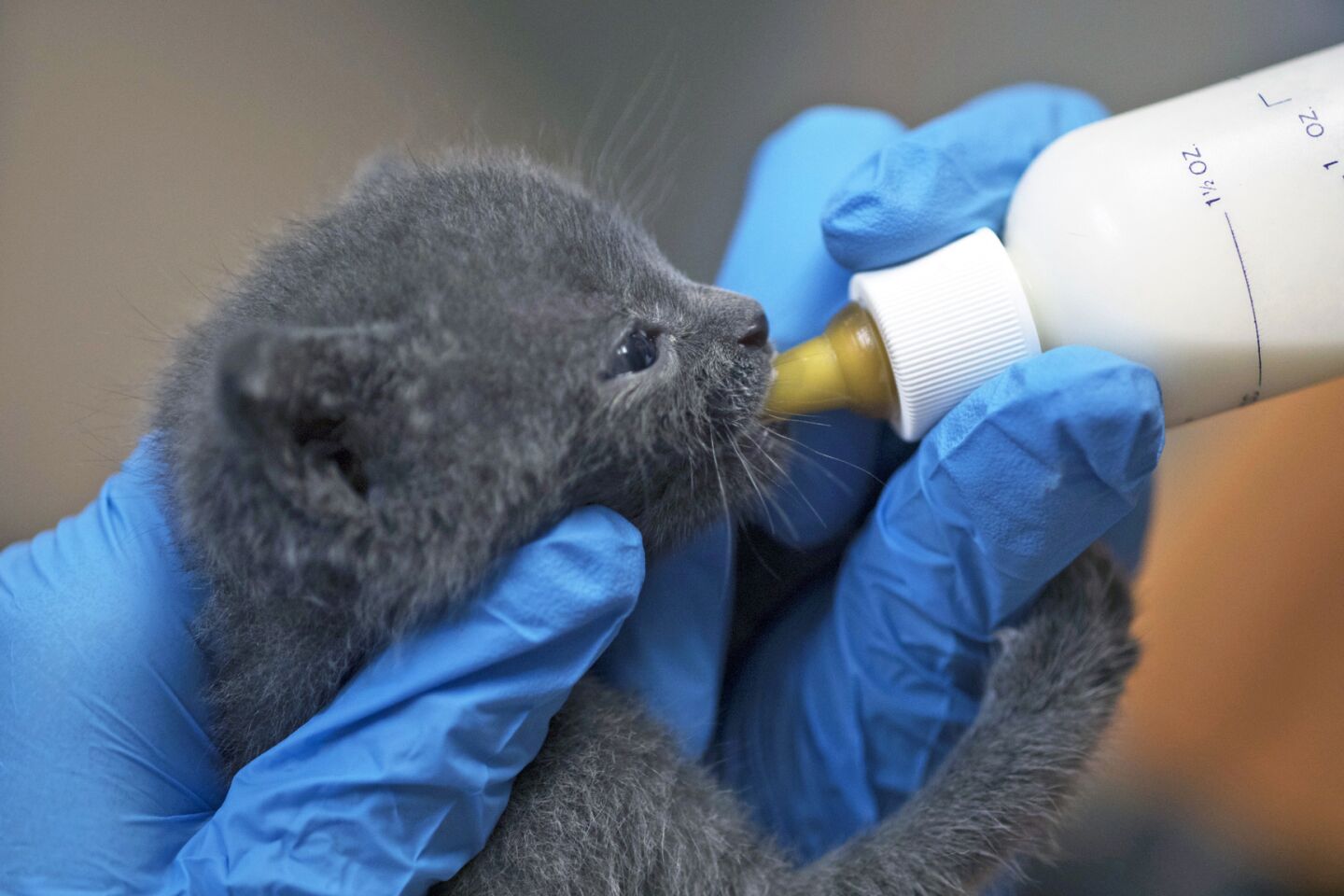 A kitten named Baba Ganoush is bottle fed at the Best Friends Animal Society in Mission Hills.
(Calvin B. Alagot / Los Angeles Times)
He seems to still be hungry. The 24/7 work of the volunteers here is critical. Without them, the newborns would be euthanized.
(Calvin B. Alagot / Los Angeles Times)
The weeks-old kittens require special care that is provided by a combination of staffers, volunteers and foster caregivers.
(Calvin B. Alagot / Los Angeles Times)
Kittens are kept in aquariums equipped with heating pads because they are not able to regulate their body temperature.
(Calvin B. Alagot / Los Angeles Times)
Kara Obdenbaugh bottle feeds a kitten at the nursery.
(Calvin B. Alagot / Los Angeles Times)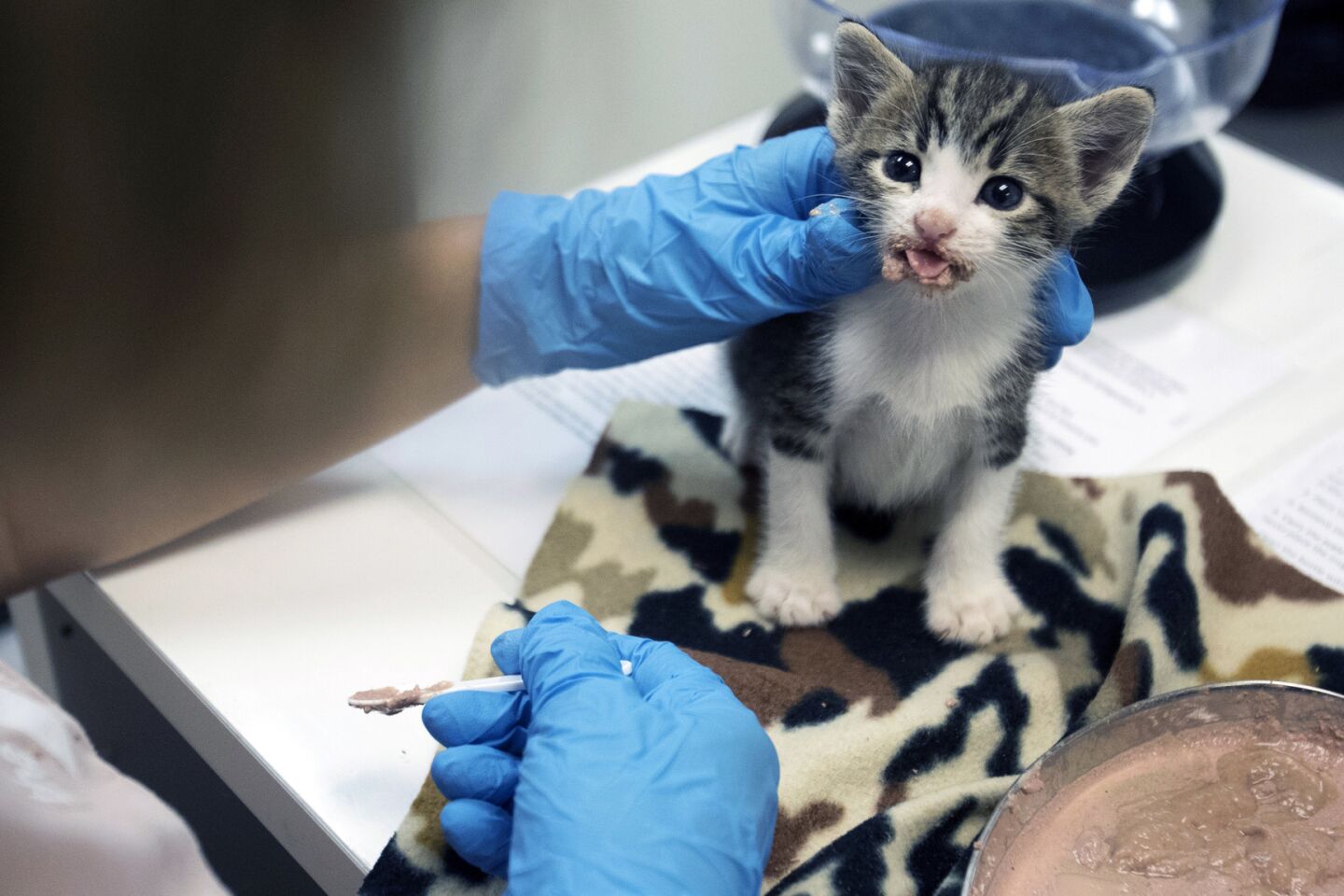 A kitten named Tot is fed a nutritious gruel.
(Calvin B. Alagot / Los Angeles Times)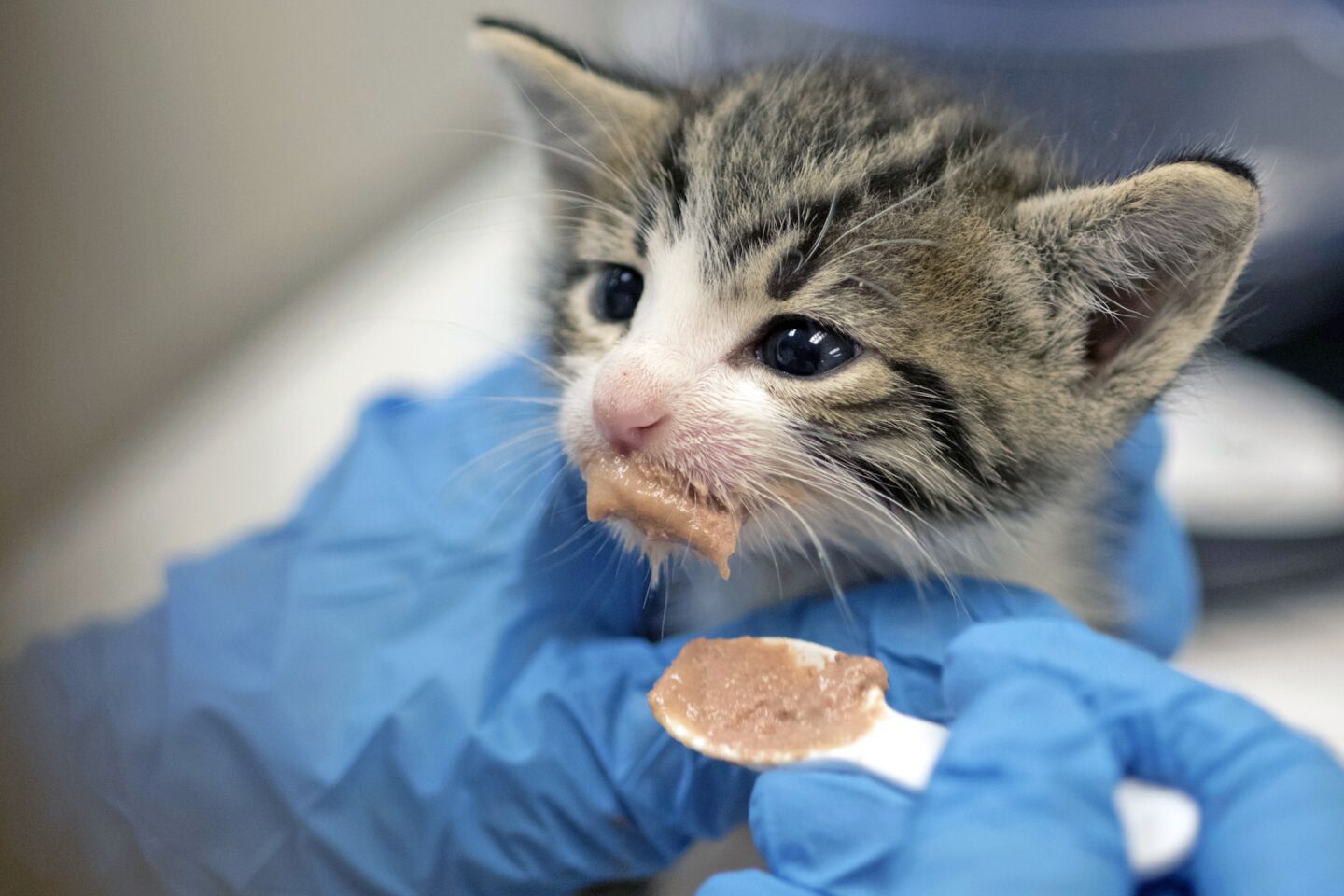 Some of it actually makes it into the kitten's mouth.
(Calvin B. Alagot / Los Angeles Times)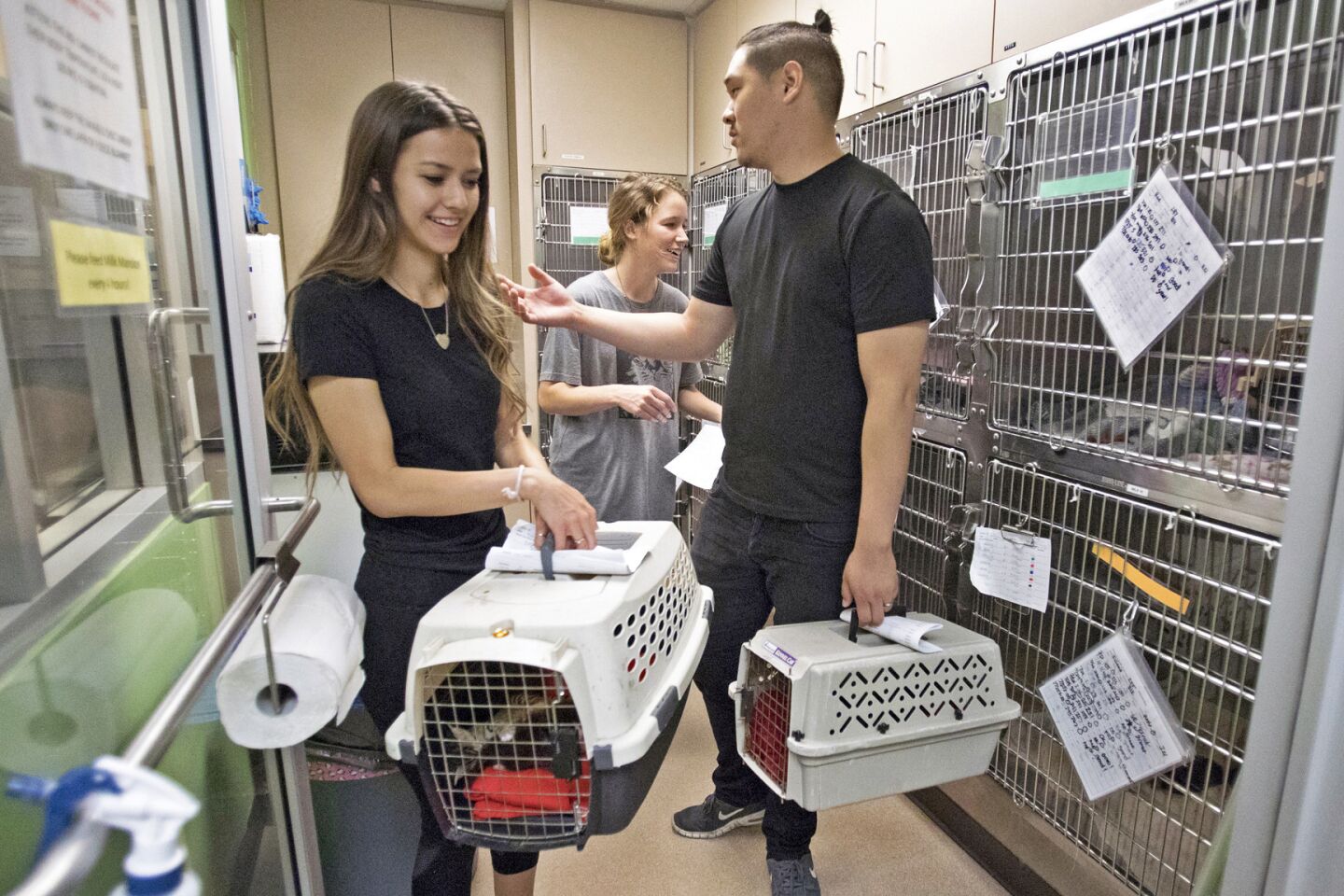 Volunteers Kelsey Kazahaya and Nick Kim with the Spay and Neuter Project of Los Angeles work with the Best Friends Animal Society Kitten Nursery to relocate the kittens to animal shelters across Los Angeles.
(Calvin B. Alagot / Los Angeles Times)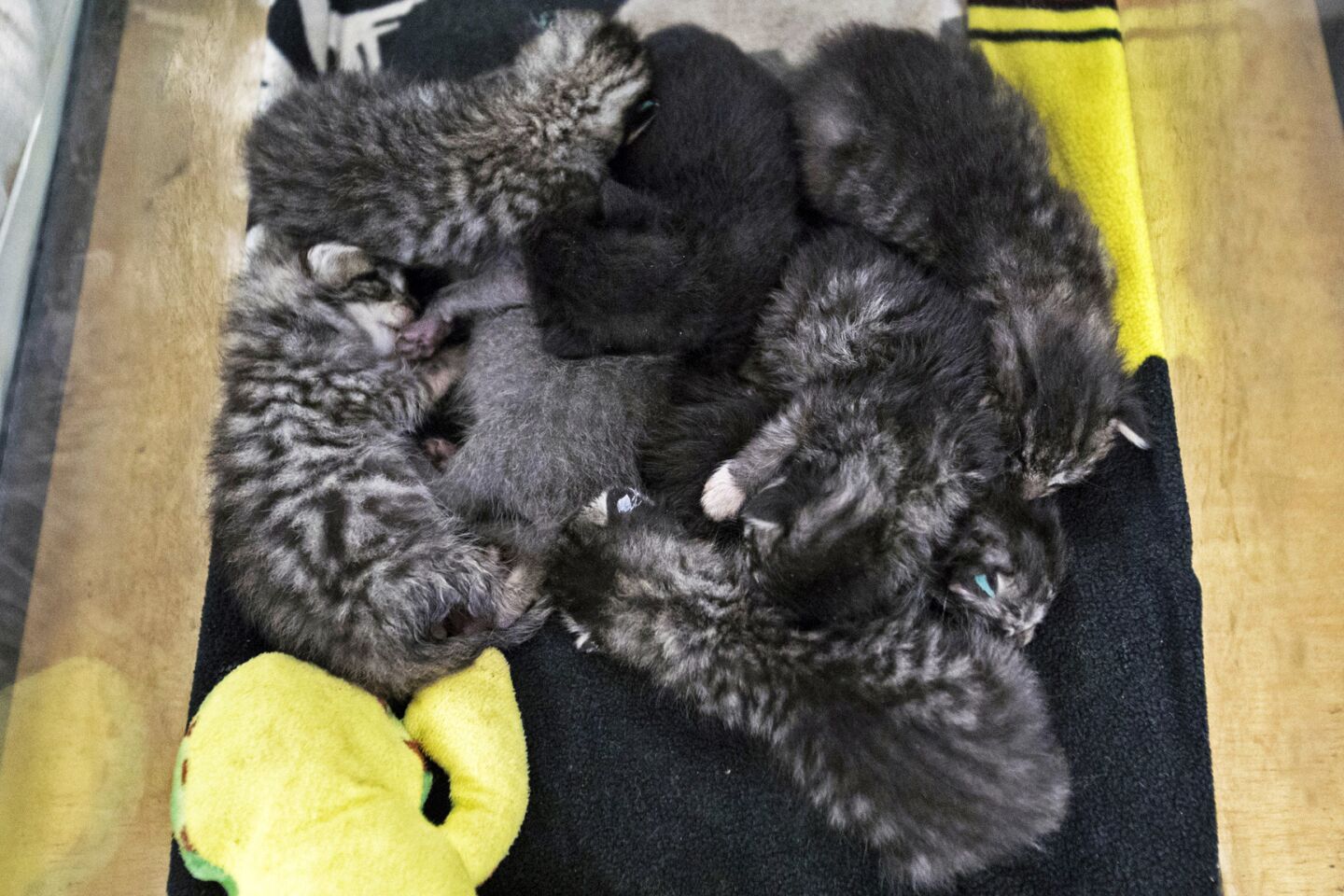 Kittens that come to the Best Friends Animal Society Kitten Nursery without mothers are given a stuffed animal to cuddle with.
(Calvin B. Alagot / Los Angeles Times)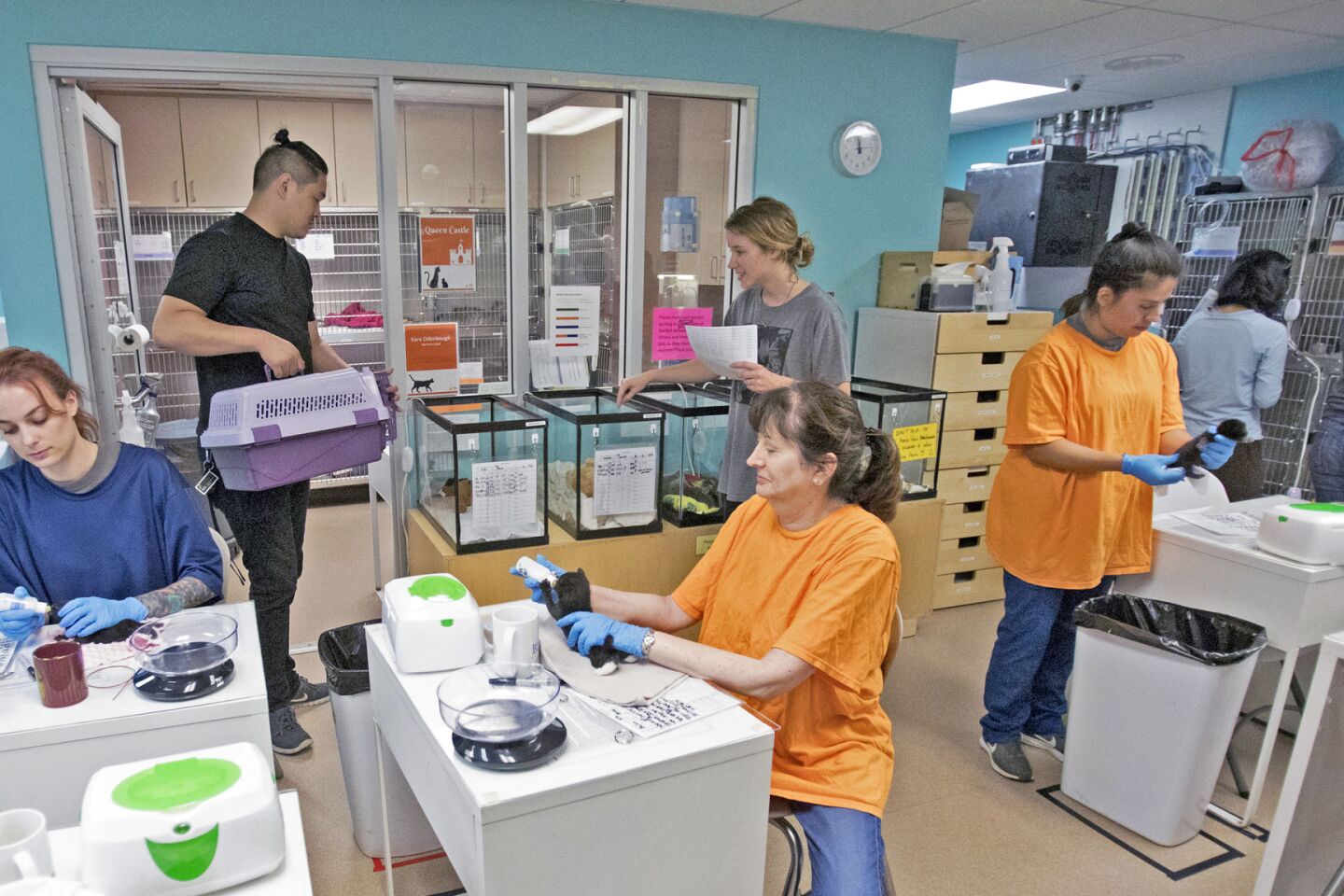 The Best Friends Animal Society Kitten Nursery's goal is to save 9,000 kittens this year.
(Calvin B. Alagot / Los Angeles Times)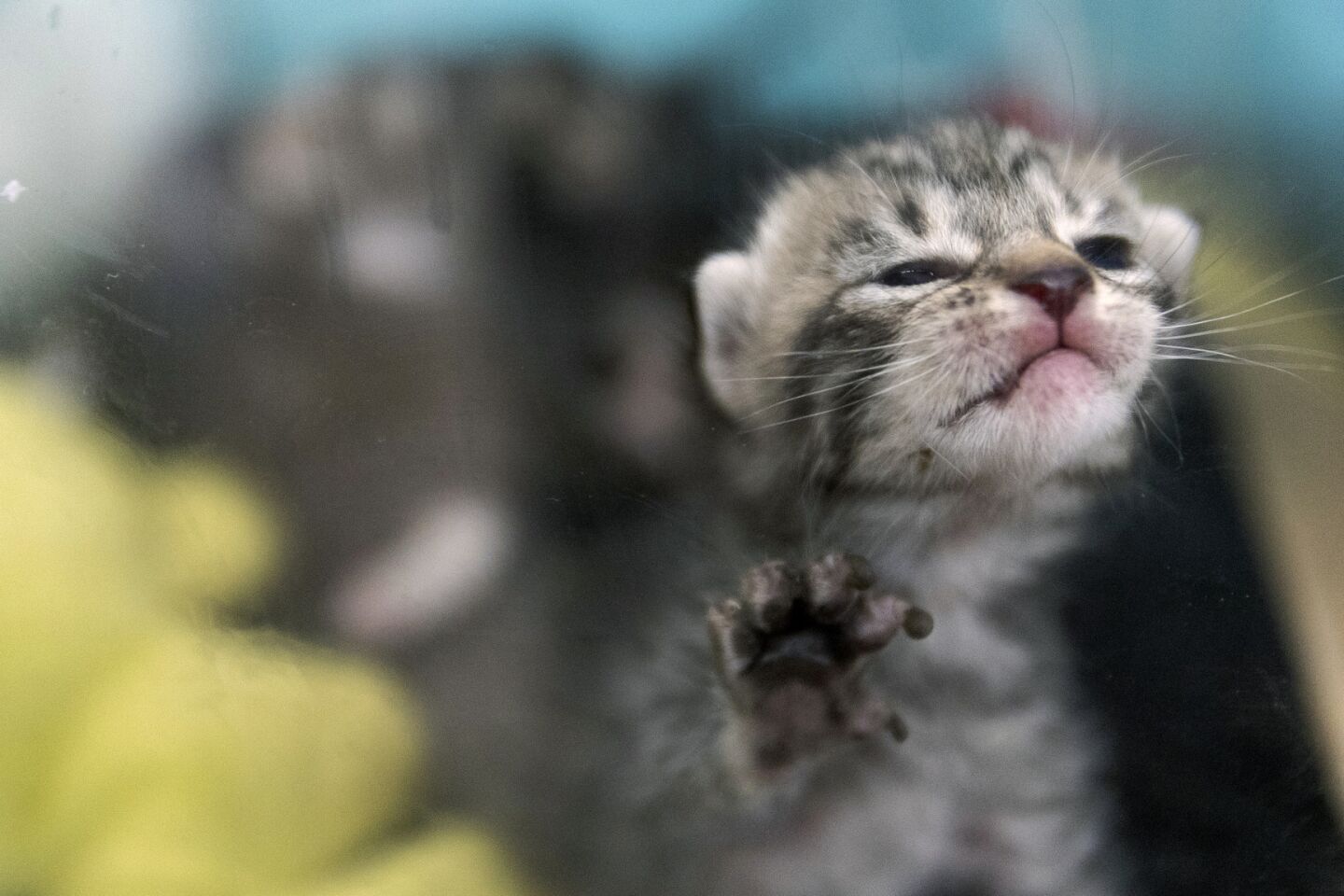 An orphaned kitten.
(Calvin B. Alagot / Los Angeles Times)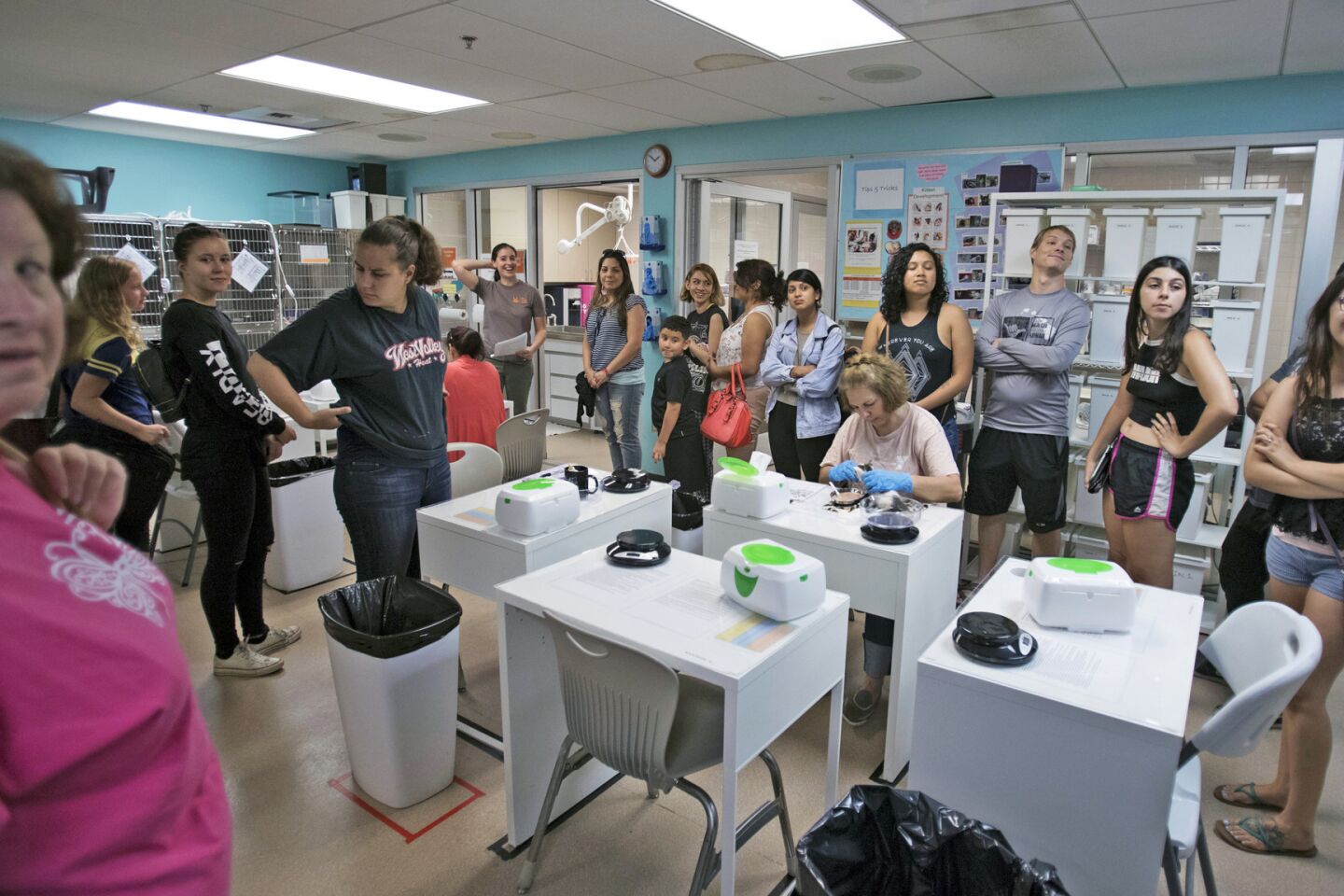 Foster program coordinator Elizabeth Pashley leads a new group of potential foster caregivers.
(Calvin B. Alagot / Los Angeles Times)
Laney, an orphaned kitten, is fed by bottle.
(Calvin B. Alagot / Los Angeles Times)
There they were, felines clinging to life — Laney, Quirky, Koko — all babies without Mama in sight, scooped into the palm of human hands to be soothed, stroked and fed around the clock.
"Not everyone understands how hard it is for newborn kittens. They have to eat every two to three hours. We weigh them before and after. We make sure the conditions are just right for their nurturing," says Kara Odenbaugh, pointing to the heating pads tucked under the critters' blankets and stuffed animals — simulating Mom — adorning each kitten's crib.
Odenbaugh, who oversees the kitten nursery at Best Friends Pet Adoption Center in Mission Hills, cradled an infant weighing 177 grams, barely one-third of a pound. Laney, the size of a Twinkie, sported gray fur reminiscent of a soft sweater and struggled to keep her eyes open while sucking on bottled formula. At almost two weeks old, she and seven siblings would have no chance staying alive without the workers' vigilance.
Inside the spotless neonatal unit, these kittens are survivors of a larger battle being waged in the No-Kill Los Angeles movement. Led by Best Friends Animal Society, and partnering with local shelters, they are a passionate coalition of animal welfare groups seeking to transform L.A. into a city where no homeless pet has to die — by year's end.
"We are absolutely committed to changing the landscape, to educate and inspire the public and to create chances for each animal," says Marc Peralta, executive director of Best Friends in Los Angeles. That mission involves organizing countless spay and neuter clinics so that fewer animals end up in shelters, while increasing adoptions so that more animals find homes.
At the nursery, preparation begins in the wee hours with what NKLA supporters call the "most vulnerable" of their charges, newborn kittens, yawning through their feedings.
"We think of kittens as adorable and so easy to adopt. But the newborn requires 24-hour care, and they're most likely to be put to sleep since they demand huge resources," Peralta adds. "If it weren't for this nursery — if it weren't for our incredible partnerships with so many groups across this vast city — we would never be able to save these babies or achieve goal."
Achieving the "no kill" goal by year's end would make Los Angeles the nation's largest no-kill city and a model for other cities.
In 2012, the year NKLA launched, only 57.7% of cats and dogs left city shelters alive, with 18,000 cats and dogs euthanized. By 2016, the number of euthanized pets dropped to 3,236, an 82% reduction.
NKLA reported an 86% save rate through July 2017. (Reaching 100% is impractical, as some animals must be euthanized in part because of incurable illnesses.)
"It's incredible that the goal is in sight," says Brenda Barnette, general manager for Los Angeles Animal Services, which operates six city shelters but lacked funding in its nearly $23-million budget for a seventh location in Mission Hills — until Best Friends stepped in with its resources.
Best Friends "has been an amazing, amazing partner," Barnette said. "We simply focus on the work, and they really stress customer service, planning and more planning. They are so strategic."
All of the animals in Mission Hills, nestled in the San Fernando Valley, come from the city's other shelters, freeing space for other rescues, Barnette said.
The nursery is one example of how the partnership between activists and the city are making a difference. Angel City Pit Bulls is another, with the nonprofit committed to "forming a village to care for this beautiful breed," founder Katie Larkin says.
Larkin lauds NKLA's "tremendous achievement, but it doesn't stop there. We need to push toward 92 [% animals saved], then 94 … ."
Being a part of the NKLA coalition gave Angel City access to spay and neuter grants totaling nearly $50,000, which translated into helping 600 pit bulls and pit bull mixes get fixed, especially in areas like South L.A. and Van Nuys, where large breeds and pit bulls are commonly found, according to Larkin. Her group saved 97 dogs in 2016, compared to 126 dogs already saved by mid-2017, thanks to NKLA and outreach on Facebook and Instagram, she said.
"Do you know how thrilling it is for animals to have an opportunity to finally go into homes?" Larkin asked.
Back at the kitten nursery, Laney, done with her bottle, curled up near her siblings Lukas, Little Bill, Layla, Leaf, Lev, Lupita and Little Betty. Littermates are assigned names beginning with the same letter of the alphabet, for organizational purposes.
It takes a staff of nine, along with 222 active volunteers, to monitor the unit's purring population, all under 2 months old.
"They are so dear," Odenbaugh says. A bulletin board behind her shows the team aiming to save 3,000 newborns in 2017. Once they're weaned and healthy, they're placed in foster or adoptive homes by coalition members, making room for more patients.
"What the public has to remember is we can't care for orphans alone," she said, making a plea: "Help us lend a hand."
On Now
In goat yoga, the point isn't to sweat. It's to have a baby goat climb on your shoulders during your plank
On Now
On Now
Hanging out with Instagram's famous cats Nala, Coffee and Luna
On Now
Poolside with Kaley Cuoco, Norman, Shirley, Rose and friends
On Now
Watch a pet therapy dog at work
On Now
Visit the Pug Nation Rescue
On Now
Visiting the dog beach with Shari Sandberg
Get our L.A. Goes Out newsletter, with the week's best events, to help you explore and experience our city.
You may occasionally receive promotional content from the Los Angeles Times.