A day out in hipster-haven Oakland, the 'West Coast Brooklyn'
The waterfront, at Jack London Square, in Oakland, Calif.
(Jay L. Clendenin / Los Angeles Times)
Scenes from Jack London Square.
(Jay L. Clendenin / Los Angeles Times)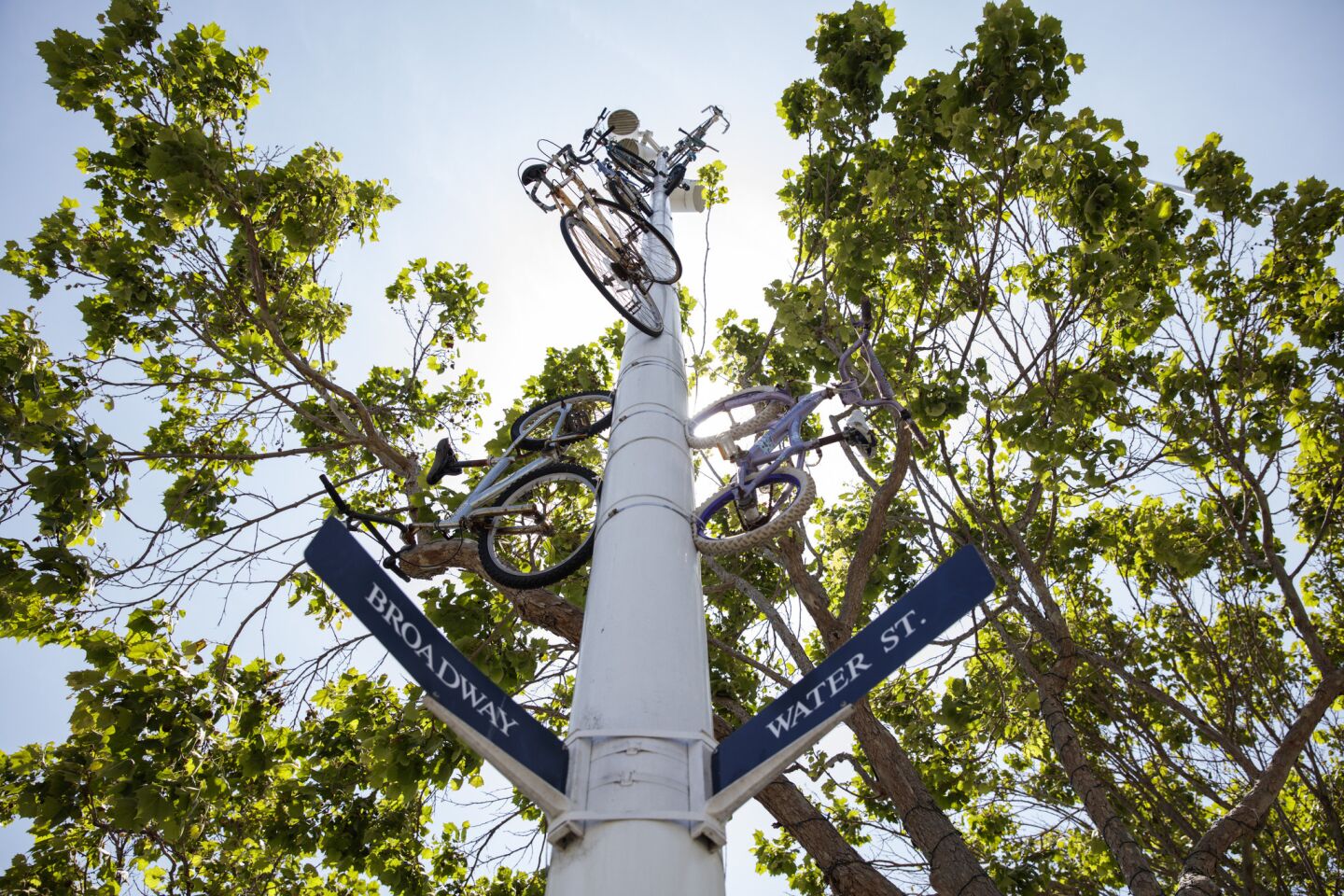 Bikes are mounted on poles around Jack London Square.
(Jay L. Clendenin / Los Angeles Times)
Since I moved to California 25 years ago, San Francisco has been the focus of my trips to the Bay Area, and I've loved it. But after hearing so much about how Oakland, across the bay, has become a new hipster haven, last month I made a day trip from San Francisco and found it lived up to the hype.
Although I could have gotten there by BART subway, I chose a much grander arrival courtesy of a 25-minute ferry ride, snapping awe-inspiring photos of San Francisco and the Bay Bridge.
At the Port of Oakland, giant shipping cranes, their necks extended like giraffes', stood as if in postmodern welcome. The tab: ferry from San Francisco: $6.40, lunch for one at Calavera: $38, museum admission: $15.95.
The bed
Steps from the dock, I checked out the 145-room Waterfront Hotel (10 Washington St.; [888] 842-5333) cantilevered over the water next to Jack London Square, the city's bayside gathering place. Interiors are done up in nautical motifs (blues and whites, compasses, deck flooring and oars), and on my visit, rooms were being refitted with soundproof windows, helping block out noise from trains that run along the far side of the square. Don't expect bay views — Alameda Island blocks them — but I was happy to watch kayakers and stand-up paddleboarders on the pleasure boat channel. (There are rental shops nearby.) More central is the Oakland Marriott City Center (1001 Broadway; [510] 451-4000), next to a BART station and connected to the convention center. Its 489 rooms are being upgraded from standard-issue corporate décor to 21st century Oakland-esque: post-industrial gray and silver with pops of orange and yellow (scheduled for completion this summer). Upper floors offer panoramic views of the Oakland hills or across the bay.
The meal
Sure, we have scores of Mexican restaurants in L.A., but none quite like Calavera (2337 Broadway; [510] 338-3273, www.calaveraoakland.com), started by disciples of noted Washington, D.C.-based chef José Andrés (also of the Bazaar in Beverly Hills). I met a friend for lunch, and because it was a sunny day we bypassed the indoor seating (warehouse designer-y with big windows, brick walls and a generous bar) for the covered terrace. We shared yellowfin ceviche (like Hawaiian poke, with spice and zing punctuated with crispy amaranth), a salad of deconstructed gazpacho (cucumber, jicama, mango and pineapple in yogurt sauce), and tacos with hongos guisados (stewed wild mushrooms) that made us melt. It's in the Hive, a new collection of hipster-chic establishments in the Uptown neighborhood about 1.5 miles north of the pier.
The find
The Oakland Museum of California (1000 Oak St.; [510] 318-8400) was well worth the visit. Its comprehensive exhibit on California history should be required viewing for any Californian, lifelong to wannabe, examining our vast state's diverse and complex past. I also give the museum props for pushing limits with its temporary exhibition "Altered State: Marijuana in California." It's billed as the first-ever museum exhibition on cannabis, and like marijuana itself (so I'm told), it's alternately titillating and thought-provoking -- and a little tongue-in-cheek as it probes intelligent questions from 10 perspectives: historical, business, legal, medical and more. It runs until Sept. 25.
The lesson learned
Over and over that day, I heard Oakland described as a "West Coast Brooklyn." Like Manhattan, San Francisco real estate values have skyrocketed and residents seek more affordable options, and like Brooklyn, Oakland seems glad to absorb them after generations as the region's grittier, rougher, neglected stepchild. The incoming beard-and-tat set is injecting new life into Oakland's restaurants, coffee houses, craft breweries, retail scene and an Urban Wine Trail. Meanwhile, new-economy corporate offices (Uber, Blue Bottle Coffee, Ask.com) are joining decidedly old-economy stalwarts such as Clorox and Kaiser Permanente. One big difference: Although parts of Brooklyn are now as expensive as Manhattan, it'll be awhile – if ever – before Oakland reaches San Francisco levels. Still, it does make one wonder when the cycle will repeat itself, and where next.
Get our L.A. Goes Out newsletter, with the week's best events, to help you explore and experience our city.
You may occasionally receive promotional content from the Los Angeles Times.