The rush is on to make golden memories in the Klondike
A passenger records a river scene from the train that travels from Skagway, Alaska into Canada.
(Daniel A. Anderson)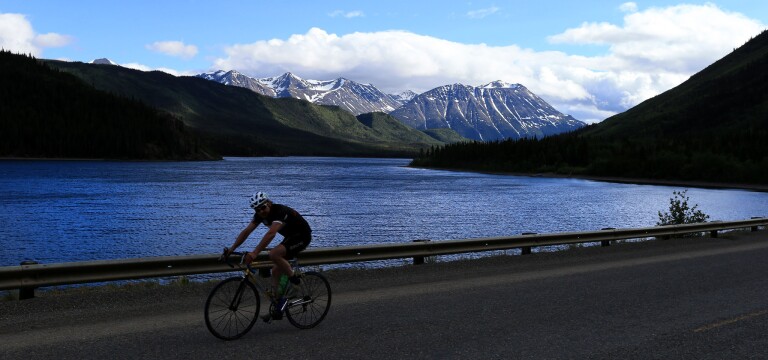 Tutshi Lake adds to the scenery along the South Klondike Highway between Carcross, Canada and Skagway, Alaska.
(Daniel A. Anderson )
The train of the White Pass & Yukon Route was made up of vintage passenger cars.
(Daniel A. Anderson)
Passengers snap pictures.
(Daniel A. Anderson)
The train travels through snow-capped mountains on its way to Skagway, Alaska.
(Daniel A. Anderson )
The road from Carcross, Canada to Skagway, Alaska.
(Daniel A. Anderson)
Reporting from SKAGWAY, Alaska —
Summer days are endless here. I opened my eyes to sunlight streaming in my hotel window before 4 a.m. It didn't disappear until after 10 p.m., leaving more than 18 hours for epic sightseeing outings. Enough playtime to climb a mountain, raft down a river and take a hike on a glacier — all in the same day.
But on this particular day, I was in the southeast Alaskan town of Skagway, and I knew I'd use a fair chunk of this long day to learn more about the famous Chilkoot Trail. I could take a gutsy 33-mile hike through the Coast Range, or hop on the White Pass & Yukon Route Railroad, one of the nation's most scenic rail journeys. In either case, I would be tracing the course of the last great gold rush in American history, the Klondike stampede.
More than 40,000 fortune hunters stormed through Skagway on their way to the goldfields of Canada's Yukon Territory in the waning days of the 19th century, putting both Skagway and the Yukon on the map during the Klondike Gold Rush.
Today, both towns are back on the map as prime destinations for tourists. Skagway, a premier stop for Alaskan cruise ships, plays host to as many as 9,000 tourists a day, many of whom ride the White Pass & Yukon Route train, making it one of the most popular tourist activities in Alaska.
I wanted to see why and took the easy way out, riding the train instead of slogging my way through the mountains on foot. (OK, so realistically, there wasn't much chance I'd do the three-day hike.)
But the train ride is genuinely spectacular, a 40-mile round-trip journey that climbs nearly 3,000 feet in 20 miles on its way to the White Pass Summit. ($119 for adults and $59.50 for children.)
At mile 15, we emerged from Tunnel Mountain, the snow-capped Sawtooth Mountains rising above us and the 1,000-foot yawning chasm of Glacier Gorge visible below. The narrow-gauge train, made up of vintage passenger cars, made cliff-hanging turns as it followed the rushing glacier stream far below. We rumbled along sky-high trestles, passed cascading waterfalls and listened to the sound of the train echoing against the steep canyon walls. Here and there we caught glimpses of the old Klondike Trail of 1898 worn into the rocks.
There are a few variations of the train ride, with one 67-mile, 10-hour excursion ($229 adults, $114.50 child) continuing beyond the summit to Lake Bennett and the small Yukon Territory town of Carcross, where you can exit the train, visit a few shops and look around, then return by bus on the South Klondike Highway, a scenic route in itself.
My friends and I took the shortest train trip, a 3½-hour round-trip journey to the summit because we'd arrived in Skagway by car and had stopped at Carcross on our drive from the Yukon. We found the drive from Carcross into Skagway, along the South Klondike Highway, equally as beautiful as the train ride, but very different from it. Travelers without a car, such as cruise ship passengers, could duplicate our journey by taking the train trip to Carcross and returning by bus.
While in the Yukon, we explored a vast wilderness plus Canada's five tallest mountains and the world's largest ice fields, all within Kluane National Park. We also spent a couple of fun hours marveling at the Sign Post Forest in Watson Lake in the Yukon Territories, where thousands of town signs, plus license plates, posters and assorted flotsam and jetsam, adorn posts.
And we learned a lot about the Klondike Gold Rush.
If it hadn't been for the stampede, the region may have gone unsettled. But, in August 1896, Skookum Jim Mason, Dawson Charlie and George Washington Carmack found gold in a tributary of the Klondike River in Yukon Territory. An army of gold seekers, unaware that most of the valuable claims were already staked, set sail from Seattle and other Pacific ports, winding up in Skagway.
Today the town calls itself "Gateway to the Klondike" and has maintained its Wild West boomtown appearance. I liked the frontier-style buildings and Gold Rush-era costumes, but my friends thought it was too Disney-esque, sort of a north-woods-style Knott's Berry Farm. Much of it lies within Klondike Gold Rush National Historical Park, which includes downtown Skagway, a visitors' center, the Chilkoot Trail and the White Pass Trail corridor.
Unlike many other southeast Alaskan cities, it doesn't get much rain, only about 26 inches a year, compared to Ketchikan, with 154 inches a year. That's a nice bonus for cruise ship passengers and other visitors who arrive by car or RV, as we did.
The sky was blue and the weather warm when we explored the town and its shops, walked to the Gold Rush Cemetery and hiked to Lower Reid Falls, still taking advantage of the 18 hours of sunlight. By then, it was time for dinner, at least by my watch. But the sun was still high in the sky. We ate anyway.
"I wonder if they ever see the moon in the summer," I said to my friends. "Do you think you can sleep?"
No one was sure. We'd gotten up early and were exhausted, but it stayed light long after the sun finally went down.
I grinned but didn't say anything. I'd bought a sleeping mask at one of the shops we'd visited. I'd do just fine.
We moved on the next day, retracing out steps through Carcross and heading north into the Yukon again.
When we ran into Sharron Grodzinksy, she was walking Bella and Gypsy, two fluffy Pomeranian pups,on the Yukon River Loop Trail just outside Whitehorse.
"Pomeranians don't necessarily realize that they make nice appetizers for grizzly bears," she said, keeping the dogs close to her.
"I know what you mean," I said, laughing. "We saw three of them — grizzlies, not Pomeranians — earlier today. And they looked hungry."
Grizzlies are just part of the wildlife scenery here. The Yukon is tucked away in Canada's westernmost corner, a rugged, pristine region with just 37,000 residents, about the number of visitors who walk through Disneyland's turnstiles on a light day.
The territory's humans are far outnumbered by the animal population, which includes about 50,000 moose, 10,000 black bears, 7,000 grizzlies, 22,000 mountain sheep, 150,000 caribou, 5,000 wolves and a sprinkling of polar bears, musk oxen, wood bison and other four-legged residents.
Sharron and Lennard Grodzinsky, like many of the Yukon's visitors, were touring in an RV. They planned to spend five months on the road.
"Our friends are betting on when we'll turn around and come back. We've been gone a month and I haven't killed him yet and he hasn't shot me yet, so I think we're ahead of the game."
The couple were following the Alaska Highway, a 1,400-mile route that cuts through Canada to connect Alaska with the continental United States. It was built in a hurry, eight months, in 1942 following the attack on Pearl Harbor. The U.S. had talked about building such an overland connection for decades, but it took World War II to get it done. It runs from Dawson Creek, British Columbia, to Delta Junction, Alaska.
Two friends and I were following roughly the same route, learning a lot about the Yukon as we drove. Our introduction, at Watson Lake, was a bit wacky. The village is famous for its Sign Post Forest, where more than 82,000 signs from around the globe welcome travelers.
The Signpost Forest got its start in 1942 during the construction of the Alaska Highway when a homesick Danville, Ill., resident posted a placard from his hometown. Watson Lake encourages new visitors to post their own signs. It's a fun attraction where you can spot plenty of reminders of home because someone from your neighborhood has probably been there before you.
The route then took us through Whitehorse, the Yukon's capital and largest city with nearly 28,000 residents. It's called the Wilderness City and is surrounded by a network of hundreds of miles of hiking trails. We tried out a few, falling in love with Miles Canyon, where the Yukon River has cut its way through rock to produce a dramatic landscape. The popular attraction, just a few minutes from Whitehorse, features an 85-foot-long suspension bridge.
We wished we had been able to spend more time at Kluane National Park. The park and park reserve, together with Tatshenshini-Alsek Provincial Park in British Columbia and Glacier Bay/Wrangle-St Elias national parks in Alaska, form the world's largest international World Heritage Site.
There's so much to see in the Yukon, so many mountain lakes, so many trails leading into the wilderness, so many amazing things to learn about one of the world's last great frontiers. All it takes is time.
THE BEST WAY TO THE KLONDIKE
From LAX, Alaska offers connecting service (change of planes) to Juneau. Restricted round-trip fares from $473, including taxes and fees. Juneau-to-Skagway seaplane service from $230 round trip.
By cruise ship: Most lines, including Carnival, Celebrity, Disney, NCL, Princess and Royal Caribbean, visit Skagway on various itineraries. Some offer excursions to the Yukon Territory.
By vehicle: From the western Lower 48 states, enter British Columbia and take the Gold Rush Trail (Hwy. 97) north to Prince George, British Columbia, Yellowhead Highway (16W) to Hazelton, B.C., and the Stewart Cassiar Highway (37) north to the Alaska Highway (1) in the Yukon Territory. If continuing to Skagway, turn left on YT8 and follow it to YT 2, the South Klondike Hwy, which ends in Skagway.
WHERE TO STAY
Raven Hotel, Old Alaska Highway, Haines Junction, Yukon Territory, Canada; (867) 634-2500, www.ravenhotelyukon.ca. This well-kept, family-owned hotel has large rooms and a friendly staff. It borders Kluane National Park and is on the Alaska Highway. Free breakfast, Internet. Doubles from $111 nightly.
Westmark Inn Skagway, Third and Spring streets, Skagway, Alaska; (907) 983-6000, www.westmarkhotels.com. The Westmark Hotel chain caters to cruise-ship guests and has units in eight locations, including Skagway, Dawson City and Whitehorse. Small rooms but efficient. Doubles from $115.
Gold Rush Inn, 411 Main St., Whitehorse, Yukon Territory, Canada; (888) 670-7234, (867) 668-4500, www.lat.ms/bestwesternwhitehorse. This Best Western is centrally located and has a spa and fitness center. Doubles from $139.
WHERE TO EAT
Klondike Rib & Salmon, 2116 2nd Ave., Whitehorse, Yukon Territory, Canada; (867) 667-7554, www.klondikerib.com. There's lots of fun ambiance at this restaurant, which is housed in two of the oldest buildings in Whitehorse and decorated to look like a miner's cabin. Hardy Yukon fare such as Arctic char, bison, ribs and wild salmon. Entrees from $13.95.
Bistro on Bennett, Carcross Commons, Carcross, Yukon Territory, Canada; (888) 740-0815, (867) 821-3002, www.lat.ms/bistro. Sit on the wide porch or dine indoors at this easygoing cafe midway between Whitehorse and Skagway. Choose from fish and chips, bison burgers or other casual foods. Entrees from $6.50. Be sure to take a look at beautiful Bennett Lake while you're in town.
Starfire Thai Cuisine, 4th and Spring streets, Skagway, Alaska; (907) 983-3663, www.starfirealaska.com. If you're growing tired of fresh halibut and salmon, this small Skagway restaurant offers a tasty change of pace. Choose from five types of curry or order wok dishes and favorites such as pad Thai ($17). Entrees from $16.50.
TO LEARN MORE
State of Alaska Vacation & Travel Information, www.travelalaska.com
Yukon (Canada) Larger Than Life Tourism Information, www.travelyukon.com
---
Get inspired to get away.
Explore California, the West and beyond with the weekly Escapes newsletter.
You may occasionally receive promotional content from the Los Angeles Times.