Weekend Escape: Royal Peacock Mine, Nev.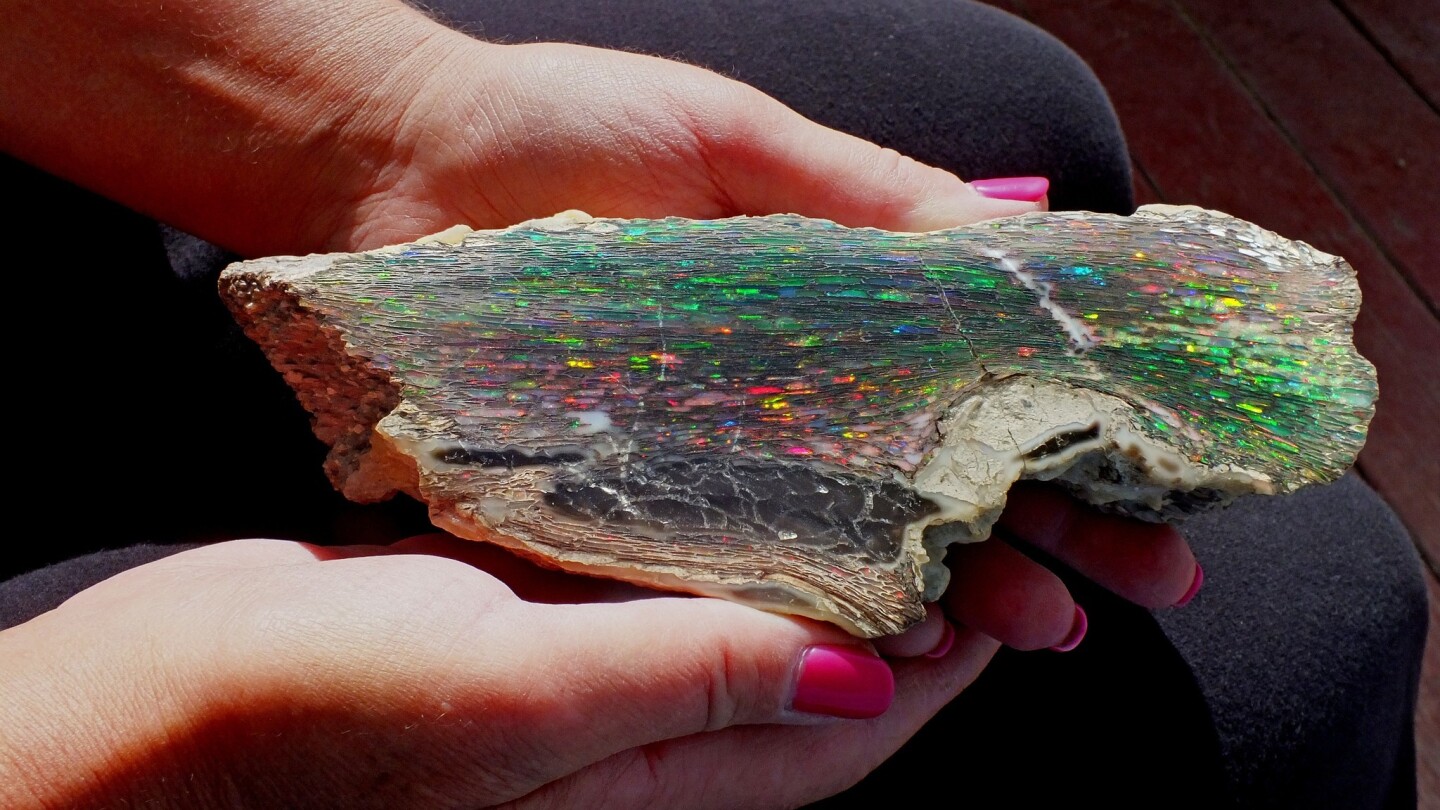 Julie Wilson holds a large black opal with flecks of various colors encased in it. The precious gemstone was unearthed at the Wilson family's mine in northwest Nevada.
(Jay Jones)
Co-manager Jake Wilson (far right, in red sweatshirt) looks on as Kevin Beckraft, Kevin W. Edwards and Brian Beckraft hunt for precious gemstones at the Royal Peacock Opal Mine.
(Jay Jones)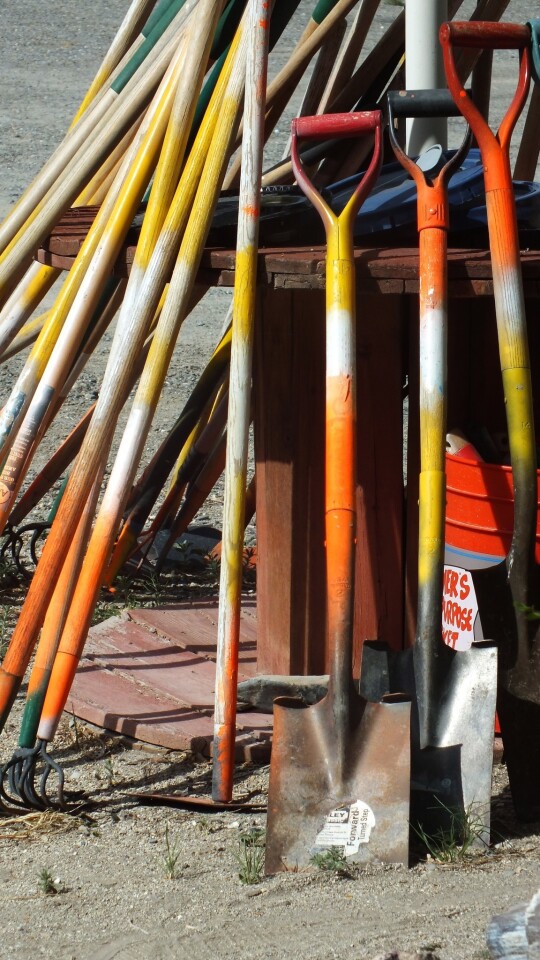 Various tools with which to work the rock, in the hunt for opals, are available for rent.
(Jay Jones)
A guest cottage is available for overnight visitors at the Royal Peacock Opal Mine.
(Jay Jones)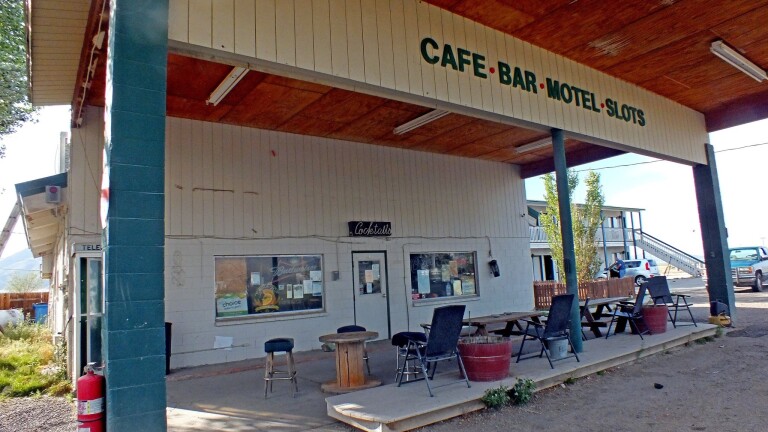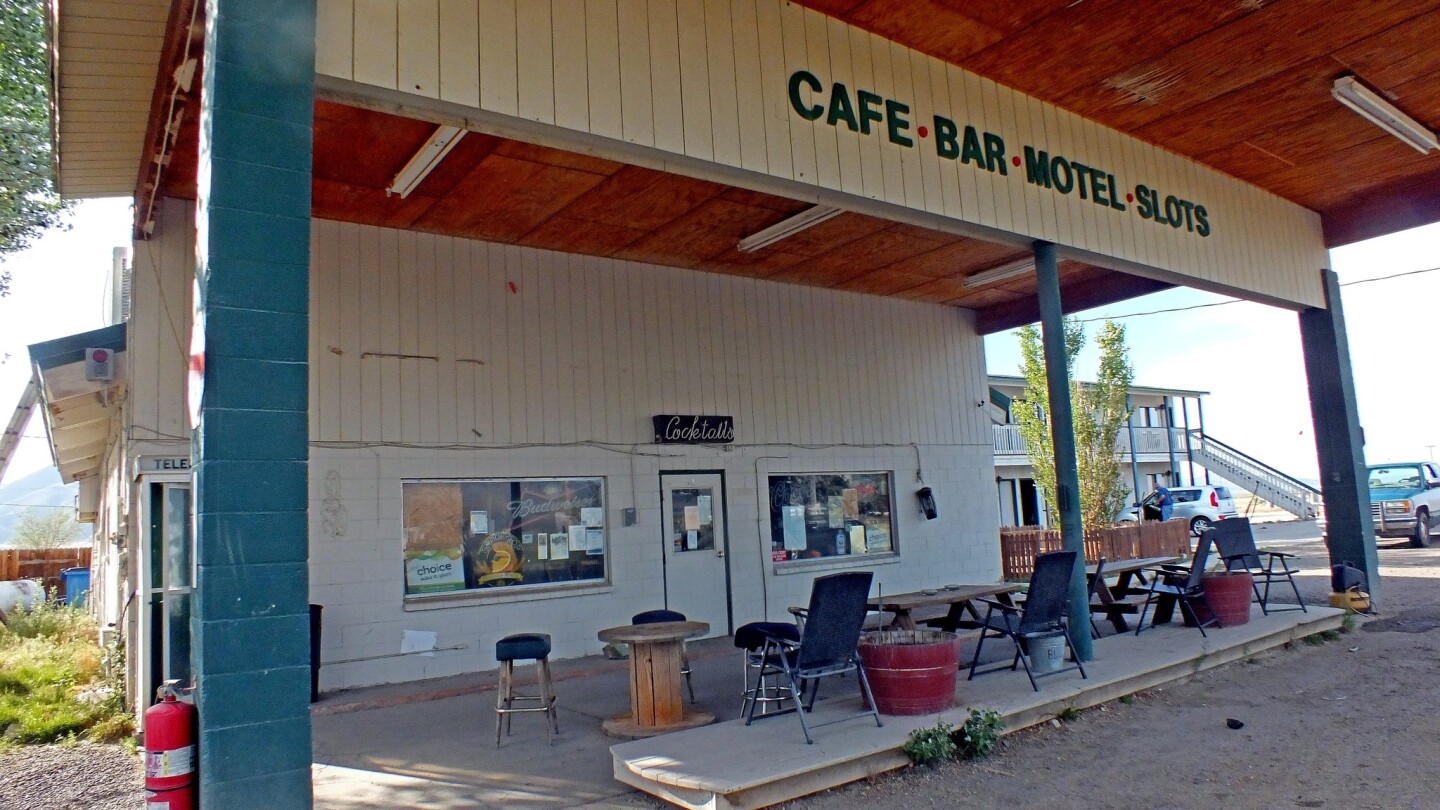 Denio Junction, located 35 miles from the opal mines, is the closest place for folks who didn't bring their own provisions to grab a meal.
(Jay Jones)
How cool would it be to escape for a few days for free, without being hustled to buy a timeshare? The Wilson family won't promise your trip to their Royal Peacock mine will pay for itself, but it's possible your discovery will more than pay the cost of getting to northwest Nevada, home to one of the world's rarest gemstones, the black opal. Excluding airfare to Reno and a rental car, the trip will cost roughly $600 for two for a two-night stay at the mine, digging fees and food. The "finders keepers" policy means guests may head home with valuable souvenirs.
The bed
The nearest motel — and it's a modest one — is nearly an hour's drive away, so it's best to reserve accommodations right at Royal Peacock Opal Mine (10 Virgin Valley Road, Denio; [775] 941-0374, royalpeacock.com). A cabin and a trailer each rents for $75 a night. Both have cooking facilities, so stock up on groceries in Winnemucca, 130 miles away. There's an RV park ($35 a night) and space for tents too ($7 per person, per night).
The meal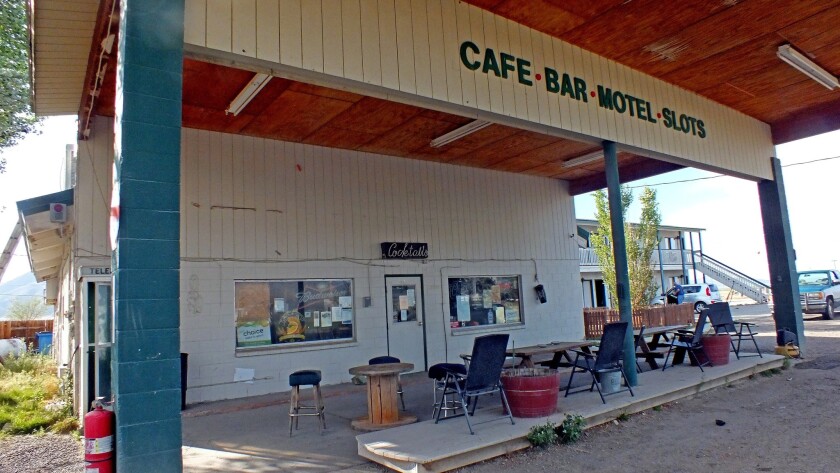 Remember that motel nearly an hour away? The Denio Junction Motel (State Highway 292, Denio; [775] 941-0171, deniojunctionmotel.com) is also where you'll find the nearest café, situated at a dusty crossroads. You'll meet real cowboys while chowing down on food from the hamburger-heavy menu; for $8.75, the Denio burger with cheddar and Swiss cheese, bacon and special sauce includes a side dish. The rustic restaurant serves breakfast, lunch and dinner — the grill closes at 6 p.m. sharp — and is a good stopping point on the way to or from the mine.
The find
Unique geological happenings 14 million years ago left this remote corner of Nevada rife with opals. Digging for them along an exposed mountainside doesn't take any special skill. Newcomers are advised to look for glistening, glassy formations in the otherwise dull rock. Kevin Beckraft of Hollywood, Fla., found a gem worth $20,000 during his first visit nearly 20 years ago. Now he and his brother Brian are regulars each summer. Owner Julie Wilson said "it's like a slot machine. You put a quarter in and sometimes you get lucky." Digging fees are $75 to $190 per person per day.
The lesson learned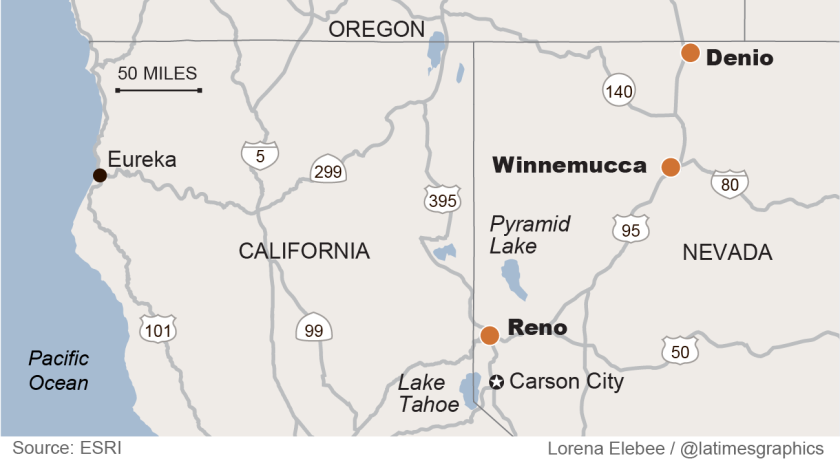 Guests should know this is true backcountry, with the nearest paved road 15 miles away. Electricity is a relative newcomer to these parts. Forget trying to get a cellphone signal — you won't — and enjoy the seclusion.
MORE WEEKEND ESCAPES
Lake Las Vegas, a world apart from Sin City
In Cornell, rediscover Southern California's Old West
In Utah's Cedar City, canyons and Shakespeare a dramatic force
---
Get inspired to get away.
Explore California, the West and beyond with the weekly Escapes newsletter.
You may occasionally receive promotional content from the Los Angeles Times.