Weekend Escape: It's Temecula, but it feels like Tuscany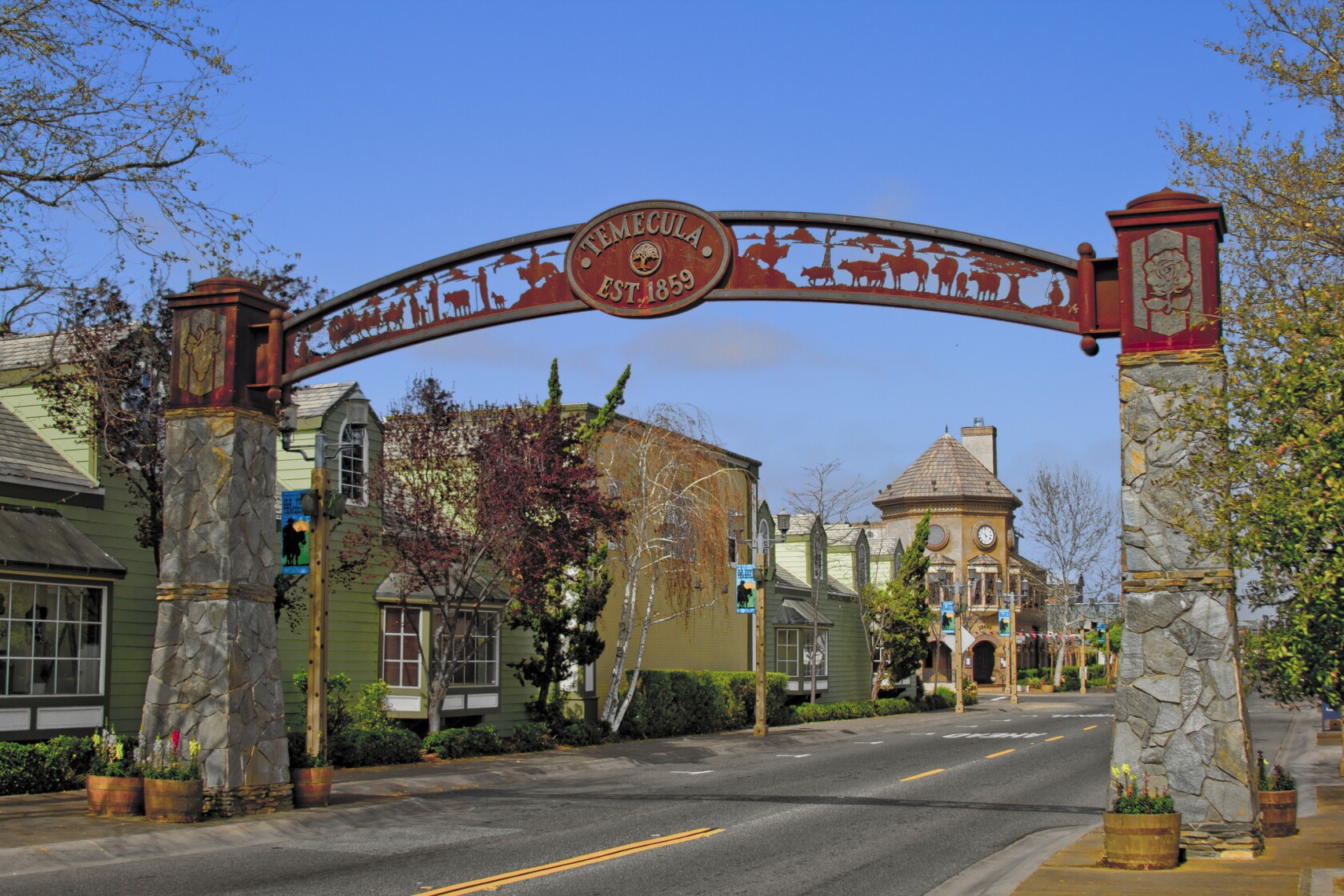 Old Town Temecula is a throwback to another era, full of cafes, shops and fun.
(Old Town Temecula )
The farmers market in Old Town Temecula is a big draw.
(Old Town Temecula Farmers Market )
The farmers market in Old Town Temecula offers plenty of produce.
(Old Town Temecula Farmers Market )
The Ponte Vineyard Inn in Temecula. [For the Record: An earlier version of this caption identified the pictured building as the South Coast Winery Resort & Spa. It is the Ponte Vineyard Inn.]
(Ponte Winery)
The South Coast Winery Resort and Spa has rooms and large villas.
(South Coast Winery Resort and Spa )
I am embarrassed to say now that I hadn't considered Temecula when I was looking for an easy weekend getaway. Huge mistake. Remarkable food and wines, lovely accommodations with Tuscany-like views and small-town friendliness that was a salve for an urban dweller's soul, all just a two-hour drive away. The tab: $619 for two nights in a deluxe villa at the South Coast Winery Resort & Spa, including a winemaking tour and tastings, additional tastings at Vintner's Vault, a lunch with wine pairings and massages for two. Extras: $15 each for tastings at nearby Palumbo and Wiens wineries, $105 for dinner at the resort's Vineyard Rose restaurant and $95 for dinner at Bouquet.
------------
FOR THE RECORD:
Temecula: In the March 15 Travel section, an article about Temecula, Calif., included a photo of a building, which the caption identified as the South Coast Winery Resort & Spa. It is the Ponte Vineyard Inn. Also, the photo should have been credited to the Ponte Vineyard Inn, not Justin Hulse. —
------------
The bed
South Coast Winery Resort & Spa (34843 Rancho California Road; [951] 587-9463, https://www.southcoastwinery.com) is in the heart of this wine-growing region. There are 50 hotel rooms and 76 oversized, well-appointed villas with fireplaces, sitting areas and balconies overlooking vineyards and citrus groves. The winery also has the award-winning Vineyard Rose restaurant, GrapeSeed Spa with innovative vine-based treatments, a sun-drenched pool and fitness center.
The meal
After the informative wine tour, several tastings and a delightful nap, we headed to Vineyard Rose, where we thought we were in Umbria, minus the jet lag. Locally sourced produce and main dishes, such as wild mushroom and duck linguine, and cornmeal-dusted sand dabs, complemented with wine pairings, made for a memorable meal. Saturday night brought us to Bouquet at the Ponte Vineyard Inn [(951) 676-7898, https://www.pontevineyardinn.com], where, upon being seated in the intimate dining room, we were presented with a complimentary bottle of 2010 Meritage, a lovely five-varietal blend. The service was impeccable and the osso buco, prepared with Barbera, and a colossal shrimp and porcini mushroom risotto happily put us in touch with our inner Perugian. The homemade limoncello and amaretto cookies presented with the bill added to our Continental bliss.
The find
Temecula's Old Town recalls an earlier era with interesting, original architecture, several antique shops, cafes, restaurants, a Saturday farmers market, weekly dog adoptions and the requisite region-inspired, gift shop tchotchkes emblazoned with "Conserve water, drink wine."
The lesson learned
Spending a weekend in Temecula will cause you to (1) take a vintner's course, (2) quit your day job and become a gentleman/woman farmer, (3) make good on your impending midlife crisis or (4) gleefully, all of the above.
---
Get inspired to get away.
Explore California, the West and beyond with the weekly Escapes newsletter.
You may occasionally receive promotional content from the Los Angeles Times.