Roaming San Francisco's Haight-Ashbury aboard a Magic Bus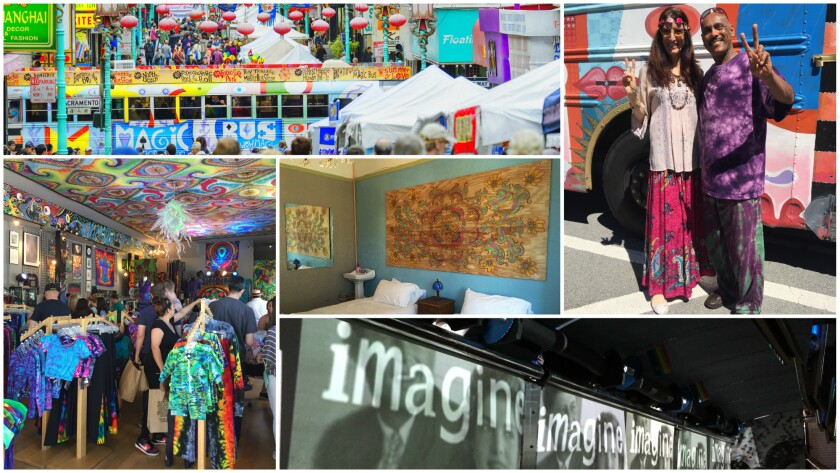 I'd never taken a tour on which the guide addressed the group as "my tribe," but it felt perfectly natural aboard the Magic Bus, which calls itself a "trip" into San Francisco's 1960s-era hippie counterculture. My friend Adam (a politically conservative MBA with an unlikely interest in hippie counterculture) drove in from the burbs, and together we took the two-hour tour before exploring San Francisco's Haight-Ashbury neighborhood, the movement's rainbow-colored, tie-dyed epicenter. The tab: Magic Bus tour, $61 per person; brunch for two at Magnolia Gastropub & Brewery, $62.
The bed
We thought we'd made a seriously wrong turn when we entered to check out the Red Victorian (1665 Haight St.; [415] 864-1014. Hostel beds from $63, private rooms from $143) and walked in on a figure drawing class with nude models. But all was in order: The Red Vic, in the Haight since 1904, does quadruple duty as a B&B, hostel, commune and gathering place. Upstairs, it was easy to imagine bygone hippies in its wainscoted hallways and eclectically decorated private and shared rooms, most without private bath. Overnight guests (in artist-decorated rooms with names such as Redwood Forest) might sleep next door to permanent residents who organize house dinners, gallery openings and those art classes.
See the most-read stories in Life & Style this hour >>
The meal
Our tour guide pointed out a '60s-era pharmacy and lunch counter, which hippies had nicknamed "the drogstore." It's now Magnolia Gastropub & Brewery (1398 Haight St.; [415] 864-7468), where Adam and I shared a dynamite post-tour brunch: a smoked pastrami sandwich with French onion soup for dipping, the Hangtown Fry (fried oysters alongside eggs scrambled with bacon, spinach and caramelized onion, topped with arugula) and house-brewed beers. The counter and much of the original woodwork have been handsomely preserved, and Adam noted that Jimi Hendrix might well have visited the same restroom.
The find
About the only conventional thing about the Magic Bus Tour ([855] 969-6244) is the boarding area amid the mainstream bus tours on Union Square. The bus, run by the local Antenna Theater Co., is painted flower-power style, and our guide, Serene Rain, was dressed in heart-shaped sunglasses and flowing hippie garb. Serene, who lovingly called us "my tribe," passed out yellow marigolds (for our hair, naturally) and encouraged us to sing along to recordings of Joplin, Santana and the Lovin' Spoonful. As she gave us the lowdown on Chinatown, the Financial District, Market Street, the Haight and Golden Gate Park in the '60s, she urged us to open the bus windows, wave, smile and flash peace signs at passersby. A unique feature: Blackout screens roll down over the windows and display clips of events and venues, then lift for the big reveal when you reach the sites.
The lesson learned
As the 50th anniversary of the Summer of Love approaches next year, San Francisco is both looking back and considering its present, when gentrification is a constant topic. Amid the Haight's paradoxical mix of head shops and hipster fashions, vintage clothing stores and Whole Foods, it was encouraging to find one-of-a-kinds such as Bound Together (1369 Haight St.; [415] 431-8355,), an anarchist collective bookstore selling the "Heretic's Guide to the Bible" and other such titles; Loved to Death (1681 Haight St.; [415] 551-1036), purveyors of the macabre: taxidermy, rat paw earrings and rings made from human teeth; and the tie-dye clothing of Jammin' on Haight (1400 Haight St.; [415] 817-1027). But perhaps no shop better embodies modern San Francisco's dual personality than Ben & Jerry's, effortlessly blending counterculture and corporate culture at the very corner of Haight and Ashbury.
---
Get inspired to get away.
Explore California, the West and beyond with the weekly Escapes newsletter.
You may occasionally receive promotional content from the Los Angeles Times.