Where to see thousands of migrating hawks invade Anza-Borrego state park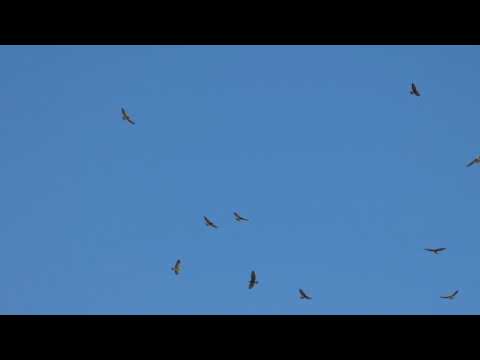 Biologist Hal Cohen of Borrego Valley Hawkwatch recorded migrating Swainson's hawks around the Borrego Valley area. The raptors migrate from Argentina to Canada each year, and are currently on a northbound journey.
Death Valley may be having a boom wildflower year, but Anza-Borrego Desert State Park in eastern San Diego County is having a boom of another kind: hawks.
Specifically Swainson's hawks, and they're arriving at the California desert park and nearby Borrego Springs in huge numbers on their annual 6,000-mile summer journey from Argentina to Canada.
"It's the best year we've had in the last few years," park Supt. Kathy Dice says. "To have 1,600 hawks in a day is a pretty great number."
Indeed, the Borrego Valley Hawkwatch blog recorded 1,673 hawks Tuesday, the second-highest number since counts started in 2003.
What's drawing the birds is the "big, fat, juicy" sphinx moth caterpillars, Dice says, which are currently devouring the last of the annual wildflowers.
"They're a favorite food item for hawks," says biologist Hal Cohen, who counts hawks in the field and started the Hawkwatch blog. "Most of the birds coming are intent on looking for caterpillars."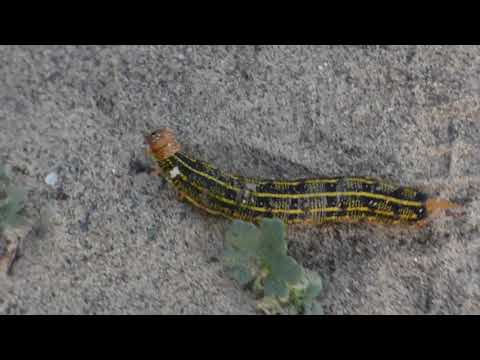 Biologist Hal Cohen of Borrego Valley Hawkwatchers captured the sphinx moth caterpillar in the area around Anza-Borrego Desert State Park. The caterpillars are drawing large numbers of migrating Swainson's hawks to the area this year who like to eat
Cohen says the birds are early this year, and he's not sure why, but they'll be passing through until around mid-April. Volunteer hawk counters have been out in the mornings since mid-February and will continue daily until April 9.
Swainson's hawks are what's known as large buteos, and soaring groups of the migrating raptors are called "kettles." The birds have broad wings and short tails; and are gray, white and brown. They look like a slender version of a red-tailed hawk.
The highest number of hawks counted in a day was 1,851 on March 28, 2011. "We had lots of grasshoppers that year," Cohen said.
If you want to see the hawks, plan on arriving around 8 a.m. at the state park's count site (see directions below). Bring binoculars, though hawk counters will be have scopes available too.
"Between now and the 30th of the month, there's a good chance of seeing them almost every day," Cohen says. "Whether it will be a spectacular day or not, it's hard to say."
Directions to the hawk-watching site: Take Palm Canyon Drive east from Borrego Springs. Starting at Christmas Circle, travel a half-mile to DiGiorgio Road. Turn left, heading north, and drive 4.6 miles to the end of the pavement. You'll see watchers with scopes set up on a raised sand hill on the east side of the road.
There's also an evening watch site too at a different location. You can find out more and sign up for hawk alerts at the Borrego Valley Hawkwatch blog.
Also the Anza-Borrego Desert State Park Visitor Center [(760) 767-5311] provides directions and information.
MORE
Stalking wildflowers in the Anza-Borrego desert to forecast the Big Bloom
Want to go swimming at Francis Ford Coppola's wine-country pool? $35 gets you a day pass
Shhh! A secret pop-up picnic is coming to Las Vegas -- and you're invited
Get our L.A. Goes Out newsletter, with the week's best events, to help you explore and experience our city.
You may occasionally receive promotional content from the Los Angeles Times.