With Sin City's large draw of casino-loving visitors from Asia, it's no surprise that resorts along the Strip will celebrate the Chinese New Year in a big way. The decorations at several properties rival Christmas decorations.
The Year of the Monkey, which begins Monday, is the ninth creature in the 12-year Chinese zodiac.
It will be welcomed with festivities steeped in Chinese tradition. Among the day's activities are colorful lion dances at 3 p.m. at Aria's main entrance and at 7 p.m. at The Linq promenade.
A Chinese fan dance will begin at 4 p.m. above the waterfall at the Grand Canal Shoppes. During the celebration, hundreds of red envelopes -- traditionally the symbol of happiness and wealth -- will be distributed to guests. They'll contain surprises ranging from chocolate coins to gift cards.
Also on Monday, the Mandarin Oriental Las Vegas will ring in the new year with an age-old Yusheng Toss at 11 a.m.
In this event, participants toss a dish of food that contains ingredients including raw fish (for abundance), shredded carrots (for blessings) and green radishes (for eternal youth). Following the ceremony, guests will adjourn to the hotel's Tea Lounge.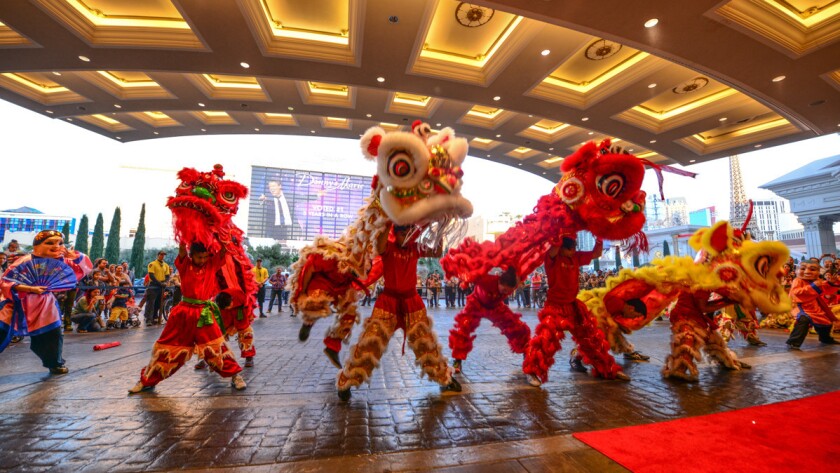 In the days that follow, Las Vegas will celebrate in a multitude of ways:
-- The always-stunning Bellagio Conservatory & Botanical Garden will feature a festive display through March 12.
Near the entrance, six colorful topiaries created to look like children adorn either side of a bridge spanning a koi-filled pond.
In another display, a family of 12 Macaque monkeys work together to reach peaches that fall from the sky. And an 18-foot tall Chinese money tree holds nearly 400 sparkling coins.
-- While considerably smaller than the Bellagio gardens, the Waterfall Atrium and Gardens at The Palazzo is also treating guests to an eye-popping, monkey-themed display.
The property's florists and horticulturalists worked with a feng shui master in plotting the design, which includes 1,000 flowers, 1,200 plants and, of course, 28 mischievous monkeys.
Look for special menu offerings at many restaurants. One tempting example is the sesame mochi with bean powder at the Grand Wok and Sushi Bar at MGM Grand. It's only available Saturday through Feb 11.
-- Aria's master mixologist, Craig Schoettler, has invented some interesting cocktails for which baijiu, a Chinese spirit distilled from sorghum and rice, is the key ingredient.
The specialty drinks, as well as shots, will be featured at Blossom and Baccarat Lounge.
-- Visitors will encounter popping firecrackers which accompany the dragon dances planned for throughout next week at various resorts.
And Chinese speakers needn't worry about a language barrier while at the Forum Shops at Caesars Palace. The mall will feature "hospitality stations" staffed by translators.
ALSO
From $5 beer to $35,000 Champagne, here are the best places in Las Vegas to watch Super Bowl 50
12 Las Vegas sweet spots for National Chocolate Month. Chocolate burger anyone?
Valentine's Day: 100 most romantic restaurants in America, including 15 in California and 4 in Las Vegas
Photo opp of a lifetime aboard this rural Nevada steam train
---