Attention, all lovers of the light fandango: Magical lights are dancing around cacti and adding twinkle to the night sky at the Desert Botanical Garden in Phoenix.
"Sonoran Light" was created by British artist Bruce Munro, who plants temporary fields of light stems instead of seeds in creating large-scale light installations amid spectacular scenery that "bloom" at night.
Hundreds of miles of fiber optics and 30,000 individual spheres of light combine to form an irresistible desert glow at the Sonoran Desert site.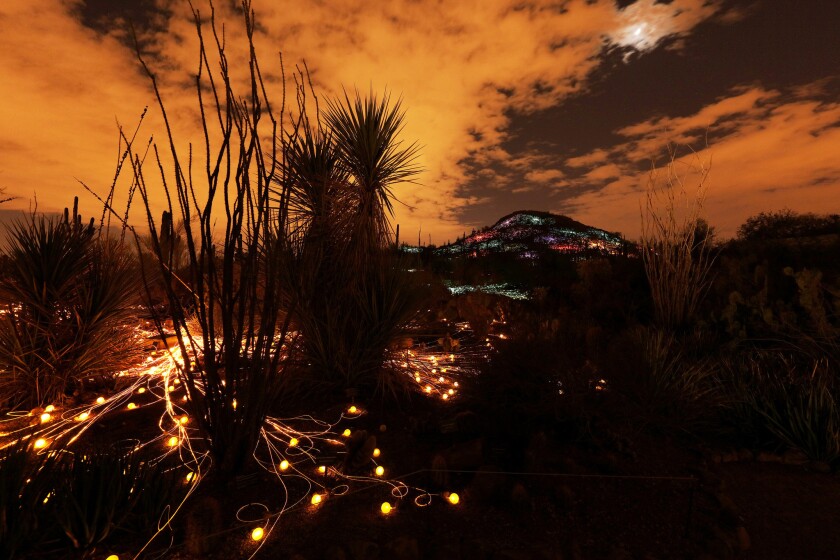 "Visitors are coming in droves, and we are at capacity seven nights a week," Elaine McGinn, director of planning and exhibits, said via email. The installation is to be on display through May 8.
At the garden, you'll see eight installations -- including "Water-Towers," "Beacon," "Eden Blooms" and "Saguaro," inspired by a giant cactus -- along the hillsides and on the nature loop trail during an evening walk.
In Australia, Munro's "Field of Light" recently opened, bringing a forest of solar-powered light stems to the outback with Uluru, or Ayer's Rock, as a backdrop. Munro has created installations around the world, starting with London's Victoria and Albert Museum in 2004.
"'Field of Light' [at Desert Botanical Garden] represented an opportunity to create another unique iteration," Munro said in an email. "The location was its own inspiration."
Munro explained that it wasn't possible to "plant" a light field as he did in Australia because of the hard quartz granite base on the garden's butte. Instead, he said, he laid the stems and lights on the ground and arranged them to cascade down around cacti and other flora.
The result is hypnotic, particularly "Water-Towers" and the Phoenix-style "Field of Light."
(On a recent trip to see the lights, I kept thinking the field seemed familiar somehow. Then a guy behind me said, "It looks like kelp." Of course, the bulbs and stems had just turned green.)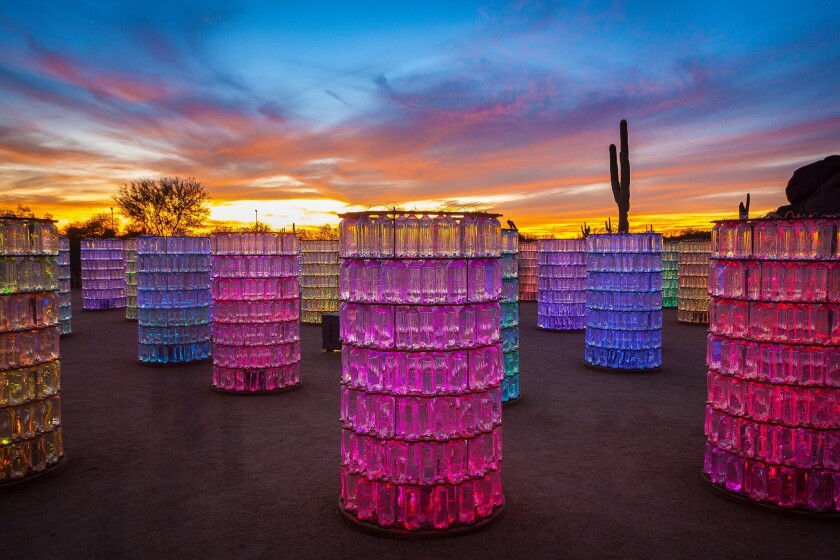 "Water-Towers," was inspired by South African anthropologist Lyall Watson's story about a young island girl with a gift for seeing sounds in color and the Earth's usually inaudible natural pulse. It comes with its own soundtrack, with the "towers" playing music by Ladysmith Black Mambazo, the Soweto Gospel Choir and composer Orlando Gough.
The light installation continues every night (except April 30) from 6 p.m. to 11 p.m. through May 8.
A night pass costs $25 for adults and $12.50 for children 3 to 12 years old. Advance purchase of tickets is recommended.
Info: Desert Botanical Garden, (480) 481-8188
ALSO
Ultimate nighttime selfie: Astonishing 'Field of Light' arrives at Australia's Uluru
A pink moon's coming -- and with it a party on top of Mammoth Mountain
Yosemite: Glacier Point Road will open, but hiking trails remain snowy
---