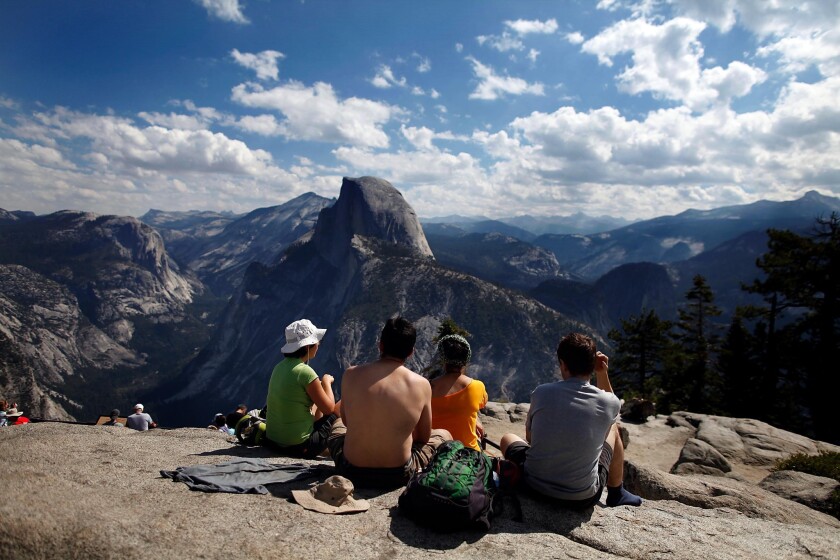 Just in time for National Park Week, the road that leads to one of Yosemite's most popular overlooks, Glacier Point, will open for the season at 9 a.m. Tuesday.
But it comes with this word of caution: Visitors should be careful when hiking because there's still snow on trails and at most trailheads, a Monday park announcement says.
Glacier Point is the spot where President Theodore Roosevelt and John Muir famously posed for a photo in 1903. (On the trip, the president sought to "drop politics" and camped out with the environmentalist to immerse himself in the wonders of Yosemite.)
Tourists, hikers and stargazers still flock to the point in spring and summer. Though the road is opening for the season, the store at the point as well as Bridalveil Creek Campground remain closed, a park announcement says.
Tioga Road, the highway that provides east-west access across the park, remains closed with no current opening date. Plowing began Monday to clear the road of snow; it usually opens in May.
One of the things visitors won't see anytime soon: the 500 giant sequoias in Mariposa Grove. The park is restoring the grove, and it's not expected to reopen until next spring. The parking lot and gift shop will be removed, and new shuttle service and trails will be added, according to the park's website.
National Park Week continues through Sunday, during which time entrance to Yosemite -- and all national parks that charge fees -- is free. Parks this year also are celebrating the centennial of the National Park Service.
MORE
Deal: Entry to national parks will be free during National Park Week
How many national parks have you visited? Take the quiz
Whose face would you add to Mt. Rushmore? FDR leads the pack, poll says
Flood-damaged Scotty's Castle in Death Valley won't reopen to visitors until at least 2019
Celebrating our national parks: National Park Service turns 100
---