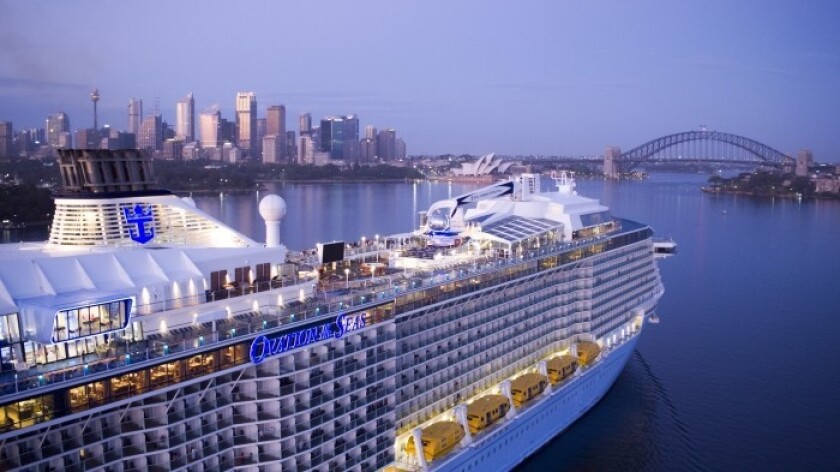 The bays and inlets of Alaska's Inside Passage have traditionally drawn small cruise ships, which find it easier to maneuver into tight passages and shallow waters. But things are changing, Two mega-ships have been scheduled to begin cruising the popular route, with the first arriving next summer.
The new Norwegian Cruise Line ship Bliss carries 4,000 passengers and will start making port calls in June. In 2019, the 5,000-passenger Ovation of the Seas, a Royal Caribbean International ship that debuted in 2016, will begin visiting too.
Most Alaskan cruise ships carry less than half as many passengers as the two newcomers, which weigh in among the 10 largest cruise ships in the world. Each carries an additional 1,200 to 1,500 crew members.
The Norwegian Bliss will sail weekly seven-day Alaska voyages that will depart Seattle on Saturdays, visiting Alaska's Juneau, Skagway, Ketchikan, and Victoria, British Columbia, Canada.
Ovation of the Seas will also homeport in Seattle, sailing weeklong cruises to Alaska that will include destinations such as Juneau and Victoria. It will join another Royal Caribbean ship in the region, Radiance of the Seas, which will offer seven-night itineraries between Seward and Vancouver, British Columbia.
More than 1.8 million people toured the nation's largest state (by area) last year, setting a record, according to the Alaska Tourism Industry Assn.
Cruise ship passengers make up the majority of Alaska's visitors, totaling 1,025,900 last year. Cruise ship volume is expected to continue to grow in 2018, when Norwegian Bliss arrives and Princess Cruises, a heavyweight in the Alaska cruise market, increases its capacity.
Alaskan port cities are making changes to accommodate the new ships. But not everyone is happy. Last summer, the Ketchikan Council discussed trying to limit how many cruise passengers arrive in a single day but didn't arrive at any decisions, according to reports.
Normally, the busiest cruise ship days bring about 10,000 visitors to Ketchikan, which has a population of about 7,000. Some members of the community worry that as many as 20,000 visitors could arrive on the same day.
ALSO
Trip combines Nile River cruise with tour of Egypt's pyramids and antiquities
9 ways to make your cruise ship's cabin seem more spacious
Twitter: @latimestravel
---