Cruise lines cancel sailings, send ships to help Caribbean islands hit hard by Hurricane Irma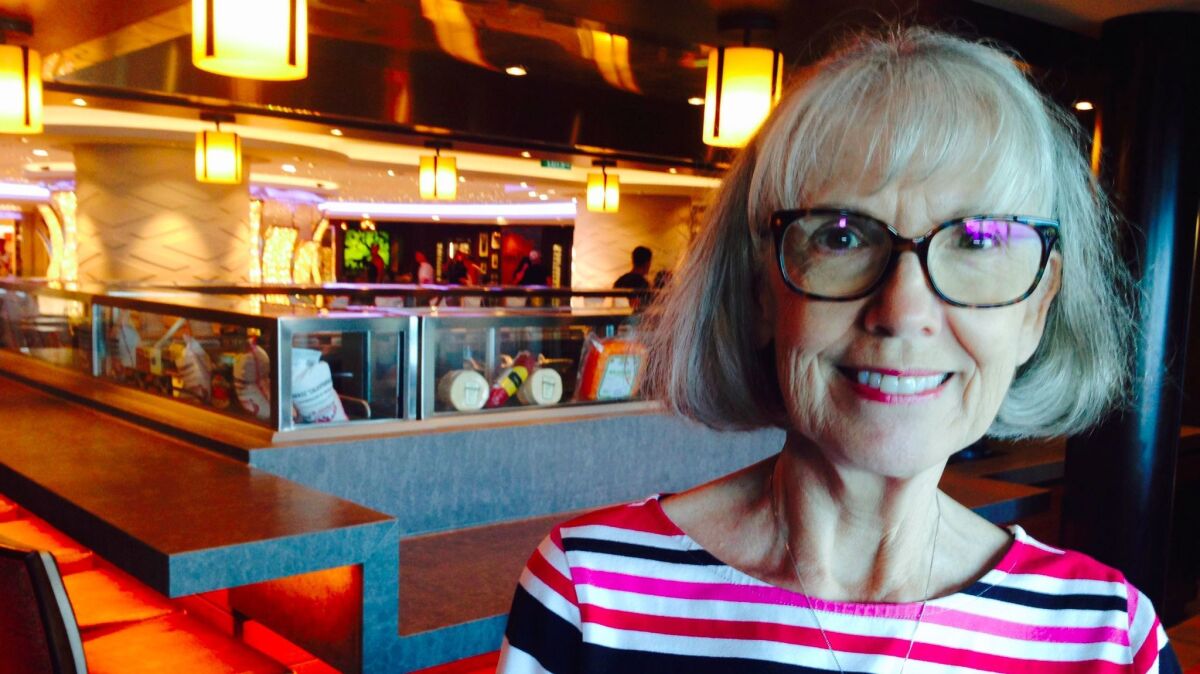 Cruise lines have canceled scheduled sailings and instead were sending their ships to bring supplies and evacuate stranded travelers from Caribbean islands raked by Hurricane Irma. With all Florida ports closed to ships Sunday as the brutal storm raked the state, several lines posted their plans on social media to inform passengers of the changes.
Irma, which at one point was Category 5 storm in the eastern Caribbean, slammed into Florida on Sunday as a Category 4 storm. Powerful winds and rain tore from the Florida Keys up to Orlando and the Everglades. The storm was expected to continue north to Georgia and beyond Monday.
Royal Caribbean International, which is based in Miami, evacuated its employees on the Enchantment of the Seas ahead of the storm, media reports said.
The company canceled a Cuba cruise set to leave Wednesday and a Bahamas cruise set to leave Friday in order to send ships out as part of the humanitarian relief effort, according to a post Sunday on its Facebook page.
"Presently, Adventure of the Seas will make a humanitarian stop in St. Maarten on Sunday, and Majesty of the Seas will make humanitarian calls in St. Thomas and St. Maarten to provide supplies and also assist in transporting evacuees in St. Maarten to safety," the post said. "Additionally, we have Empress of the Seas and Enchantment of the Seas ready to assist Key West and Tampa once the impact of the storm is known."
Carnival Cruises, which had tucked its ships safely away from the storm, said in a Sunday Facebook post that the company had "activated a plan to begin delivery of supplies on both an immediate and sustained, longer-term basis. These deliveries will be worked into ships' cruise itineraries as part of our ongoing operations."
It canceled four cruises between last Saturday and Monday.
Norwegian Cruise Line brought the Norwegian Escape back to Miami two days early last Thursday ahead of the storm. Passengers who couldn't get out of Miami during a massive evacuation in Florida decided to stay on the ship and sailed to Cozumel, Mexico, to wait out the storm. Some passengers from the Norwegian Sky joined the cruise.
The company said it had deployed the Norwegian Sky to St. Thomas in the U.S. Virgin Islands to bring "much needed supplies and assist in a humanitarian effort that is currently being organized by the [government]."
The line also announced that until November, its Eastern Caribbean sailings will be altered to a Western Caribbean itinerary.
In all, Hurricane Irma caused 19 cruises to be canceled, 16 to be shortened and 16 to be revised, according to Cruise Critic. Check here for details of cancellations and modified itineraries.
Cruise lines are refunding fares for canceled cruises. If you were scheduled to sail from a Florida port this week or next, contact your cruise line and check their social media outlets to see whether your itinerary has changed.
Irma killed at least 24 people as it swept through the Caribbean. As of Sunday, five have died in the U.S. due to the storm.
Twitter: @latimestravel
ALSO
Your cruise is canceled because of Hurricane Irma. Now what do you do?
Hurricane Irma's calamitous sweep through Florida
A windy night among strangers — human, canine and otherwise — as Hurricane Irma blows through
The incredible stories of the die-hards who looked Irma in the face — and stayed
---
Get inspired to get away.
Explore California, the West and beyond with the weekly Escapes newsletter.
You may occasionally receive promotional content from the Los Angeles Times.