Cruise lines return to Puerto Rico and urge travelers to book Caribbean sailings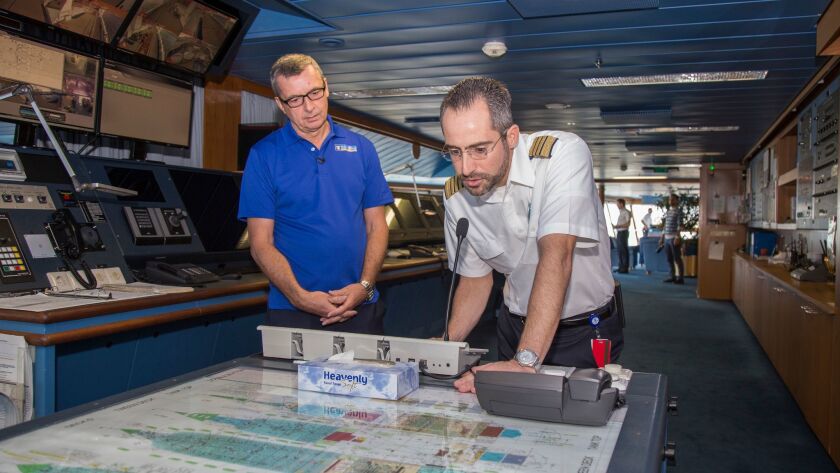 News reports about Puerto Rico are grim: Power outages are expected to continue indefinitely, many roads are impassable and many people still don't have clean drinking water or phone service nearly a month since Hurricane Maria struck.
But cruise company bosses talked Monday about resuming their cruises to San Juan. Impossible? No.
Royal Caribbean International has already taken two ships into the port, said Adam Goldstein, chief operating officer. The company's ships returned to the hard-hit island for a scheduled cruise on Oct. 7.
Carnival Cruise Line resumed sailings to Puerto Rico last Sunday with a seven-night cruise to the Southern Caribbean.
Goldstein, Arnold Donald, chief executive of Carnival Corp., and Michele Paige, president of the Florida-Caribbean Cruise Assn., held a news conference Monday about the storms' impact on Caribbean tourism.
During the hourlong session, the three announced a multimillion-dollar marketing campaign to encourage vacationers to book cruises into the Caribbean.
"The public perception is that the whole region was affected by storms," Paige said. "We expect 90% of the destinations to be welcoming guests in the next few weeks."
To prove the point, Donald said: "We have 60,000 guests on 20 ships cruising in the Caribbean right now."
Places such as Antigua, the Bahamas, Bermuda, Cuba and St. Kitts are open, some unaffected by hurricanes Irma and Maria. Cruise Critic reports that Anguilla, Guadeloupe, St. Croix, St. John, St. Maarten and St. Thomas in the U.S. Virgin Islands will open, some next month, some planning for November.
Tortola in the British Virgin Islands and Turks & Caicos also are working to reopen.
Ports that remain closed indefinitely are Barbuda, Dominica, St. Barts and St. Martin, the French side of St. Maarten.
Donald said Carnival is "willing to do whatever it takes to provide guests with a great vacation. And there's no better way to support the recovery effort than by returning to the area."
A single cruise visit generates a half-million dollars in economic impact, Paige said. "When travelers spend their hard-earned dollars for a cruise vacation, they're also supporting recovery efforts."
But what kind of excursions will travelers find on some of badly damaged islands such as Puerto Rico?
Old Town San Juan and Fort San Juan, a well-known 16th century fortress built by the Spanish, still provide viable excursions, Royal Caribbean's Goldstein said.
"If you are a resident, it is a difficult existence if you don't have power, and yet they continue to strive every day," Goldstein said.
"We differentiate between the long road the island has ahead of it and what we can deliver as a guest experience," he said.
ALSO
Should you go to Cuba now? Here are the issues affecting your decision
Keep your costs down, fun factor up on Oahu
Travel through five countries on this Danube River cruise to the Black Sea
How two can fly L.A.-London for $739
Twitter: @latimestravel
---
Get inspired to get away.
Explore California, the West and beyond with the weekly Escapes newsletter.
You may occasionally receive promotional content from the Los Angeles Times.