Keep your costs down, fun factor up on Oahu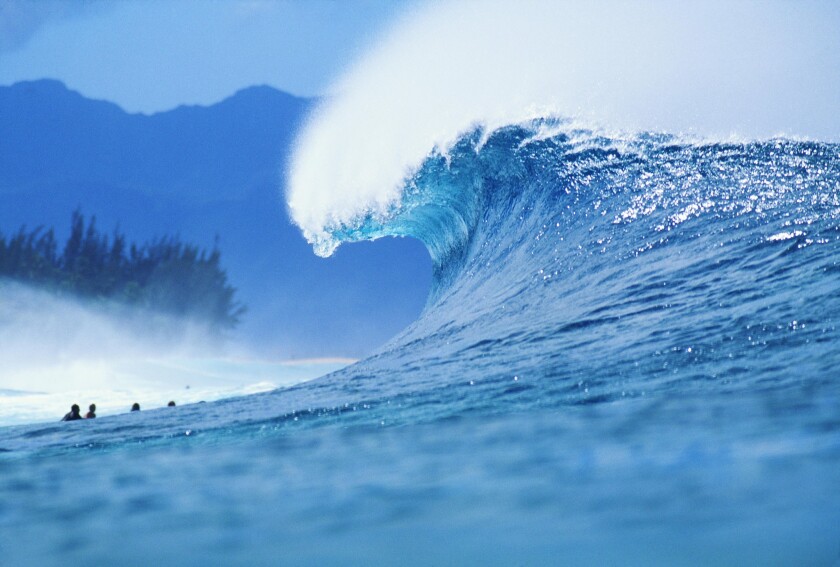 Visit a beach. Take a hike. There are plenty of low-cost ways to experience often-pricey Hawaii. This is the scene on Oahu's North Shore.
(Vince Cavataio / Getty Images/Perspectives)
Honolulu Cookie Company. A pineapple-shaped shortbread cookie is just 75 cents.
(Jeff Greenberg / UIG via Getty Images)
Waimea, on Oahu.
(Kent Nishimura / Getty Images)
Fireworks light the water each Friday evening beside the Hilton Hawaiian Village on Waikiki Beach.
(Tor Johnson / Hawaii Tourism Authority )
Leonard's bakery is a fixture in Honolulu. Try a malasada, a Portuguese doughnut, for a bit more than a buck.
(Kent Nishimura / For The Times)
A view of Honolulu from Diamond Head.
(Andriy Prokopenko / Getty Images )
Honolulu's Duke Kahanamoku Lagoon.
(Pgiam / Getty Images/iStockphoto)
The Royal Hawaiian hotel in Honolulu.
(Hawaii Tourism Authority)
A somber moment in history is recalled at Pearl Harbor in Honolulu.
(Hawaii Tourism Authority )
In Waikiki you can ride the waves in an outrigger canoe with Faith Surf School for $25 a person.
(Atilla Jobbagyi / Atilla Jobbagyi)
Hawaii has certain allures, but low prices aren't necessarily among them. With these insider tips to Oahu, though, you can have a Champagne experience at sparkling-cider prices.
Rent a car only if you think you will need it
If you're planning to have most of your fun in Waikiki, for example, there's no need to rent a car: Just walk or call a ride-sharing service.
You can also take TheBus, as the local system is known, if you're going to climb Diamond Head or other activities.
The Waikiki Trolley can also take you to numerous tourist locations.
Info: TheBus; Waikiki Trolley.
Room plus polo match
Equus Hotel in Waikiki is run by a family that owns the hotel and the Hawaii Polo Club.
During polo season (April through Labor Day), all guests receive free tickets to attend the polo matches on the North Shore, featuring food trucks, polo and a concert.
At this writing, for example, a city-view double room that accommodates four people starts at just $129 a night.
Info: Equus Hotel, 1696 Ala Moana Blvd., Honolulu; (808) 949-0061
Have fun with freebies
On Friday nights Hilton Hawaiian Village in Waikiki produces a free fireworks show. The night sky lights up while synced with the resort's Rockin' Hawaiian Rainbow Revue ($30 a person if you feel like splurging). Locals and visitors line the beach to watch the colorful display above the Duke Kahanamoku Beach & Lagoon. Fireworks display times are seasonal: 8 p.m. May-August, 7:45 p.m. September-April.
Don't miss the free history tours at the Moana Surfrider Hotel and the Royal Hawaiian Hotel (the "Pink Palace"). I've taken both tours numerous times and always enjoy the fascinating facts of their history, especially from World War II when the hotels were closed to provide rest and relaxation for American service members.
Info: Hilton Hawaiian Village, 2005 Kalia Road, Honolulu; (808) 949-4321; Moana Surfrider, 2365 Kalakaua Ave., Honolulu; (808) 922-3111; Royal Hawaiian Hotel, 2259 Kalakaua Ave., Honolulu; (808) 923-7311
Make the trek up Diamond Head
One of the most popular attractions on Oahu. You'll be rewarded with breathtaking views of southern Oahu. Take advantage of the introductory $4 narrated self-guided tour; it's like having your own private park ranger accompany you. (Check the state website because some work is being done that may close the trail when you want to go.)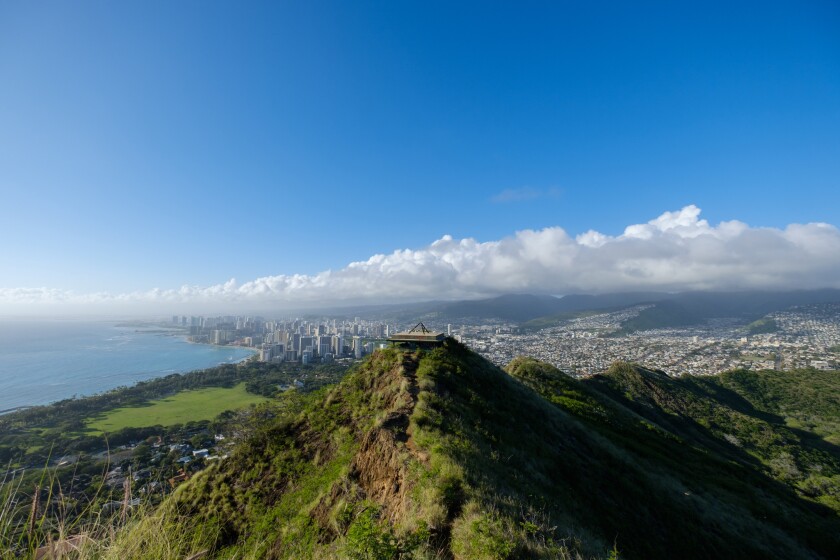 Info: Diamond Head
Ride a wave
In Waikiki take a Faith Surf School outrigger canoe ride ($25 a person) that lets you catch waves and feel like a true Polynesian.
Info: Faith Surf School, (808) 931-6262
Try local treats
Honolulu Cookie Co. (with locations throughout Waikiki) sells delicious pineapple-shaped shortbread cookies for 75 cents each. Try the Kona coffee, mango and pineapple/macadamia varieties, not to mention the chocolate-dipped. A surfboard-box collection costs $19.95.
Il Gelato in Kahala has won numerous awards for its frozen creations. Try the sorbetos and authentic Italian gelatos in sumptuous flavors such as chocolate ginger, Italian gianduja and dark chocolate macadamia nut.
Do as the locals do and line up for fresh, hot malasadas (Portuguese doughnuts) at Leonard's, where a little more than $1 will take your taste buds on a delicious journey.
Info: Honolulu Cookie Co., (866) 333-5800; Il Gelato, 4211 Waialae Ave., Honolulu; (808) 732-3999; Leonard's, 933 Kapahulu Ave., Honolulu; (808) 737-5591
Go north
Rent a car for the day and head to the North Shore to see the big waves that lure major surfing competitions. Stop for a treat at Matsumoto's Shave Ice. Try one with azuki beans for something novel.
Don't miss the North Shore Soap Factory. This gem, in the old Waialua sugar mill, offers lush, made-in-Hawaii soaps, scrubs, skincare, candles and more, all affordably priced. I especially like the mango and the chocolate-mint soaps.
Info: Matsumoto's Shave Ice, 66-111 Kamehameha Highway, Haleiwa; (808) 637-4827; North Shore Soap Factory, 67-106 Kealohanui St., Waialua; (808) 637-8400
Plan on Pearl Harbor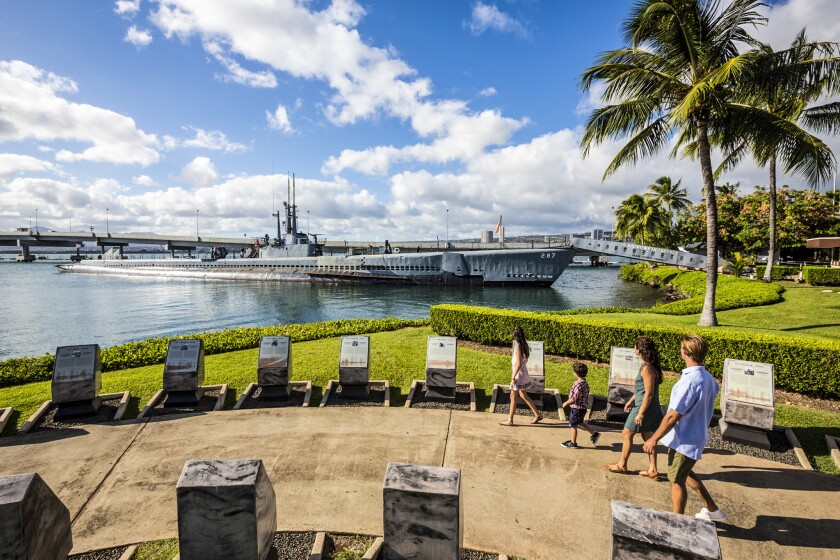 Entrance and parking are free at the Pearl Harbor Visitor Center. Just introduced are three new Virtual Reality Tours at $4.95 per person. You'll walk the decks of the USS Arizona; witness the attack on Battleship Row; and visit the USS Arizona Memorial. It's a deeply moving experience.
Info: Pearl Harbor, 1 Arizona Memorial Place, Honolulu; (866) 332-1941.
Savor the dinner savings
I'm still dreaming about the dinner I had at Chef Chai, known for fresh mahi-mahi in Thai red curry and macadamia nut-encrusted tiger prawn rainbow salad. The early-bird four-course dinner from 4 to 5 p.m. costs $40 a person.
Aloha (happy) hours of course are a great strategy for saving money on dinner. At Moku Kitchen you can order discounted drinks, pizzas and pupus (appetizers) from 3-5:30 p.m. daily.
Oahu also has a terrific food truck scene; check out Eat the Street just seven minutes from Waikiki. It features more than 40 food vendors each month and attracts thousands of people eager to sample Hawaii's best street food.
It's 4-9 p.m. the last Friday of each month at Kakaako Waterfront Park (747 Ala Moana Blvd).
Info: Chef Chai, 1009 Kapiolani Blvd., Honolulu; (808) 585-0011, chefchai.com. Moku Kitchen, 660 Ala Moana Blvd., No. 145, Honolulu; (808) 591-6658.Eat the Street
Say "I Do" again
Two Outrigger hotels in Waikiki offer complimentary marriage vow-renewal ceremonies twice a week at 7:45 a.m. filled with Hawaiian chants and customs. It's a great way to make even more Hawaiian memories, and your witnesses will be the beach and the rising sun.
Info: Vow renewals,
ALSO
How to save big on Hawaii Island
Hawaii's snack li hing is everywhere: margaritas, malasadas and more
---
Get inspired to get away.
Explore California, the West and beyond with the weekly Escapes newsletter.
You may occasionally receive promotional content from the Los Angeles Times.