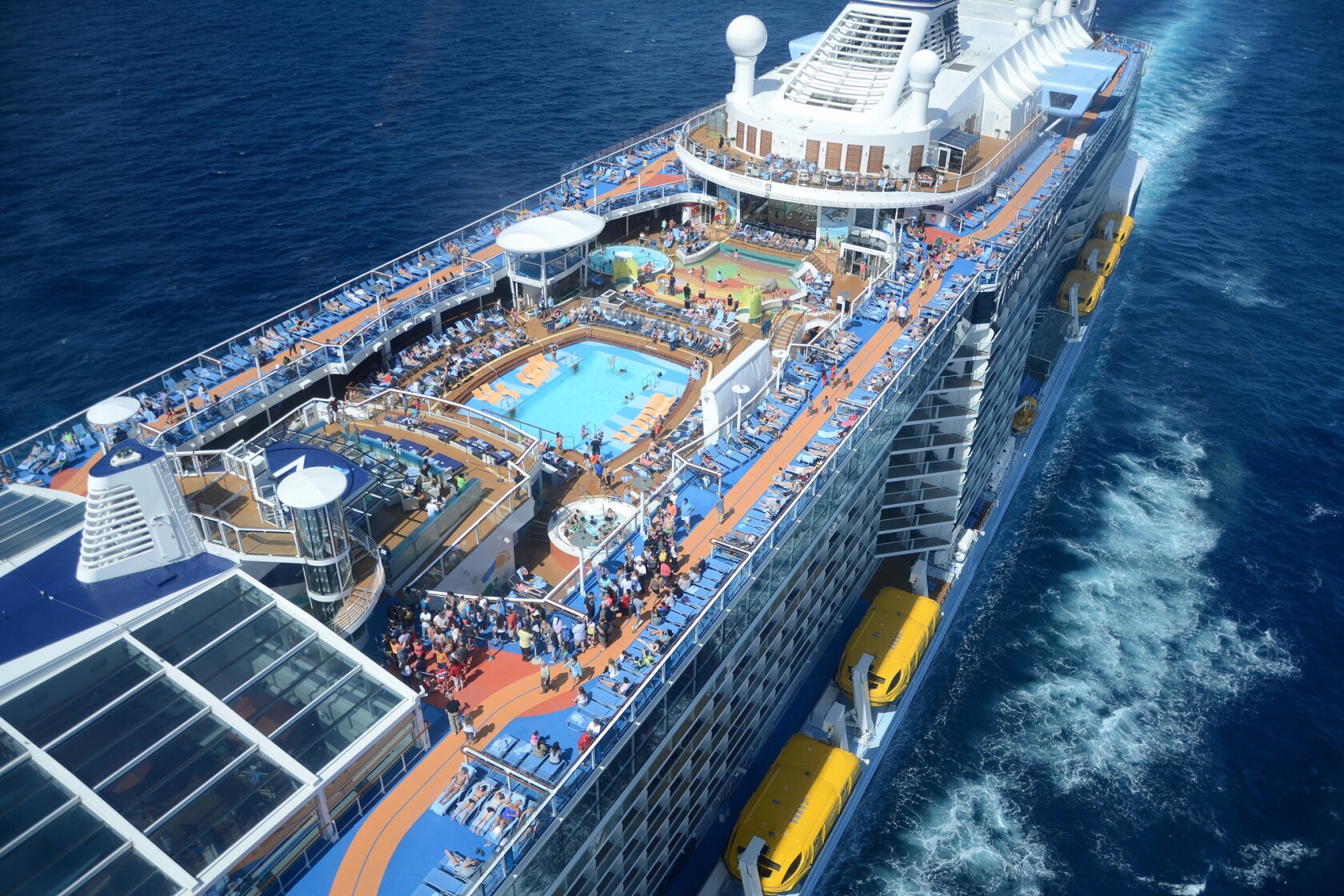 The Quantum of the Seas, seen from above. Royal Caribbean's $1-billion new cruise ship can accommodate more than 4,900 passengers and is equipped with such features as an observation pod on a crane arm.
(Christopher Reynolds / Los Angeles Times)
Royal Caribbean's Quantum of the Seas, unveiled in late 2014, looms beyond a sand spit at Coco Cay, a private island in the Bahamas where Royal Caribbean passengers can get some off-ship R&R.
(Christopher Reynolds / Los Angeles Times)
The cruise ship's most prominent innovation is what it calls the North Star -- a sort of observation deck on a crane that offers bird's-eye views of the ship and sea below.
(Christopher Reynolds / Los Angeles Times)
A closer look at the North Star.
(Christopher Reynolds / Los Angeles Times)
The American Icon dining room, seen here, is one of more than a dozen restaurants aboard.
(Christopher Reynolds / Los Angeles Times)
Much of the cruise ship's third deck is devoted to the Casino Royale (usually far busier than seen here).
(Christopher Reynolds / Los Angeles Times)
Quantum of the Seas contains several performing arts venues, occupied by a shipboard troupe of singers and dancers and guest musicians like the Nashville band Savannah Jack, seen here.
(Christopher Reynolds / Los Angeles Times)
The ship's troupe of singers and dancers.
(Christopher Reynolds / Los Angeles Times)
One of the most popular activities on the ship -- and a first in the cruise business -- is simulated skydiving in a vertical wind tunnel that looks like a see-through smokestack.
(Christopher Reynolds / Los Angeles Times)
The cruise ship includes what it calls the Seaplex area, full of sports and games. Here, a passenger practices trapeze work. That's a basketball backboard in the background.
(Christopher Reynolds / Los Angeles Times)
Royal Caribbean has a pact with DreamWorks that brings animated characters, like "Kung Fu Panda," aboard to entertain families.
(Christopher Reynolds / Los Angeles Times)
Quantum of the Seas makes frequent stops in the Bahamas at Coco Cay, run as a private hideaway by the cruise company. Activities there include kayaking and snorkeling.
(Christopher Reynolds / Los Angeles Times)
At Coco Cay, passengers are occasionally surprised by native iguanas.
(Christopher Reynolds / Los Angeles Times)
A musician works the waterfront in downtown Nassau, the Bahamas, a frequent stop for Quantum of the Seas.
(Christopher Reynolds / Los Angeles Times)
ABOARD THE QUANTUM OF THE SEAS —
It was Friday, Feb. 13, a 15-degree winter morning. But that did nothing to discourage the thousands of travelers who turned up to seek happiness alongside the ice-slick docks in Bayonne, N.J.
The attraction? Quantum of the Seas, which is not a James Bond sequel but a $1-billion Royal Caribbean cruise ship. It launched in late 2014 and will soon head to China. Some people think it's the future of cruising. Others aren't so sure.
But plenty are curious. By 3:45 p.m., we passengers — about 4,800 of us on a seven-night itinerary to Florida and the Bahamas — were racing from novelty to novelty on the 1,141-foot-long ship. On Deck 16: simulated skydiving in a 23-foot-high vertical wind tunnel that looked like a see-through smokestack. On Deck 3: the casino. In the SeaPlex recreation area: bumper cars. At the Bionic Bar: robots mixing drinks.
And don't forget North Star, an observation capsule on a long arm that lifts passengers 300 feet above the sea and (when it's not too windy) swings them over the side for staggering bird's-eye views. Before anybody could go up, however, the ship's captain, Henrik Soerensen, broke in on the public address system to welcome us and enlist our help.
"Please keep an eye on the temperature," Soerensen said. "If it doesn't get warmer, that means we're going in the wrong direction."
How long, I wondered, until that punchline is tweeted? Eager to spread the word of this ship's wonders, Royal Caribbean has outfitted Quantum to be the Web-friendliest cruise ship ever so passengers can post their vacation tweets and snaps (after paying as much as $30 a day in Wi-Fi fees).
Condé Nast Traveler calls it "the first cruise ship built specifically for selfies." The cruise line calls it the world's first "smartship" and has a new app to help passengers book meals and activities.
Quantum isn't just big and busy and filled with new technology. It's also a telling move in the cruise industry's global chess game.
In May, the ship moves to a home port in Shanghai, where Royal Caribbean hopes to entice a mix of Chinese and Western travelers. Meanwhile, Quantum has a near-identical sibling (Anthem of the Seas) due to debut in April and start sailing the Caribbean in November.
So how much fun is this smart new ship? It's fun and it's vexing, depending on what you're up to.
Perhaps the ship's biggest hit was the North Star observation pod, which holds up to 14 passengers at a time (first come, first served). Passengers waited up to two hours for their chance to spend about 10 minutes in the sky, looking down on the ship and out to sea. The warmer the temperature got, the longer the line. I went up three times, on three different days, after waits of five, 20 and 90 minutes. On the way down, I asked my capsule companions whether the view was worth nearly two hours of waiting. The grins and yeses were unanimous.
The simulated skydiving classes, Ripcord by iFly, were almost too popular. Trainers said most of the available slots were booked before the cruise began, which left some passengers grumbling and others competing to fly "standby" when no-show spots opened up. (That's how I got my chance.)
As for the faux flight itself, after you don a flight suit, watch a video and get a little personal training, you spend about a minute in the air with an instructor, hovering, spinning and getting buffeted from below. If you've ever wanted prominent cheekbones, have somebody snap your picture while you're looking down at that big fan on the floor.
Unfortunately, Quantum's new "dynamic dining" system isn't as uplifting. Instead of relying on one grand dining room like ships of yesteryear (formalwear, captain's table, ice sculptures, two assigned sittings per night), Royal Caribbean has re-imagined that space as 18 restaurants, including Asian, Italian, buffet, pub and steakhouse options, from ultra-casual to formal.
This gives passengers more choice — and the cruise line more revenue, because eight of the restaurants charge extra fees, from a few bucks for a snack at Johnny Rockets to $45 per person for an evening of cutting-edge gastronomy at Wonderland.
The idea is that passengers will scan the choices and book their dinners online before boarding. Passenger Kevin Marshall of Pennsylvania said it worked perfectly for him. In fact, he said he would be back aboard in April for another cruise.
But many passengers viewed booking before boarding as a burden, and many had trouble making reservations. Every day, dozens appeared at the Passenger Services desk or at the restaurants' entrances, stating their cases.
Though many passengers praised their meals, when I asked seven of them to grade the reservation system, the median rating was 6.5 out of 10.
"It was a lot of work to do this cruise," said Sue Bonelli of Long Island, N.Y.
"I feel nickeled and dimed," said her husband, Guido Bonelli, referring to the dining and Wi-Fi charges.
At a Q&A session on Day 7, Dean Bailey, the ship's hotel director, told passengers that the dining program "is still evolving. … It's not where we want it to be." Indeed, the ship had already added personnel and items to menus to appease passengers who prefer to stay put in the biggest dining rooms. But it's clear there's work to be done.
The ship's Wi-Fi was hit-and-miss for me. After paying $140 for eight days of access for two devices, I lost my laptop and smartphone connections just about every day, sometimes more than once. (Conversely, I got so fond of my "virtual balcony" — the monitor disguised as a window in the ship's 375 inside staterooms — that I left it on for the entire cruise.)
The ship's entertainment got high marks for the singers who rose above the plot of the ABBA musical "Mamma Mia!" and for the dancers and musicians in striking original productions called "StarWater" and "Sonic Odyssey." The 1,300-seat Royal Theater is a pleasant venue, and the space known as "Two70" is a multilevel entertainment area enlivened by six suspended video screens that tilt, slide, merge and regroup to create remarkable visual effects.
The roster of family-friendly activities is long, including the FlowRider wave-maker (for surfing and boogie boarding), the rock-climbing wall (next to a 30-foot-tall magenta bear by sculptor Lawrence Argent), circus trapeze lessons, roller-skating, basketball and, in a nod to decades gone by, one lonely shuffleboard court.
"I tried rock climbing for the first time," said Emanuel Strong, 40, a New York corrections officer who was traveling with his wife and two kids.
Heather Rubinstein, a veteran cruiser and wheelchair user who came from New York with her husband and two kids, told me that access on the ship was "pretty good." (However, her husband had just lifted her to a spot that she couldn't reach independently because crew members couldn't find a key to some accessibility equipment.)
Passenger Tom Murray, who brought his family from London, loved the artwork and service. But he called the dining-and-entertainment reservation system a waste of time, found the main promenade cramped and the ship "too gimmicky."
Passengers Miranda Tso and Katty Lam, New York moms who brought a friends-and-family group, didn't like the restaurant reservation scheme or the food. Next time, they said, they'll try another cruise line.
I'm guessing the cruise line has already solved some of these problems. But the equation is about to change.
Before the ship moves to Shanghai, Quantum's workers say, they'll tear out the Music Hall bar, expand the casino, add shops, retune the restaurants and bring on more Mandarin-speaking crew. Tailoring the ship to Chinese passengers, many of them new to cruising, will surely mean more trial and error.
In other words, the world's first smartship still has plenty to learn.
christopher.reynolds@latimes.com
Twitter: @mrcsreynolds
---